There are times when you are really hungry and start unhealthy snacking. Unhealthy, fried snacks are harmful for you. They make you put on weight too! Next time you get those hunger pangs, make sure you turn to a healthy snack. Healthy snacks can be easy to make and tasty too. There is nothing as easy as making a delicious sandwich at home. Here, we have some easy and delicious sandwich recipes that you can prepare quickly when you feel like eating something.
Tomato Cucumber Sandwich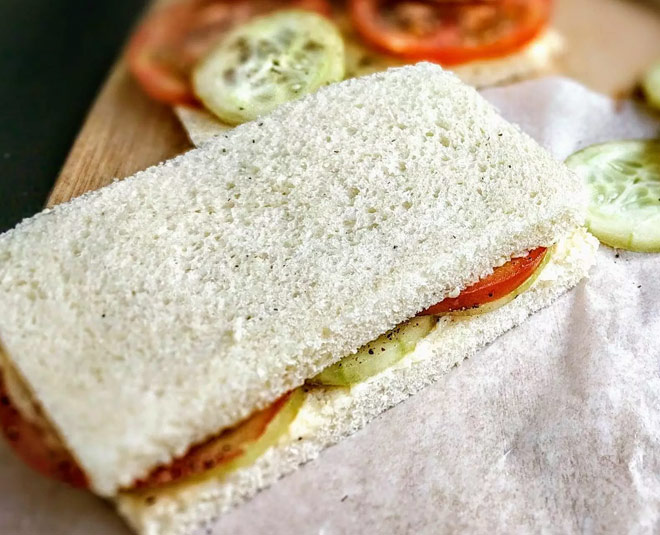 Both cucumber and tomato are healthy veggies and great for your overall health. Prepare a healthy and delicious sandwich using these two veggies.
Ingredients:
6-8 pieces of bread of your choice
1 Tomato
1 Cucumber
3 tablespoons low-fat butter
Salt to taste
Pepper to taste
Directions:
Slice tomato and cucumber. Start applying butter on the bread slices. Sprinkle some salt and pepper. Now arrange cucumber and tomato slices. Cut diagonally and your delicious sandwich is ready! If you have mint chutney ready at home, you can also apply a layer of it on your bread slice.
Club Sandwich
Loaded with vegetables and sauces, this one will keep you full for longer.
Ingredients:
Bread slices
4 tsp Butter
Lettuce leaves/cabbage leaves
1 tsp mustard sauce
4 tsp mint chutney
2 Potatoes boiled and thickly sliced
2 Tomatoes sliced
1 Onion sliced
Pepper to taste
Salt to taste
Directions:
On a pan, toast the bread slices using butter on each side. Now spread mustard sauce and mint chutney. Start placing the veggies. Place lettuce leaves, potato slices, onion, tomato, and cucumber. Sprinkle salt and pepper. Cut diagonally into half and your delicious sandwich is ready! Have it with your choice of dip. Don't Miss Interesting And Easy To Prepare Dip Recipes To Go With Your Party Snacks
Curd Sandwich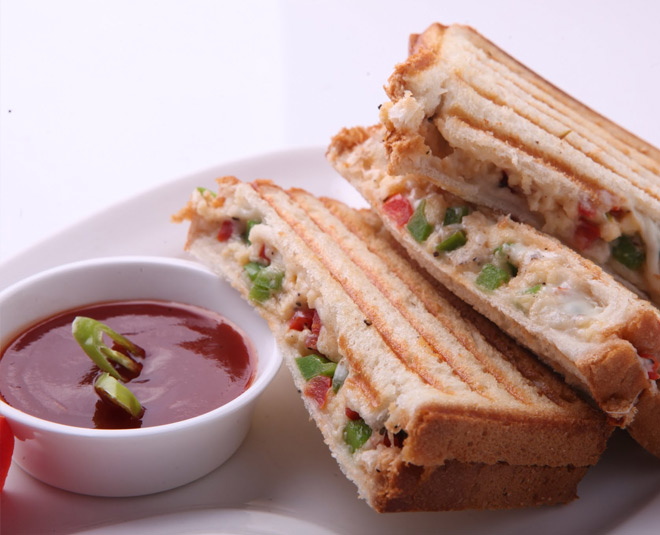 A good alternative to your cheesy unhealthy sandwich is a curd sandwich. It is super easy to make and turns out to be really delicious.
Ingredients:
2 cups curd
2 tbsp grated carrot
2 tbsp chopped cabbage
½ tsp pepper
2 tbsp chopped capsicum
2 tbsp boiled corn
Salt as per taste
Bread slices
Directions:
Take some curd and add to muslin cloth. Now tie this cloth somewhere hanging for at least 3 to 4 hours. When the water drains, apply some pressure on the cloth and squeeze out all water. Your hung curd is ready. Now take this hung curd in a bowl and add 2 tbsp carrot, 2 tbsp cabbage, 2 tbsp capsicum, 2 tbsp corn. Also sprinkle salt and pepper as per taste. Mix well. Now layer this mix on the bread slices. Place these sandwiches in a sandwich maker and take out as they turn golden brown. Your sandwich is ready!