Have you run out of ideas for your baby's breakfast? Don't worry we got your back. Here are a few recipes that are easy to make, are extremely healthy and tasty as well. With a few more seasonings you can make them for yourself as well. They have the goodness of oats, rice flour and bananas. So scroll down and try one each day.
Overnight Oats
Ingredients
2 cups plain curd
1/2 cup applesauce
A few hemp seeds (or chia or flaxseeds)
1/2 cup rolled oats
Method
First grind the oats to make a fine texture.
Combine all the ingredients.
Store it all in an airtight container and let it sit overnight in the fridge to soften.
You can skip the seeds if you are skeptic.
Oats Idli
Ingredients
1 tbsp mustard seeds
2 cups oats
½ tbsp haldi
2 cups curd
½ tbsp oil
½ tbsp chana dal
1 tbsp urad dal
1 cup grated carrots
1 tbsp finely chopped coriander
Salt as per taste
Method
Roast the oats and grind them into a powder.
Heat some oil in a pan and then add the mustard seeds and dals. Stir till they begin spluttering.
Add the carrots and coriander and Add then haldi and fry for a minute.
Combine the curd and oats in a bowl and toss well to make a batter.
Make idlis using the batter in a steamer.
Let them cool down a little for your kid and cut into pieces, serve with ketchup or coconut chutney.
Don't Miss: Bake Healthy Whole-Wheat Banana Biscuits At Home With This Recipe
Mashed Sweet Potatoes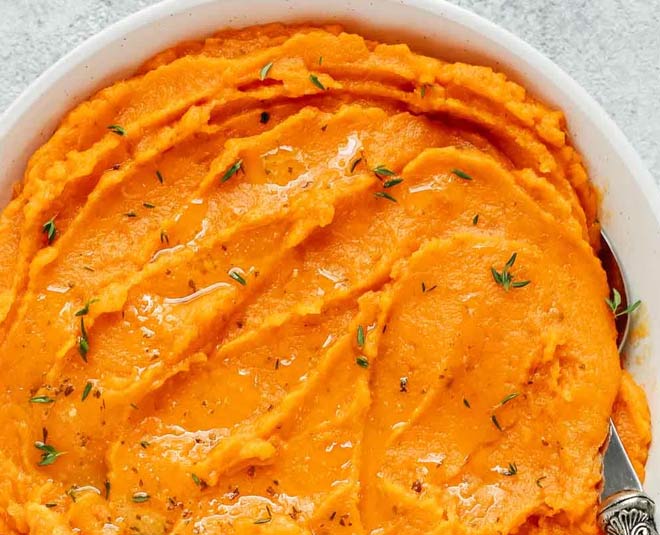 Ingredients
7 small potatoes cut into 1-inch cubes
2 tsp salt
Freshly ground black pepper
1 minced garlic clove
¼ cup sour cream
⅓ cup finely sliced green onion (mostly green parts)
⅓ cup finely chopped parsley
3 tbsp butter
A tsp of extra-virgin olive oil
Method
Place the sweet potatoes in a saucepan and add a teaspoon of salt to it with some water in the pan.
Bring it to simmer over medium-high heat, uncovered, until the potatoes are cooked which should take 10 minutes.
Once done, drain the water and then add them back to the pan.
Mash the potatoes to your desired consistency.
Now, combine the onion, garlic and parsley.
Then stir in the butter, sour cream and salt.
Sprinkle some freshly ground black pepper.
Transfer the mashed potatoes to a bowl, drizzle a little olive oil and let it cool a bit.
Serve it to your child.
For more such healthy recipes for breakfast, stay tuned to HerZindagi.