Semolina, rava, or suji is beneficial for weight loss and the best aspect is there are numerous ways you can prepare it. It helps maintain stable blood sugar levels and reduces sugar cravings. As a result of its high protein and fibre content, it makes you feel full for longer hours. Here are four easy rava/suji recipes that you can make at home:
1. Rava Idli
View this post on Instagram
Ingredients of Rava Idli:
1 cup rava (suji /semolina)
1/2 teaspoon mustard seeds
1/2 teaspoon cumin seeds
1 pinch asafoetida
1 dry red chilli
2 tablespoons chopped Coriander Leaves
1 teaspoon eno fruit salt
1 teaspoon chana dal
1 teaspoon urad dal
2 tablespoons oil
Salt (as per taste)
6-7 cashew nuts
3 tablespoon yoghurt
1/2 cup grated carrot
2 green chillies
1 teaspoon grated ginger
How To Make Rava Idli:
1. In a heavy-bottom pan, heat 1 tablespoon oil and 1/2 tablespoon ghee and add mustard seeds. As soon as the mustard seeds begin to pop, add cumin seeds, asafoetida, chana dal, and urad dal. The dal should be sautéed till light brown. Sauté for 30 to 40 seconds after adding the curry leaves, cashew nuts, and dry red chilli.
2. Stir in the rava (semolina). While continuously tossing, roast it over a medium temperature until it gets light brown. Keep checking to make sure it doesn't burn. Transfer it to a plate and allow it to cool down.
3. In a medium bowl, combine curd, finely chopped green chillies, grated ginger, and salt.
4. Stir in the roasted rava for a few minutes and add some water to it. Whisk properly and make sure there are no lumps in the mixture.
5. Allow the batter to rest for 15-20 minutes. Add eno and give it a nice and gentle stir.
6. Fill a steamer with 2 glasses of water and heat it over a medium flame. Grease the idli moulds. Pour the prepared batter in the moulds.
7. Place the idli moulds in the steamer and steam for 10 to 15 minutes on moderate flame.
8. Turn off the flame after 15 minutes, take the moulds out of the steamer. Allow them to cool down to room temperature and take out the prepared idli gently .
9. Tasty and healthy rava idli is ready, you can serve it with sambar and coconut chutney.
2. Rava Dosa
View this post on Instagram
Ingredients of Rava Dosa:
1 cup rava
3/4 cup rice flour
1/4 cup all purpose flour
1 tbsp fresh coconut (pieces)
1 tsp jeera
1 tbsp butter/ghee
2 tbsp oil
2-3 green chilli,
sliced 1/4 cup dhaniya
1 medium onion
Salt (as per taste)
How To Make Rava Dosa:
1. Combine rava, rice flour, all-purpose flour, and water in a bowl. Mix thoroughly. Set aside for 30 minutes.
2. Thoroughly combine the batter with the chopped onions, green chillies, cumin seeds, coconut pieces, and salt.
3. In a non-stick pan put some oil and heat it at a medium flame.
4. Now pour the batter into the pan and make a circle of it.
5. Use a sharp-edged spatula to check that the dosa is not sticking to the pan after you notice the edges are turning brown.
6. Once it has been cooked and crisp, flip the dosa.
7. Serve hot with some coconut chutney, red chutney or sambar.
Don't miss: From Avial To Malabar Biryani: 5 Must-Try Traditional Dishes From Kochi
3. Rava Uttapam
View this post on Instagram
Ingredients of Rava Uttapam:
1 cup rava
1/2 cup yoghurt
salt as per taste
1 small onion (finely chopped)
1 small capsicum (finely chopped)
1 tomato (finely chopped)
1 inch ginger
6-8 curry leaves
1 tbsp coriander (finely chopped)
How To Make Rava Uttapam:
1. In a large bowl take 1 cup rava, curd and salt and mix well making sure the curd is combined well. Check for consistency adding more water if required. Keep it aside.
2. Now prepare the vegetable toppings by chopping all the vegetables in small sizes, adding salt to it and mixing it well.
3. Next, add the prepared toppings to a small uttapam made of rava batter, and gently press.
4. Apply 1 teaspoon of oil now to the uttapam. Cook for one minute, or until the base is well cooked, after turning it over.
5. Have it with your favourite sauce and chutney.
Don't miss: 5 Best Oriental Restaurants In Kolkata
4. Rava Upma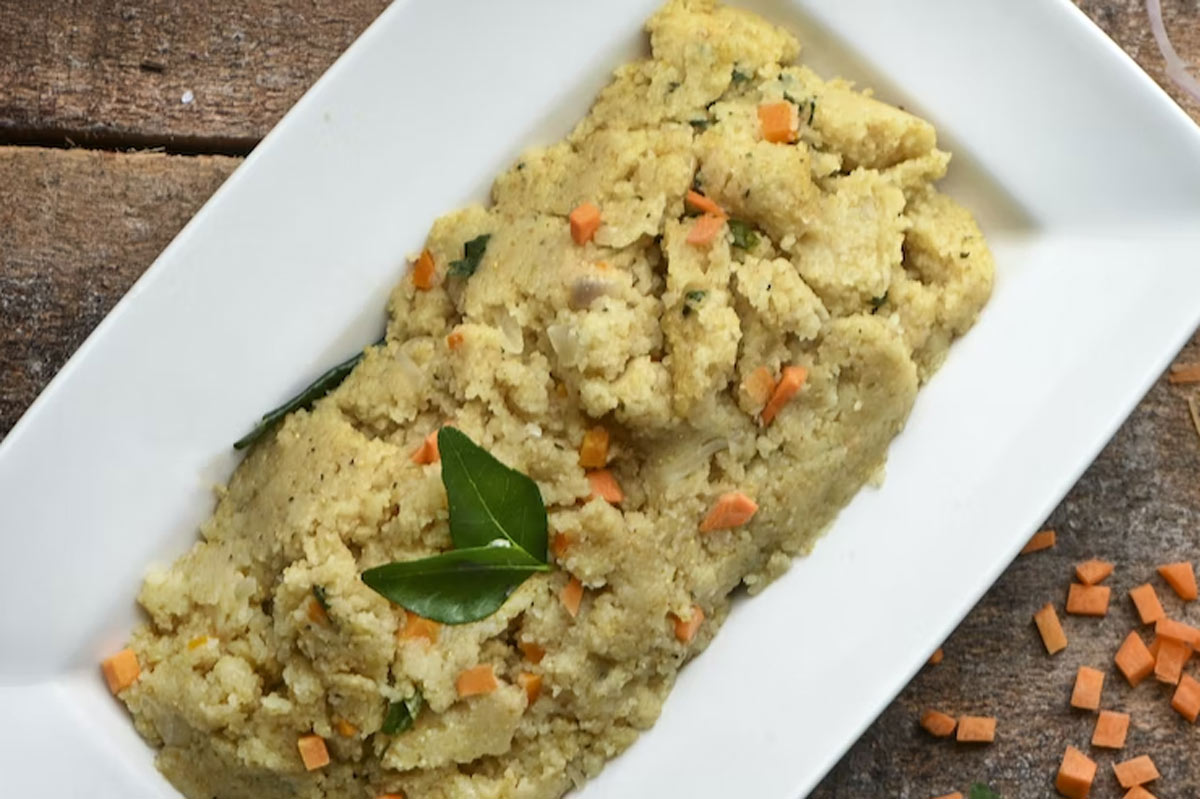 Ingredients of Rava Upma:
1/2 cup rava (sooji)
2 tsp oil
1/2 tsp mustard seeds
1/2 tsp urad dal
6-8 curry leaves
2-3 green chilli
salt as per taste
How To Make Rava Upma:
1. Heat rava in a pan and dry roast it for 4 to 5 minutes, then keep it aside.
2. Now in a pan add some oil, mustard seeds, urad dal, curry leaves and some green chillies and stir it at a medium flame.
3. Now add chopped vegetables like onions and carrots to them. After sauteing it for some time add the roasted rava to it.
4. Add 2 cups of water and salt as per taste to it. Cover with a lid and cook on a slow flame for 3-4 minutes.
5. Your upma is ready.
For more such stories, stay tuned to HerZindagi.
Did you like this article ?