Berries are delicious! But do you know that they are great for your health too? Berries have a high amount of flavonoids in them and these are good for your overall health. Among all the berries that are available in the market today, blueberries and cranberries stand out for their amazing health benefits. Adding these to your diet will help you avail all their benefits. We have two delicious and easy to make dessert recipes from Delmonte using blueberries and cranberries. Read on.
Blueberry Lemon Cake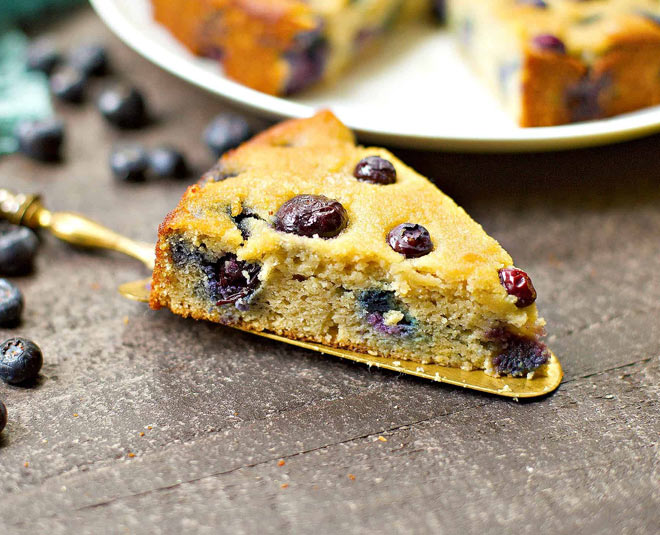 Ingredients:
2 cups all-purpose flour (maida)
4 teaspoons baking powder
1 tablespoon lemon zest
1 + 1/2 cup castor sugar
1 cup vegetable oil
4 eggs
1 tbsp fresh lemon juice
1/4 cup milk
1/4 cup dried blueberries
Directions:
Lightly brush your 9-inch cake pan with oil/ butter and dust with all-purpose flour. Next, line with parchment paper. Pre-heat your oven to 180°C. In a medium bowl, combine all-purpose flour, lemon zest and baking powder. Whisk until well combined. In a large bowl, beat sugar and oil until the mixture becomes light and pale, for about 5-7 minutes. Add lemon juice. Add eggs, one by one, mixing well after each addition. Now add the dry ingredients to the wet ingredients in three batches, alternating with milk. Do not over mix. Using a spatula fold the dried into the batter. Reserve some for the top. Pour the batter into the prepared cake pan. Bake at 180C until a toothpick inserted into the center of the cake comes out clean. This will take about 30-40 minutes.
Blueberries are loaded with antioxidants. These antioxidants help in boosting your immune system. By increasing your immunity, they prevent you from common infections and diseases. These delicious berries are loaded with fiber and they are great for your health. They help in promoting your digestive order and prevent any digestive problems. A lot of studies suggest that blueberries regulate blood pressure. This further protects your heart and prevents it from any heart diseases.
Cranberry Brownies
Ingredients:
¾ cup, all-purpose flour
½ cup, cocoa powder
¾ cup, brown sugar
3, medium-sized eggs
1 teaspoon, vanilla essence
100 grams, butter
½ cup, Dried Cranberries
50 grams, dark chocolate, chopped
Directions:
Preheat the oven at 180° degrees C and line 8x8 inches square pan. In a large bowl, melt chocolate and butter together in a microwave for a couple of minutes. Take it out and whisk them well. Add sugar and mix. Add one egg at a time and whisk well. Next, add vanilla essence and mix. Add flour and cocoa powder and fold. Now pour the mixture in the lined pan. Add cranberries and level the mixture evenly. Bake the brownies for 20 to 25 minutes or until skewers come out clean. Cool, cut and serve on its own or with a scoop of ice cream. Don't Miss Beauty Benefits Of Cranberries
Cranberries have a high level of proanthocyanidins and these help in preventing UTIs which are common among women these days. Because cranberries are a rich source of antioxidants, they help in improving your memory. They improve the functioning of your brain. A lot of studies suggest that cranberries are beneficial in preventing different types of cancers like prostate, liver, breast or ovarian cancer.