Christmas 2022 is upon us, and it is time to pull our sleeves, wear the apron and get all the kitchen equipment ready to bake some cookies. Families baking together around the holidays is one of the most familiar and lovely scenes portrayed in the movies.
Here is your chance to not feel left out. We have listed three eggless Christmas cookie recipes that you must try out.
Eggless Chocolate Chip Cookies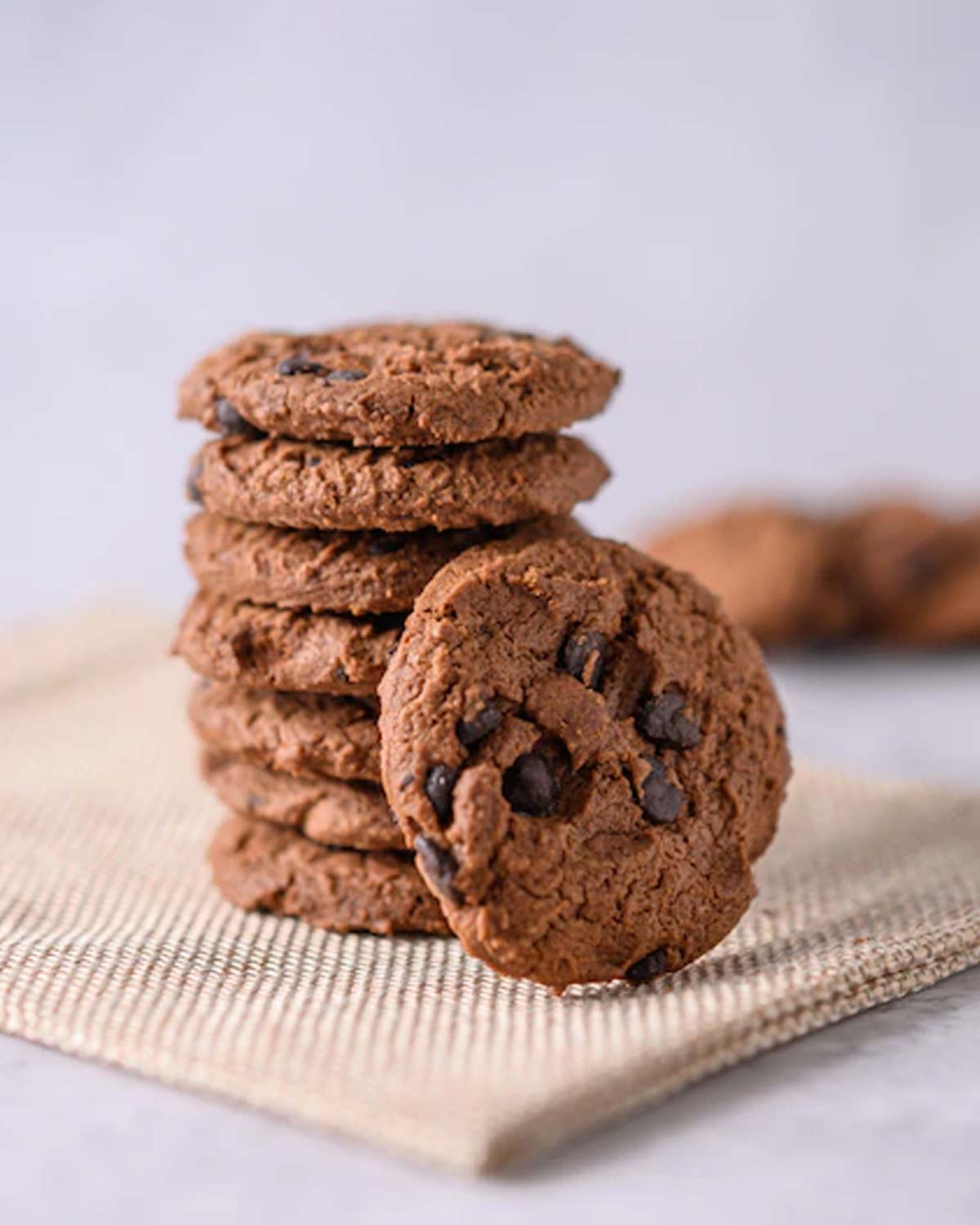 Who does not like chocolate chip cookies? From adults to kids, everyone in the house loves them before, after and during meals. You can eat them freshly baked out of the oven or just store them for guests coming over.
Ingredients
1 Cup Chocolate Chips
1.5 Cups All-Purpose Flour
1/2 Cup Brown Sugar/ White Sugar
1 Teaspoon Vanilla Extract
1 Teaspoon Baking Soda
1 Teaspoon Baking Powder
1/2 Cup Butter
A Pinch Of Salt
Method
Preheat the oven to 180°C and spread baking sheets on the tray.
Combine all the ingredients into a bowl (except chocolate chips), and mix them using a spatula. You can alter the quantity of brown sugar according to your taste or replace it with granulated white sugar powder.
Once you see the mixture binding, add chocolate chips.
With the help of an ice cream scoop, place cookie dough on the butter paper or baking sheet.
Flaten the scoops a bit and allow the mixture to hold the texture by placing it in the refrigerator for 30 minutes to one hour.
Place the tray in the oven, and bake the cookies for about 15 minutes or until you see them rising and turning golden brown.
After you are happy with the baking, take the cookies out and allow them to cool off for two to five minutes.
You can either store them or eat them hot with some milk.
Eggless Oatmeal Raisin Cookies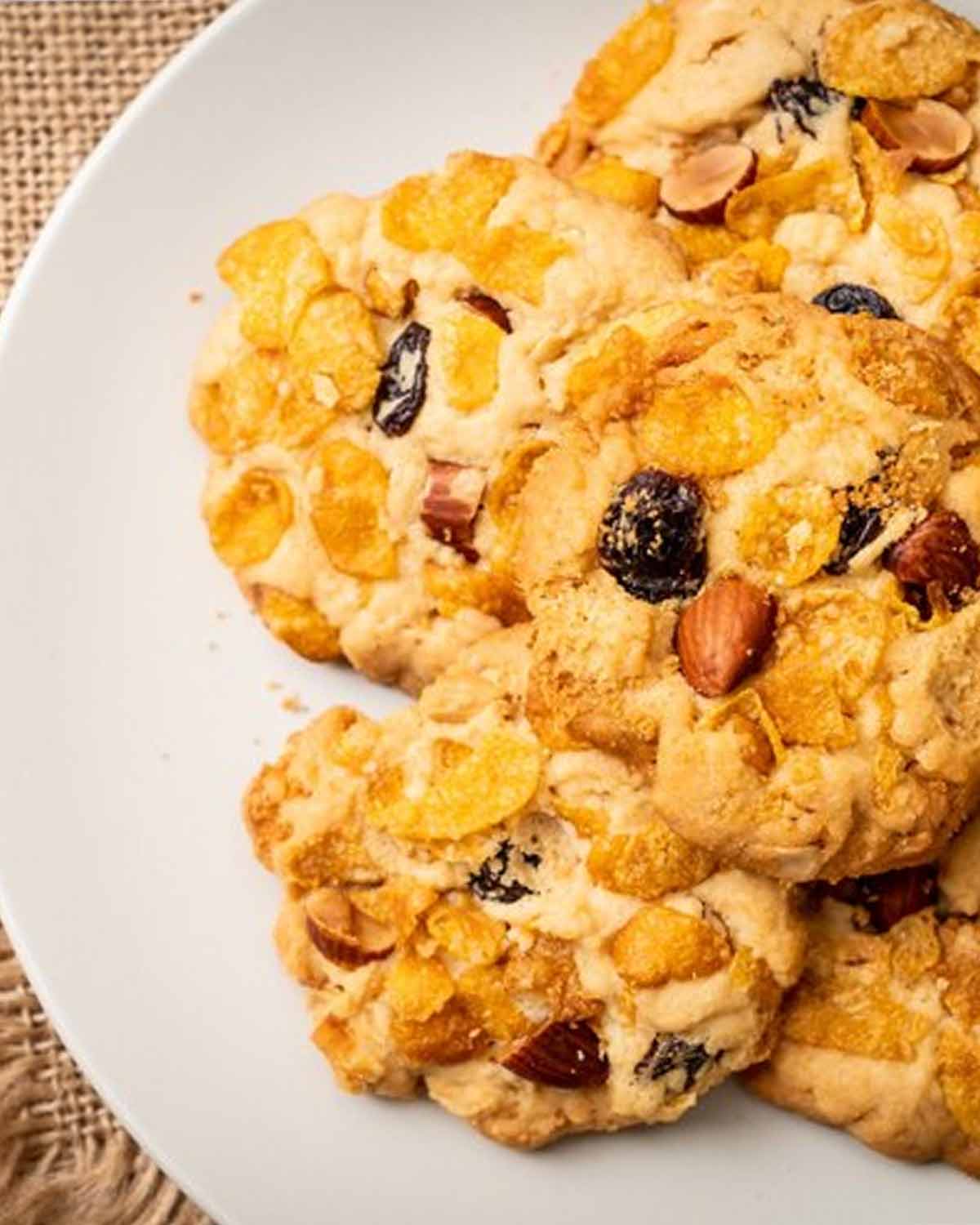 Eggless raisin cookies are just melt-in-the-mouth kinds of delicacies. You experience the crunch because of oatmeal, and raisin brings the softness and natural sweetness. Most importantly, even vegans can try this recipe.
Ingredients
3 Cups Oats
1 Cup All-Purpose Flour
1 Cup Chopped Walnuts
½ Teaspoon Salt
¾ Cup Vegan Butter
2 Teaspoons Vanilla Extract
½ Cup Soy Milk
1 Teaspoon Ground Cinnamon
1 Cup Raisins
½ Cup White Sugar
½ Teaspoon Baking Soda
1 Cup Light Brown Sugar
Method
Preheat the oven to 175°C.
Beat butter, vanilla extract, white sugar and milk in a large bowl.
Mix cinnamon, baking soda, flour, cinnamon (health benefits of cinnamon) and salt with the beaten ingredients.
Add walnuts, oats and raisins to make the cookie dough thick.
Using an ice cream scoop, place the cookie dough at regular intervals on the tray with baking sheets on it. Slightly press the cookie mixture to flatten the scoops.
Bake the cookies for 12 to 15 minutes.
Now you can enjoy the burst of flavour in your mouth.
Eggless Peanut Butter Cookies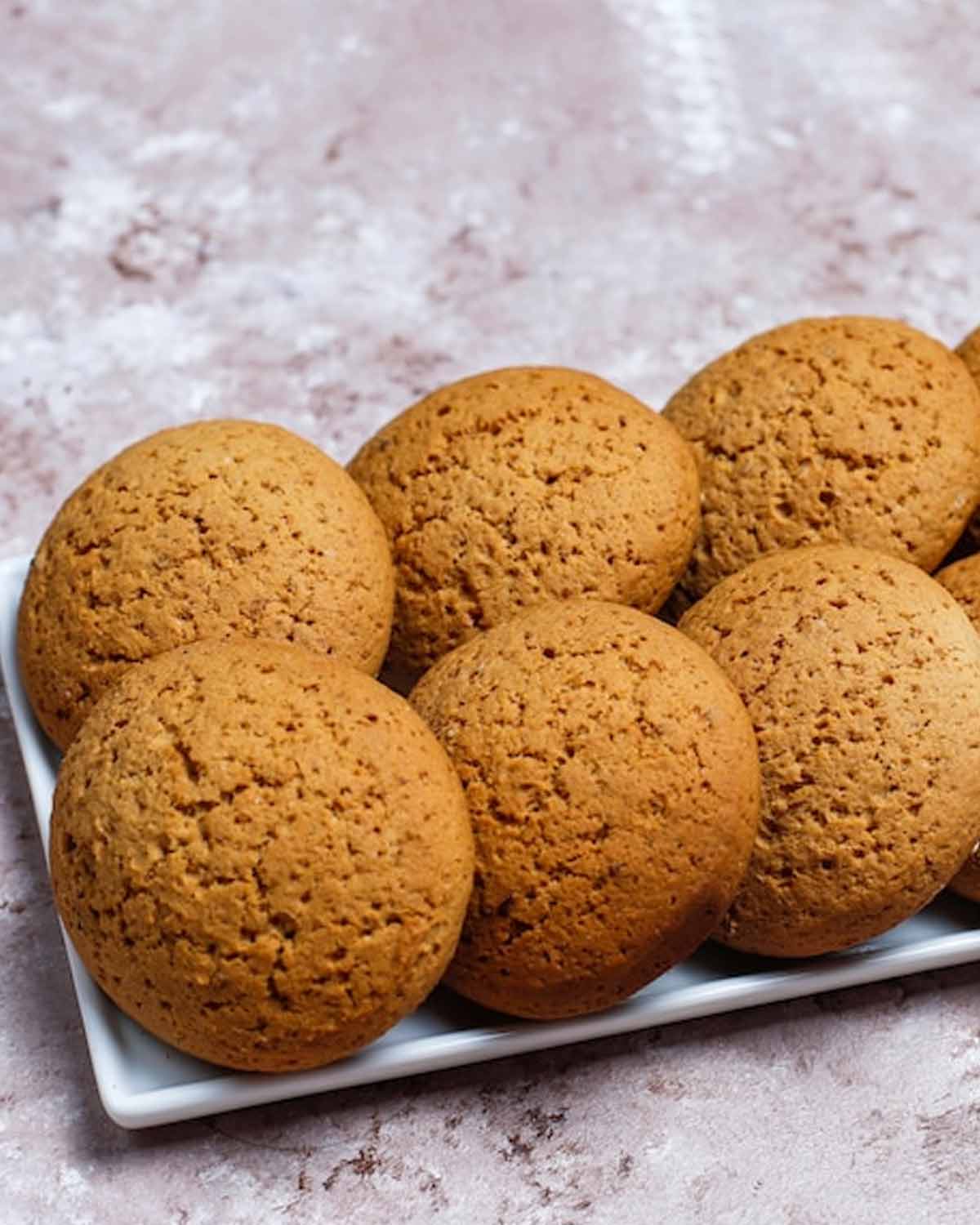 Peanut butter is one of our favourite spreads over bread. How about baking a cookie out of it? Try this out, and you will leave everyone impressed in the house.
Ingredients
1 Cup Butter/ Vegan Butter
1 Cup Creamy Peanut Butter
1 Cup Packed Brown Sugar
1 ½ Teaspoons Baking Soda
1 Cup White Sugar
2 ½ Cups All-Purpose Flour
½ Teaspoon Salt
½ Cup Buttermilk
1 Teaspoon Baking Powder
Method
Preheat the oven to 190°C.
Take a bowl and add peanut butter, white sugar, buttermilk, butter and brown sugar. Mix it until you get a smooth mixture.
Add baking powder, salt, baking soda and flour to the mixture. Blend everything together.
Drop cookies on the tray covered with butter paper using an ice cream scoop.
Bake the cookies for 12 to 15 minutes.
You can serve them with some hot beverages that are relished around the holiday.
Did you like this article ?