Being a chicken lover, having only vegetarian food when on a weight loss journey can be rather difficult. Chicken is in fact a very nutritious food item which when prepared using the right recipes and mix of ingredients, can be perfect for weight loss. The recipes are tasty so you will not regret it. Here are some filling recipes which can be had for lunch or dinner.
Chicken & Broccoli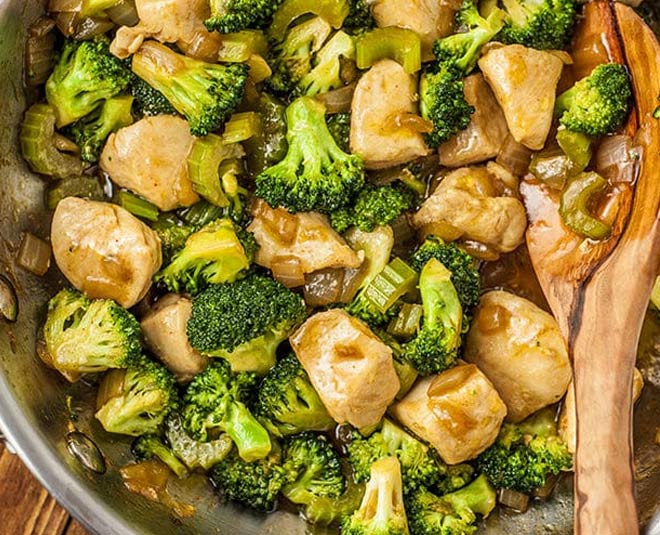 Ingredients
120 gms chicken breast chopped into bite-size pieces
1 cup broccoli florets
1/2 tbsp extra-virgin olive oil
1 minced garlic clove
1/4 cup chopped onion
1/8 cup water
Salt as per taste
Black pepper as per taste
1/4 cup soy sauce
Method
Heat the oil on a nonstick pan and stir cook the chicken until light brown from all sides. Then remove and keep it aside.
Saute the broccoli until tender and remove to a plate and keep it aside.
Now stir fry the onion until it is translucent. Throw in the garlic and saute until the raw smell goes.
Add water, chicken and the broccoli now with the seasoning of salt and pepper. Cook for 5-7 minutes.
Season with any sauce you like and enjoy.
Chicken Bruschetta Casserole
Ingredients
1 1/2 cup bread crumbs
1/4 cup water
2 large tomatoes pureed at home
150 gms
300 gms chicken breast cut into small bite-size pieces
1/4 tsp garlic powder
Salt and pepper as per taste
Oregano for seasoning
Cheese is optional
Method
Preheat the oven. Meanwhile, in a bowl mix together the water, bread crumbs, salt and pepper, oregano and garlic powder.
In a casserole pan, add the chicken and some more of salt and pepper (keep in mind the ingredients mixed with the bread crumbs), with some cheese and oregano.
Add bread crumb mixture and spread.
Bake until chicken is done.
Don't Miss: This Pish Pash Recipe Made With Chicken, Potatoes, Overcooked Rice Is Comfort Food
Indian Chicken Soup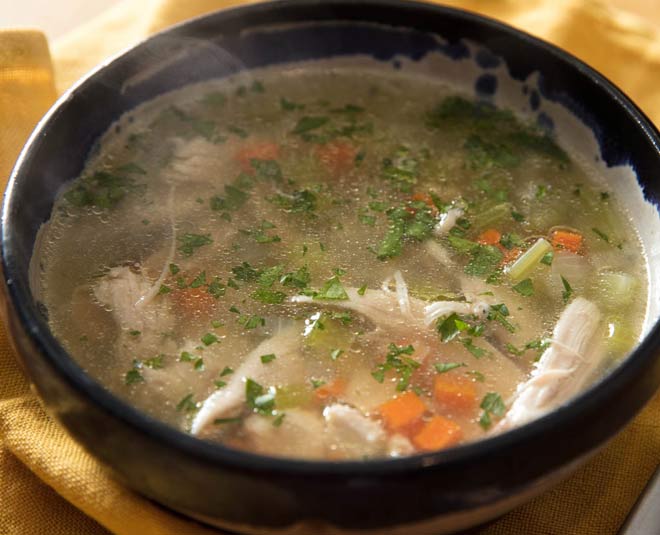 Ingredients
200 gms chicken with bones
1/2 carrot
1 potato
1 cup of any vegetable
1 tbsp lemon juice
1/2 tbsp chopped ginger
1 tbsp chopped garlic
1 tsp oil
1 small bay leaf
3 peppercorns
1 inch cinnamon stick
Don't Miss: Serve Healthy Version Of Yummy Chicken Korma With Boneless Chicken With This Easy Recipe
Method
In a pressure cooker, throw in the chicken, potatoes, vegetables and 3 cups of water.
Cut the leaf into pieces and break the cinnamon and add to the cooker with the peppercorns.
Pressure cook the ingredients for 3 whistles. The chicken should be falling off the bone.
Once done and the cooker cools, shred the chicken and discard the bones and set the bowl aside.
Now, heat some oil in a nonstick and saute the garlic and ginger.
Add the chopped carrot and stir fry for a few minutes.
Strain the chicken stock and add to the pan. Boil it with the carrot pieces and then ass the chicken and salt.
Let the soup cool down a little once it boils and the add the lemon juice and season with some pepper.
Serve when warm.
These recipes can be had any time of the day and they are perfect when you feel under the weather or just too lazy to make something. They are a bit like one-pot meals and low on calories.
Stay tuned to HerZindagi for more such recipes.