Making kids eat can be a fussy affair but winter season is the best time to give them all the nutritious food in a variety of ways minus the fear of their digestion acting up. So when your kids get all hungry during winter and you want to make them eat food that's good for their tummy and also tastes yummy, then go for these options.
Dry Fruit Powder In Milk
Image courtesy: www.momjunction.com
Prepare a mix of dry fruits like cashew, almonds, pistachios etc. and keep it ready to be mixed with milk for the kids. The delicious smell of the dry fruits makes the milk tastier and you can feed this to the kids even on the go as a filling meal. The goodness of dry fruits combined with milk makes this dish a must for winter.
All Berries And Grapes
Image Courtesy: www.healthline.com
Kids will love to eat all colourful berries. Strawberries, raspberries, blueberries, blackberries and gooseberry can be easily mashed into purees or given whole to the kids. You can try making jams or serve them alongside custard, puddings or any dessert and watch them gobble up the berries like anything. Grapes are another good option that can be combined with other fruits or given in a small bowl to be had in between lunch and dinner. These will keep your kid's digestive system good and add the daily dose of nutrients to the diet.
Read More: Top 5 Tiffin Recipes That Kids Will Find Irresistible
Badam Halwa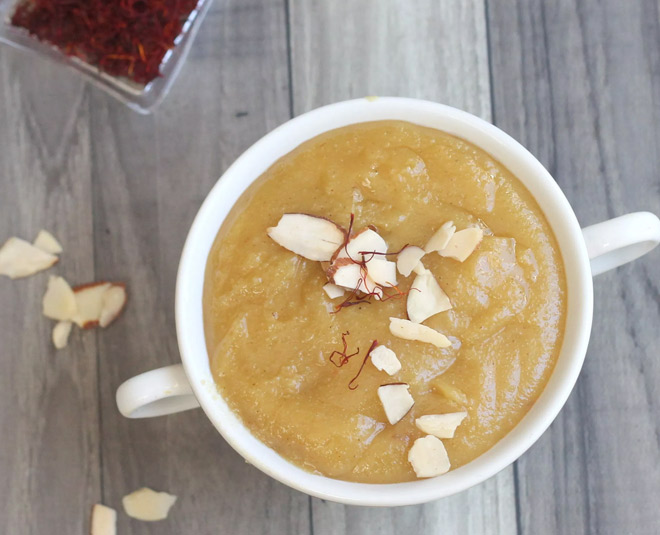 Image Courtesy: www.traditionallymodernfood.com
Almond Halwa or Badam Halwa is a tasty and nutritious dish for kids. To make it all you need to do is grind almonds that have been soaked in hot water, cook it will ghee and sugar on a slow flame. The Badma Halwa will keep your kid's body warm in winter season and provide the much needed proteins for their growing bones. What's more, the almonds will also provide energy to the kids.
Apple Crumble
Get your child to eat apples in the winter season with this delicious dish. Combine chopped apples with sugar and cinnamon for the base in a baking dish. Now mix rolled oats, apples and sugar till it's all crumbly and put over the base and bake it. This will add the much needed fibre and good dose of Omega-3 acid to your kid's diet.
To know about unique recipes for kids, food tips and hacks, stay tuned to HerZindagi.