Kadhi as the word suggests refers to a classic example of a tempered Indian preparation which is mildly blended and spiced with a base of buttermilk made from curd, it is an age old tradition in our cuisine and has varieties and altered recipes to it in several parts of the country. A good Kadhi is one which is well simmered and cooked on a low flame for considerable amount of time to create a mélange of aromas, flavours, texture and taste on our palate, also considered nutritious, nourishing and comforting qualities for all seasons, some of the most popular kadhis we know are the Punjabi style dahi pakoda Kadhi, the light Gujarati Kadhi, the wholesome Sindhi kadhi, Rajasthani kadhi and a few more. Here are a few kadhi recipes by Celebrity Master Chef Kaviraj Khialani, for all Hz Readers to try!
Sindhi Kadhi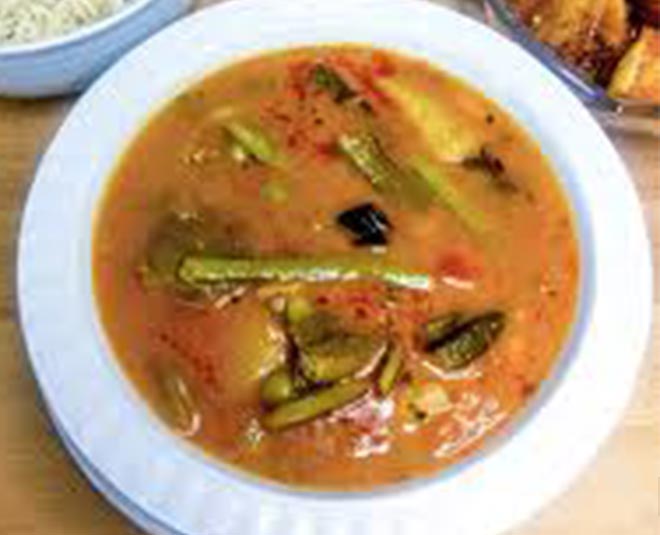 Ingredients
Oil 3-4 Tbsp
Jeera Seeds 1/2 Tsp
Methi Seeds ½ tsp
Dry Red Chilies 2
Slit Green Chilies 2
Curry Leaves 12-15
Hing ½ Tsp
Besan- 3/4th Cup
Turmeric Powder ½ Tsp
Red Chili Powder ½ Tsp
Salt To Taste
Tamarind Pulp ½ Cup
Sugar To Taste And Balance
Hot Water 6- 8 Cups
Coriander Leaves 2 Tbsp Chopped
Assorted Vegetables: Ladyfingers/ Drumstick/ Potatoes/ Yam/ Cluster Beans/ Carrots/ Baby Brinjal
Method
Heat oil in a thick bottomed pan, add in the hing, curry leaves, jeera, methi seeds, red and green chilies and let them crackle and splutter for a few seconds add in the besan and bhunao for 4-6 mins until the color gets darker and we get a nice cooked aroma from the besan.
Now add in the turmeric powder and red chili powder mix well and add in hot water into the pot and mix well.
Add in the tamarind pulp, sugar to taste, salt, and all the assortment of vegetables as desired, add the tough vegetables first and add ladyfinger little later, in some recipes we also fry the vegetables first and then add them to the kadhi as well.
Allow to simmer for 25-30 mins, keep stirring occasionally and check for seasoning and texture as needed to have with rice.
Add in the coriander leaves once well simmered and proper in salt, sour and sweetness to a perfect balance. Serve it hot with steamed rice and some aloo took, sweet boondi, fried papad.
Dubki Kadhi
This is a curd based one pot dish from the Indian state of Chhattisgarh, the word Dubki means to dive and here we use small dumplings made from urad dal and are added to the kadhi, traditionally they are not fried separately but cooked in the kadhi itself to curb or reduce the calorie content making it healthier.
Ingredients
For The Dumplings:
White Urad Dal 1/2 Cup
Ginger 1 Tsp Chopped
Garlic 1 Tsp Chopped
Green Chili 1 Tsp Chopped
Salt To Taste
Rinse the urad dal a few times with water, soak in 3-4 times amount of water for 3-4 hours.
Drain the water, transfer dal to the grinder jar along with the ginger-garlic-chili and grind to a coarsely fine texture, do not add too much water.
Remove into a bowl and add salt to taste, mix well and keep aside until the next step.
For the Kadhi:
Oil/ghee 1 Tbsp
Garlic 1 Tsp Sliced
Mustard Seeds 1/2 Tsp
Hing 1/4 Tsp
Beaten Curd 1 1/2 Cup
Turmeric Powder 1/2 Tsp
Curry Leaves 12-15
Dry Slit Red Chili 2
Salt To Taste
Water 2-3 Cups
Chopped Coriander Leaves 2 Tbsp
Method for Kadhi:
In a mixing bowl beat up the curd, remove all lumps.
Add 1 tbsp. paste of the above prepared urad dal mix and combine it well with the curd.
Heat oil in a pan, add mustard seeds, hing, turmeric powder, red chilies and curry leaves.
Lower the flame and add in the curd and dal mixture into the tempered spices and blend it well.
Add 2-3 cups of warm water and allow the kadhi to simmer well.
Make small dumplings using fingers of a teaspoon and drop them one by one into the simmering or mild boiling kadhi.
Allow to cook for 10-12 mins simmer them well in the kadhi, check for salt add a pinch of sugar if desired, once the dumplings start floating in the kadhi it means they are ready and finally add coriander leaves and serve with variety of rice preparations.
Gujarati Kadhi
Ingredients:
Beaten Curd 1 Cup
Besan 2 Tbsp
Sugar ½ Tbsp (some recipes also use little jaggery)
1 1/2 Cup Warm Water
Ghee 1 Tsp
Oil 1 Tsp
Cloves 2-3
Cinnamon Stick 1-Inch Piece
Dry Red Chili 1
Mustard Seeds ½ Tsp
Jeera Seeds ½ Tsp
Hing 1/4 Tsp
Methi Seeds- ¼ Tsp (Optional)
Chopped Ginger 1-Inch Piece
Slit Green Chilies 2
Curry Leaves 10-12
Salt To Taste
Chopped Coriander Leaves 2 Tbsp
Don't Miss: Quick Recipe To Make Chocolate Paan For Your Guests
Method
Whisk together the curd and besan, add water and blend it well, avoid any lumps, add sugar, keep aside for 20 mins.
In a thick bottomed pan add oil and ghee add in the ingredients for the tadka one by one, allow to crackle and splutter.
Now add in the prepared curd besan mixture on a low flame to prevent curdling and stir well for 1 minute until all is well combined in the pan.
Allow the Kadhi to simmer for 15-20 mins, check for salt and sweetness to balance the taste and water if needed add fresh coriander leaves and serve hot, serve with steamed rice.
Stay tuned to HerZindagi for more such recipes from Celebrity MasterChef Kaviraj Khialani.