'Chaiwali' In Bihar & Stories Of Other Inspiring Women Redefining Norms During Covid
During the Covid-19 crisis, we have seen women breaking stereotypical gender norms and taking up jobs previously done by men.
The covid-19 outbreak has taught us several things, including no job is small or big. It has also taught us that every person must know basic life skills, irrespective of gender. This includes cleaning the house, cooking, driving, washing clothes and taking care of kids.
With the havoc of coronavirus, many families also lost breadwinners and loved ones in their families. As a result of this, we have seen many women taking up job roles that were predefined under the 'male job' tag. From running businesses to driving autos, buses and taxis, women have left no stone unturned to prove to the world that they can do anything.
Let's read some of the inspiring stories of women that gave us hope amid the covid crisis.
A Chaiwali In Patna
An economic graduate in Patna turned into a 'Chaiwali'. Priyanka Gupta completed her undergraduate in 2019 but was unable to land a job. After two years of struggling to find a job, Priyanka turned into a 'chaiwali'.
According to a report in the ANI, she said, "I did my UG in 2019 but was unable to get a job in the last 2 years. I took inspiration from Prafull Billore. There are many chaiwallahs, why can't there be a chaiwali?"
The photos available on the ANI Twitter account show Priyanka selling paan chai, masala chai, kulhad chai and cookies. The banner of the stall had many punch lines, including 'peena hi padega', 'initiative towards Atmanirbhar Bharat', 'log kya sochenge, agar yeh bhi hum sochenge to log kya sochenge', and 'soch mat chalu kar de bas'.
The story went viral on social media with many users praising Priyanka for her hard work and determination. A user even wrote, "Now she will give jobs and business to others in the coming time."
First Female E-Rickshaw Driver In New Delhi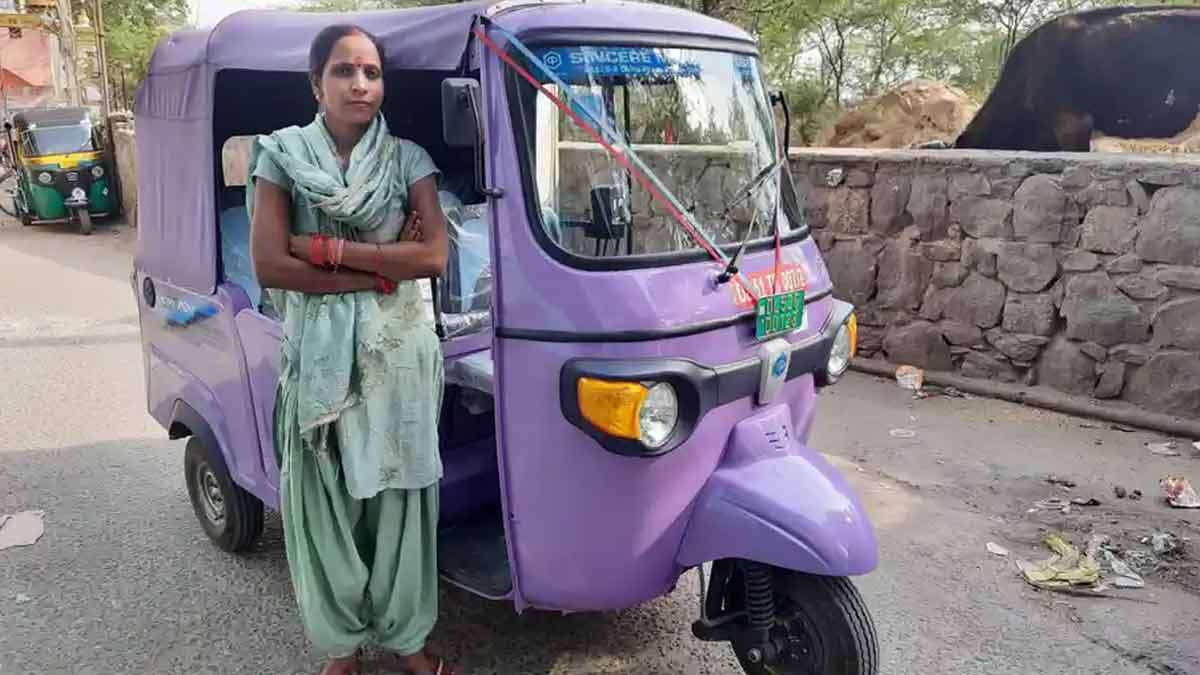 Image Courtesy: The Guardian
According to a story in The Guardian, a 35-year-old woman in New Delhi is the city's first woman to drive an electronic rickshaw. Monika Devi is among a handful of women in India driving a three-wheeled automobile. According to the report, she drives the electronic vehicle to tackle the issue of filthy air in the capital.
In the interview with the media house, she said, "This city is unsafe for women, and until now, they had no choice but to travel in an autorickshaw driven by a man, which can be scary at night. Plus, I hate the pollution and feel happy that I'm doing my bit by driving an electric rickshaw which isn't spewing out toxic fumes."
Adding, Devi said, "My father drives an autorickshaw, but he initially opposed me. He thought male passengers would flirt with me or harass me. I had to fight him on this. I am not scared at all of being on the roads. If women are scared, how will we make progress?"
Don't Miss: Women Who Dedicated Their Lives To The Trees
Doodhpathri Women Opening Zero-Waste Food Stalls
Image Courtesy: IndiaSpend
Renowned as a popular tourist destination in Kashmir (Houseboat Experience In Kashmir), Doodhpathri features many food stalls to cater to travellers. According to a report of IndiaSpend, an area in the district has at least 50 stalls, and women run 43 of them. Wearing traditional dresses, they sell Noon Chai and Makai Chot.
These women took an initiative to prevent the pollution of the environment by converting their food stalls into a zero-waste space. A 45-year-old woman, Naseema Banu told IndiaSpend, "We have tried many things here. A few years back, we started selling Lays [potato chips] packets here, but after some time, polythene started accumulating everywhere."
Don't Miss: Female Judges In India And Their Recent Statements
She further added, "I consulted other stall owners, and we agreed to not sell any product that would pollute the environment." The women around the area sell freshly-made food on reusable plates. Thus, the initiative has reduced the selling of packaged food and prevented the accumulation of polythene waste.
Stay tuned with HerZindagi for more such inspiring stories!