You must be aware of the male cricket players such as Sachin Tendulkar and MS Dhoni, joining the Air Force and Army respectively. But today, we bring to you a story of a woman who is creating history in this gentle man's game and making the country proud. Flight Lieutenant Shikha Subas Pandey, who is team India's senior women's cricketer and officer in the Indian Air Force is inspiring the woman of this country to dream big and believe that nothing is impossible to achieve.
Journey of Shikha Pandey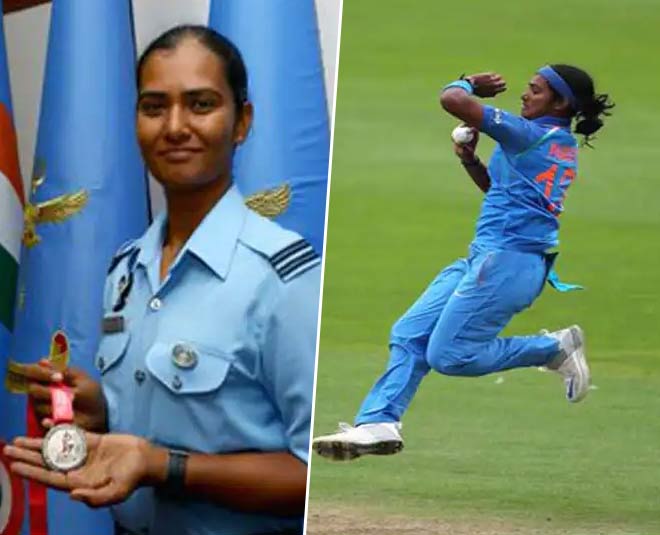 Shikha was born and raised in a small town called Karimnagar in Telangana, India. She has always been a bright student since her school days and holds a degree in Electronics and Electrical Engineering from Goa College of Engineering. Studies have always been the top priority for this young star and she had to juggle a lot between academics and her cricket training during her college days. Shikha is trained under Nitin Vernekar, former Goa cricketer and Sports Authority of Goa coach. And to reach for her training sessions, Shikha had to cover a 12km journey every day. This period was very important for the growth of Shikha as a cricketer. However, Shikha did not let her passion for cricket affect her studies, and she excelled in both studies as well as sports.
Don't miss: Tashi Yangjom: First Indian Woman Mountaineer To Scale Everest In 2021
Pursuing Cricket
Once Shikha graduated from Goa College of Engineering in 2010, she was offered great job opportunities by three multinational companies which she declined and decided to take a break for a year to focus on her cricketing career. Later in the year 2011, Shikha joined Indian Air Force, and in 2012 she was commissioned as an air traffic controller. As a Cricketer, Shikha made her debut in International Twenty20 (T20) cricket, in the year 2014. In which she played against Bangladesh at Cox's Bazar cricket stadium in Bangladesh. In the same year, she also made her debut in One Day International cricket (ODI) and Test cricket playing against England at Wormsley and Scarborough respectively.
Don't miss: The Top Women Leaders Who Changed The World For Good
Inspiring Women Cricket Players
After waiting for nearly seven years, the Indian women's cricket team is ready to play a test match against England in Bristol. Recently, the official Twitter handle of the BCCI Women had shared about the new Test kit for India vs England 2021 and all the players were thrilled to reveal their respective jerseys. Shikha Pandey too took to her official page and shared an inspiration post that won the hearts of the fans and followers. "I meet this 5-year-old starry-eyed kid every day, she asks me the same question and I don't know what to say. I've exhausted all the excuses that I can give her, so I tell myself to work harder and be the change I am looking for!" the note read. "Respect and gratitude to every woman cricketer who came before us, strength to the mates who are toiling hard right now at all levels. Hope to the future ones whom we aim to inspire!" the note added.
The five year old me is thrilled to bits. #WeFlyAs1#BecauseOfHerWeCanpic.twitter.com/QT6egYJUDc

— Shikha Pandey (@shikhashauny) May 31, 2021
In the times when women are often stereotyped, the story of Shikha Pandey is an inspiration for all of us. She inspires us to dream big and work hard to achieve them.
If you liked this article then please share your views on our Facebook page. stay tuned to Herzindagi for more such inspirational stories.