Shilpa Shetty garnered popularity by working in some hit films which entertained the audience for the fullest. While she is admired for her amazing build-up, her style is also to die for. If you have ever scrolled down her official IG profile, you know the actress has the most stunning collection of ethnic, Indo-western, and casual attires.
Other than cool and chic couture, she has also been spotted carrying some statement hairstyles. Something that one can carry to wedding functions and make heads turn. If you want to learn to make her buns and braids, tag along with us to know how to achieve these three Shilpa Shetty looks.
Fluffy Ponytail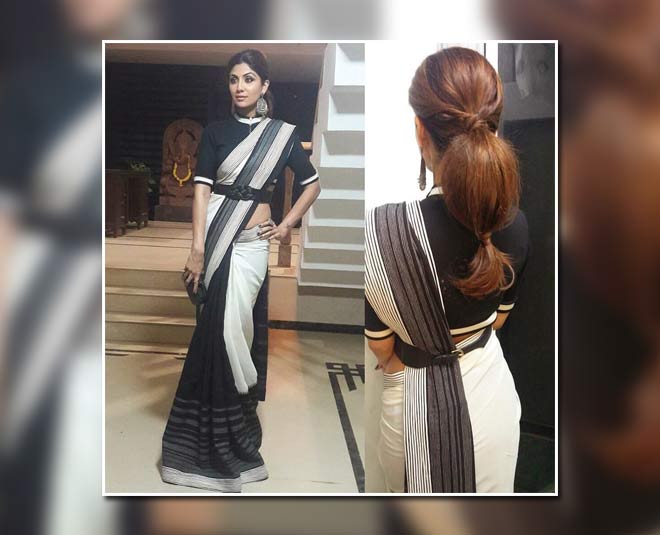 Nowadays, fluffy hairdos are trending, as they are versatile, uber-chic and really easy to make. To nail this fluffy ponytail, grab your comb and hairspray and follow these steps:
Steps
Detangle your hair and straighten the strands using a flat iron.
Once done, part your hair from the middle.
Then take once hair section from each side. Twist them thrice and secure them at the back, on the crown section.
Comb your hair once more.
Make a simple ponytail at the nape of your neck.
Take a hair strand from the ponytail and wrap it around the elastic band.
Also, crisscross the twisted strands and wrap your ponytail from them too.
Brush your hair and tie the pony towards the end, leaving 5-inch hair at the bottom.
Lastly, apply hair spray to set everything.
Inside Out Hair Bun

If you are not a fan of leaving your hair open, make a bun. While performing rituals at the wedding, you don't want hair strands to disturb you. This hairdo is apt for such occasions.
Steps
Brush your hair to remove any knots from the strands.
Do a side parting, and bring your hair on the one side.
From the left, start making a normal braid (21 fun braid hairstyles). This will further be wrapped to make a bun.
Take two hair strands; A and B. The third one will be taken from the right side.
Start braiding. Cross A and B, then take a thin hair strand from the right side of your head and pass it over B.
Keep repeating the same steps, until you reach the end. Secure the braid.
Then carefully hold the braid, and carefully place it below the crown section.
Let it rest of the folded strand fall to create a bun.
Once done, take out the hair strand from the front to complete the look.
Side Hair Twists
For a little bit edgier look, the hair twists can never go wrong. Not only such a hairdo gives a smarter appearance, but also help you flaunt your ear jewellery.
Don't Miss: Throwback: When Shilpa Shetty Claimed That Akshay Kumar Two-Timed Her With Twinkle Khanna
Steps
First things first, detangle (ways to detangle your hair) your hair all the way through.
Part your hair from the left side. Tie off the rest of the hair to keep it from disturbing you.
Using a tail comb, take out three hair strands vertically from the temple area of the head.
Clip the other two and start working on the first one.
From the roots, start twisting the hair strand. Add a small hair section as you go along.
Once done, secure at the crown section.
Repeat the same with the other two hair strands.
Lastly, brush your hair for a cleaner look.
Do let us know which among these are your favourite Shilpa Shetty hairstyles by commenting on our Facebook page. Stay tuned to HerZindagi for more such stories.
Picture Courtesy: Pinterest