What comes to your mind when we ask you to put together a stylish look? Nicely done hair, a gorgeous looking attire, and some nice pieces of jewellery! What about shoes? Didn't think of it, did you? When it comes to shoes, it is the most overlooked yet most important element of dressing up. A bad shoe can completely ruin the look of your outfit no matter how glamorous it is and a good footwear can elevate the look of even the most boring look! So, here we are again, all set to help you in pairing the perfect footwear with the perfect outfit!
Beachwear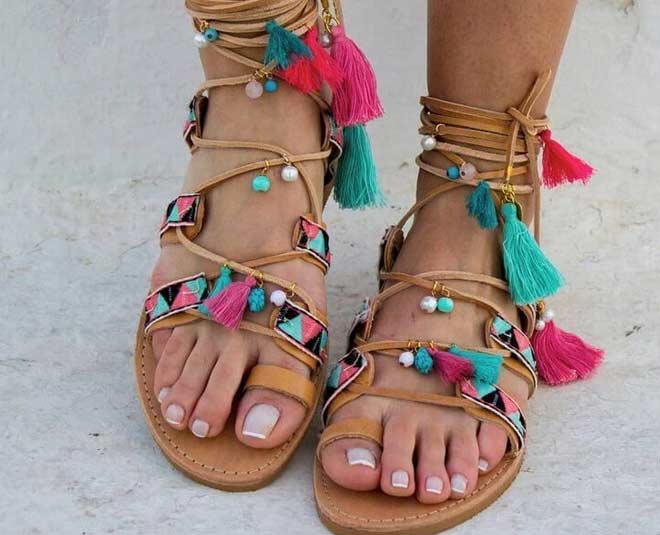 Image Credit: i.pinimg
If you are going on a trip to a beachy place, forget sophisticated, go all out and crazy with colours and funkiness! These kinds of footwear give you an edge over all those who are at the beach wearing slippers. They will also match any colour of an outfit that you choose to wear and will overall fit perfectly with the vibe of a beach vacation!
Dresses
The most important tip that there is for pairing footwear with any dress is to make sure your feet are seen, even if just a part of it. Do not wear sandals that completely cover your feet, either your toes or the ankles must be seen. Apart from that if you want to wear shoes on your dress to give it a cool and sporty look, make sure the shoes are lean and not those huge sneakers.
Formals
Wearing formals is equivalent to a 'Boss Lady' look so do not ruin your aura with the wrong footwear selection. Heels go best with pencil skirts or tight formal pants. The colour should be subtle, like black or beige. You can also wear formal shoes that have no heels but then choose the one that covers the front of your feet. Any which way, wear only those footwear that you are comfortable in because an uncomfortable walk can completely ruin the look in formals.
Read More- Look Appropriate, Make An Impression, Wear The Right Shoes While At Work With These Tips
Shorts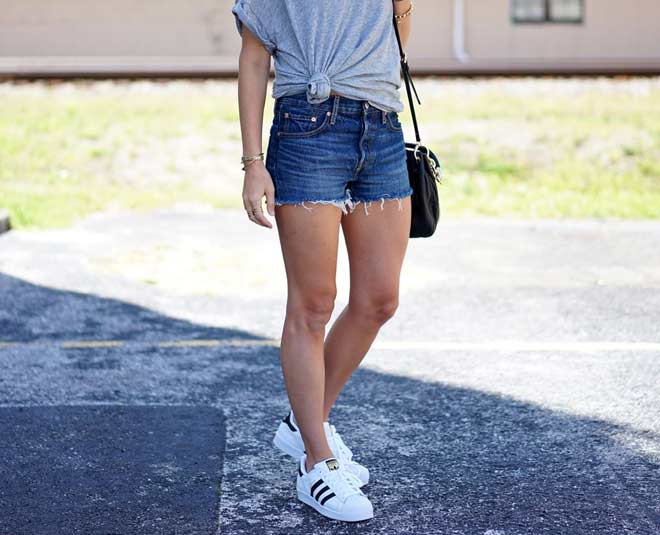 Image Credits: i.pinimg
This is a very casual look so make sure you don't overdo your footwear. Wear something casual even if you want to wear sandals, make sure they don't have heels. Straps are okay, but make sure they are not some tacky party wear colour. The best footwear that goes undoubtwedly well with shorts are sports shoes. If you wear them, nothing better!
Don't Miss- Leather Shoe Care Tips: How To Make Your Pair Look New As Ever
Saree
Image Credit: royalpepper
When most of us wear saree, or for that matter any flowy Indian outfit we assume that no one will look at our feet. Let us tell you there is nothing more attractive than a pair of glamorous sandals peeking out of the fall of the saree. Make sure you don't pick any funky colours, choose classic gold or silver. Make sure your toes are seen and wear pretty nail paints on your toenails.
Make sure you use these tips to ace your footwear game and for more such content, stay tuned to Her Zindagi!