Ace designer Masaba Gupta is taking us back to her greatest hits and we are excited! Masaba Gupta has been sharing some of the favourite looks done by her in the past on her social media. Over the years, fashion trends have emerged and returned too. Have a look at some of Masaba's favourite looks and muses!
Styling Sonam Kapoor For Cannes
Masaba Gupta first shared a picture of Sonam Kapoor in a black and white polka dot saree. Masaba shared that it was Sonam's first look at Cannes in the year 2011. Sonam Kapoor carried it for one of the dinners at the festival. She captioned it, "I had to begin with this Polka-Dot dhoti saree that I did for Sonam ( I'm not sure if this was her first Cannes outing ) but I think it was 2011-12. Rhea & I conceptualised it and over a few rounds of sketches / fabric sampling it was done. The ombré pleats were done in a soft net & finished off with a gold border cut up from a Kerala cotton saree & the top half was in Muslin. I was up late into the night waiting for Rhea to send me images & The look was picked up by @wwd - this really turned things around for the label & began a long midnight text-message design relationship with my favourite fashion sisters."
So, now you know how this outfit for Sonam Kapoor was finalised at midnight!
Festival de Cannes which is held every year in May will not take place this year due to the coronavirus pandemic but we hope this throwback picture of Sonam Kapoor from the Cannes makes your day!
Don't Miss: Masaba Gupta On Her Fear Of Being Mediocre And More In Exclusive Chat With HZ
When She Dressed Bebo For The First Time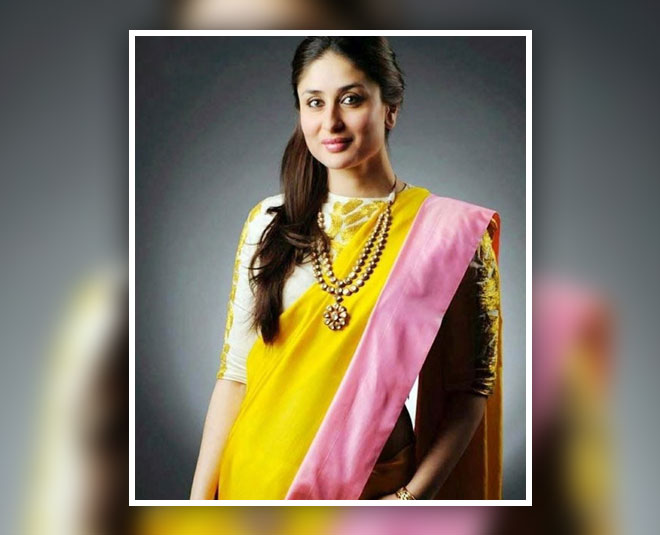 It was in the year 2012 when Masaba Gupta designed Kareena Kapoor for the first time. Kareena can be seen wearing a beautiful silk saree. She shared, "2012 • The first time I dressed @kareenakapoorkhan • This saree was straight off the runway & still reminds me of a Lemon-Grapefruit Sorbet. A Super lightweight Silk saree with a Muslin Blouse embellished with beaten gold work on the neck & sleeve. The saree went on to become one of our bestsellers for many years!"
Don't Miss: See Pics: Inside Masaba & Neena Gupta's White, Classy, and Tasteful Home
Anushka's Polka Dot Set
Masaba Gupta has a thing for polka dots and that's clear as she shared Anushka Sharma's summer look. She captioned it, "Brighter than sunshine • polka dots in all sizes are a clear weakness. I find myself returning to them very often. We hadn't done denim at all at the label & it's one of my favourite fabrics...so in the Summer of 2014/15 we did this two piece set that I find so easy to wear. @anushkasharma wore it beautifully & her picture is a reminder of what I always want my clothes to be - wearable,not intimidating & classic."
Deepika's Fuss-Free, Unexpected Airport Look
Another one from Masaba's greatest hits is this one where Deepika can be seen carrying a white muslin cape shirt with denim and boots. She captioned it, "This was the unexpected but special one. And also totally up my alley ( I prefer wearing whites & blacks in my day-to day life & have always wanted to do an all white collection) - Deepika wore this Muslin shirt cape shirt which was actually just a sample we were trying out & actually didn't even make it to the collection that year. But here was she sauntering out of the airport -nicely styled with denim & chocolate brown accessories. Just the way I would style it. Effortless. I'd love to dress her more. @deepikapadukone."
This is the time when we are not getting to witness any new fashion trends but these throwback pictures are surely a treat!