Ram Navami and Ashtami are two days for most Hindus when we look forward to the pooja and the prasad that we get girls get. This time it was something different as we are all under lockdown and the kanjaks are missing. On this day Siddhidatri form of Goddess Durga is worshiped and Navami of Chaitra Navratri. Even though the temple is closed in the country, devotees have not lost their zeal. Same was for all our celebs who prepared the prasad and worshipped. Kapil Sharma, Shilpa Shetty and Anushka Sharma shared photos of Prasad celebrating Durgashtami.
Anushka shared the pic of the prasad that she made on her Instagram handle. The halwa, channa and puri look so mouth-watering.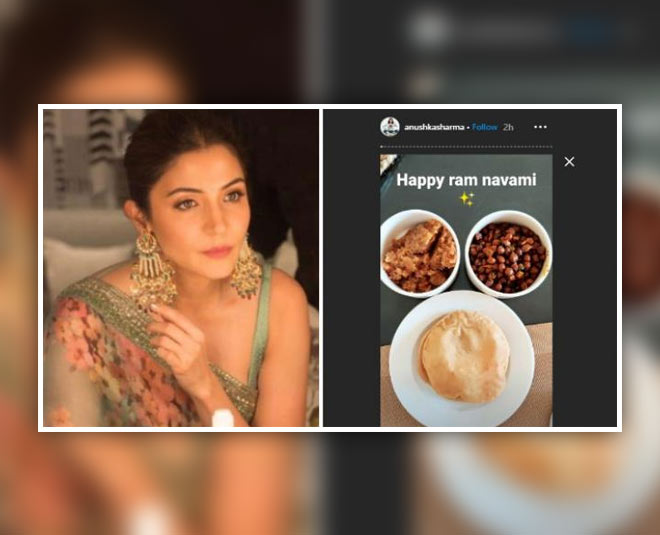 Anushka also shared a picture of her with her husband and Indian cricket captain Virat Kohli along with their dog. She wrote a very thoughtful message in along with the picture, on spending time with family during the quarantine.
View this post on Instagram
She wrote: "Every dark cloud had a silver lining. And this time, while it may seem like the worst time and in so many ways it actually is, has also forcefully made us all stop and deal with things we might have been running away from because either we were 'busy' or it was convenient to say we were 'busy'.
"If this time is respected for what it is, it will enable more light to shine through. This time has also made us all realise what's truly important. For me just having food, water and a roof over my head and the good health of my family seems MOST important. Everything else is a bonus that I bow my head in gratitude for. But, that which we call 'basic' is not so basic for everyone after looking at all the people who struggle for just those few things. My prayers with them and their families. May everyone be safe and secure.," she added.
Don't Miss: Janhvi Kapoor Realises That She Has Taken Many Things For Granted, Feels Liberated Amid Lockdown
Well besides Anushka, Kapil Sharma as well shared a picture of his new born's first kanjak poojan and we are all hearts.
View this post on Instagram
He captioned the picture: "Jai mata di #ashtami #kanjakpoojan #daddysgirl #anayra #daughter #3monthsold #gratitude"
Shilpa too took to Instagram to share her pooja on Ashtami and wrote: "Today marks the 8th day of the Chaitra Navratri, which is known as Durga Ashtami… I always prepare the Prasad personally. So tried the Makhana and Gur ki Barfi as an offering this time. Specially prayed for strength for all of humanity to get through these times and emerge victorious as one community in the face of adversity."
View this post on Instagram
She also shared the recipe of the sweet she made at home.
Ingredients:
• 1 1/2cups Roasted makhana (Fox Nuts)
• 1/2 cup Roasted chopped cashews
• 1/2 cup Roasted chopped almonds
• 2 tbsp Roasted pistachios
• 3 tbsp crushed Flaxseeds
• 1 tsp crushed saunf (fennel seeds)
• 4 crushed elaichi (green cardamom)
• 1/2 cup desiccated coconut
Sweet syrup:
• 1 cup water
• 1 cup jaggery (gur)
• 4 tbsp sugar
• 4 green crushed elaichi
• Grease a plate with ghee
Method:
1. Remove the outer skin of the cardamoms and grind them in the mortar.
2. Grease the tray, plate or a small thali with ghee. Keep aside.
3. Heat a wok, dry roast the makhana for about two-three minutes on medium heat. Then, crush them roughly. This can be done in a grinder.
4. Dry roast the nuts & seeds on medium heat for about a minute. Then, grind the nuts & seeds coarsely in the grinder.
5. Now, add the desiccated coconut in grounded nuts & seeds and puffed makhana.
6. Boil the jaggery, sugar, elaichi, and water in a wok/pan. After the first boil, reduce the heat and boil the sweet syrup till it thickens and makes two string syrup.
(Two string syrup means that you take a drop of syrup between your two fingers and then stretch the fingers - if the syrup that sticks between the two fingers is making two threads (or strings) then the thickness of syrup is appropriate. Takes about 7-8 mins.)
7. Now, add the roasted nuts & seeds, makhane, coconut powder, and cardamom, mix well, cook till the mixture absorbs the sweet syrup. Takes about 2 minutes on medium-low heat.
8. Now, turn off the heat and set the mixture on the greased tray. Let the mixture cool down, takes about 8-10 minutes. Now, cut the burfi in required shape.