Full-Length Kurti: Style According To Body Type
Having trouble deciding which floor-length kurti will suit your body type? Read on!
Women Body Type: Full-length kurti (floor-length kurti) is an outfit that women of any body type can wear. However, there is a catch to picking these so that you feel comfortable in your skin.
We all know that we are beautiful in the way we look. But, we still get conscious of our body types. Hence, this article mentions patterns and designs of floor-length kurtis for women with different body types. Let's take a look!
Tall And Slim (Women Body Type)
Image Courtesy: Amazon.in
Women with tall and slim bodies can try vibrant patterns with a floor-length kurti. You can also try asymmetric kurti with a lot of flares. If you try such a kurti, there will be no need to wear heels because the couture will elevate your overall outlook.
Women with height and slim figures can try a collared or bandhgala neck. If you have heavy breasts or a small bust, you must invest in a V-neck or scoop neck. Women with tall heights have the advantage of pairing a full-length kurti with cigarette pants, leggings or even wide-leg bottoms.
Pear-Shaped Body (Ethnic Wear)
Women with pear-shaped bodies often have big hips. A floor-length kurti will help you hide your curves without putting extra effort. However, you must ensure that the kurti does not sit on your back but flow from your waist.
Since pear-shaped bodies have a smaller chest (make flat chest look bigger), you can pick V-neckline, scoop neckline or boat neck. You should pair the kurti with wide-leg or cigarette pants instead of leggings. A tight pair of bottoms can highlight your back.
Short And Slim Body (Different Body Type)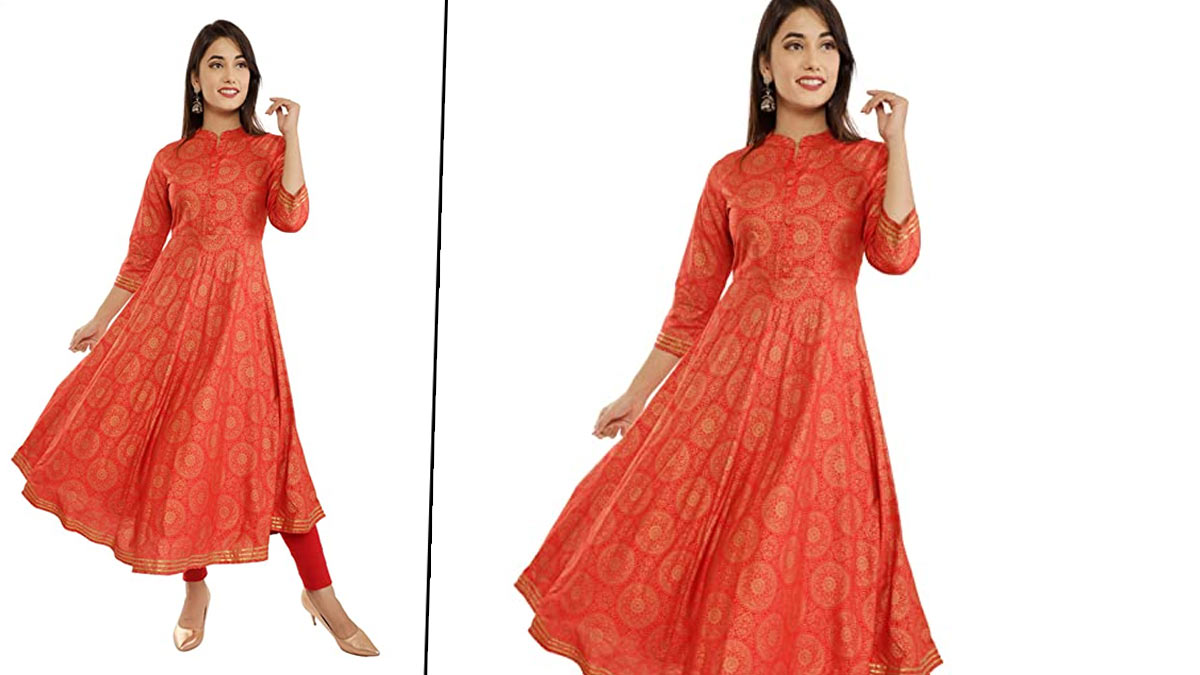 Image Courtesy: Amazon.in
Women with short and slim bodies can wear floor-length kurtis without a heel. If you pair it with cigarette pants or leggings, your outfit will give the illusion of tall height even when you are not wearing heels.
Short women must not wear wide-leg bottoms with a full-length kurti because it will make you appear short even with heels. However, if you have a slim body, you can experiment with colours and patterns according to your complexion.
Hourglass Body (Suits For Women)
Women with hourglass bodies have an equal proportion of weight around the breasts and hips. Women with such a body type must check the necklines according to the size of their breasts and bottoms according to the size of the waist.
Whether you have small boobs or large breasts, you can opt for a scoop neck, cowl neck and V-neck. If you have a large back, you should avoid wearing tight bottoms. If you have a small back, you can pair the kurti with leggings or straight pants.
Voluptuous Body (Kurti For Women)
Image Courtesy: Amazon.in
Women with a healthy and voluptuous body must try a floor-length kurti because it will make them appear tall and slim. Since you have heavy breasts and waist, you must avoid wide leg pants like palazzo pants or sharara with such an outfit.
Don't Miss:Straight Kurta: Shop According To Your Body Type
Voluptuous women should not consider themselves fat women. You have beautiful curves, and you just need to find the correct outfits to flaunt them. A floor-length kurti with vertical strips, small patterns and V-neck (necklines for big bust) will be a perfect fit for you.
Moderate Body (Ethnic Dress For Women)
Women with moderate bodies must try out floor-length kurtis to look tall and slim. You can don the outfit with any neckline, and it will amplify your overall appearance just like that.
Don't Miss: Choose Saree According To Your Body Type
However, you must avoid pairing the kurti with palazzo pants or other kinds of wide-leg pants. They can make you appear short and bulk. Women with such a body type should also wear small patterns and vertical prints.
Stay tuned with HerZindagi for more styling and fashion tips!