Straight Kurta: Shop According To Your Body Type
Whether you are tall, curvaceous, voluptuous or small, you can don a straight kurta like no other ethnic wear. Read on!
Are you looking to shop for a kurta? Do you wonder which kurta design would look flattering on your body type? Fret not! This article will explain how women can shop for a kurta according to their body type.
It is no secret that the way we dress can boost our confidence. If we feel beautiful when we see the mirror, it makes us feel confident. Though each body is gorgeous, it is crucial to dress according to our curves to elevate our appearance.
Tall And Slim Body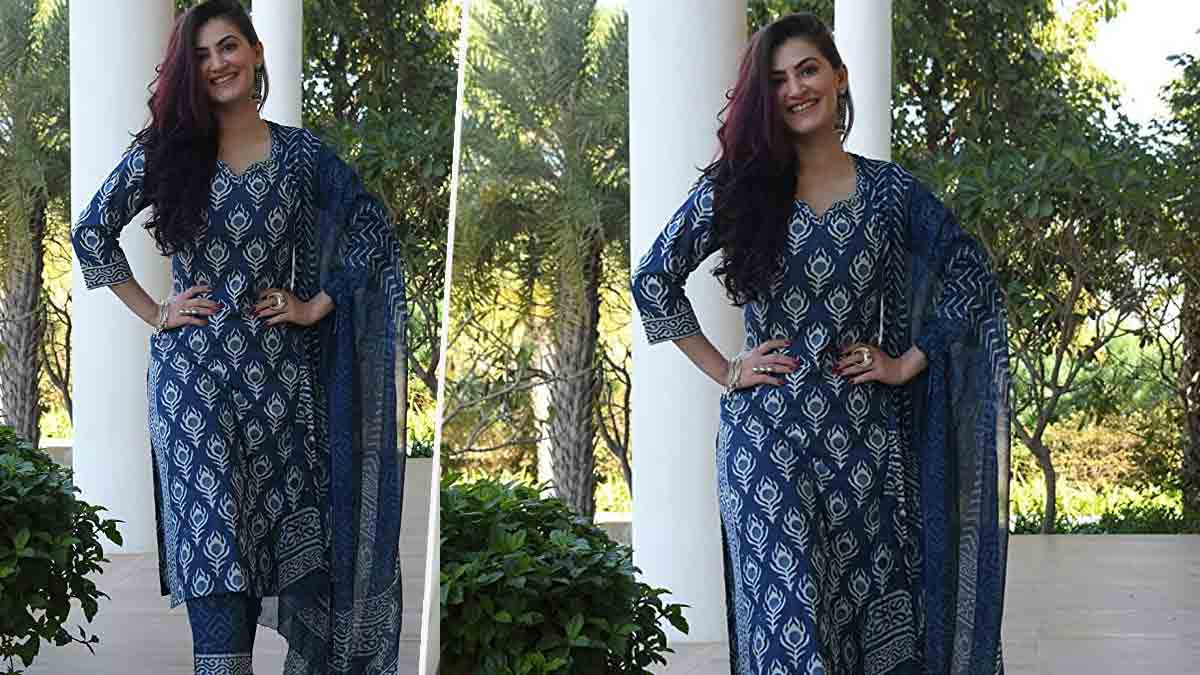 Image Courtesy: Amazon.in
Women who are tall and slim can try a straight short or long kurta. You can experiment with georgette, cotton and rayon fabrics. A seamless design with quarter sleeves can amplify your look in just a few minutes.
Tall and slim women can also choose a sleeveless kurta or a short one. You can pair it up with a palazzo, leggings and skinny jeans. If you are looking for a neck design, try the evergreen halter neck, collar neck, V-neck and scoop neck. You can also pair your look with a set of oxidised jewellery.
Pear-Shaped Body
A pear-shaped body has a small bust and a big back. Therefore, the straight kurta design must accentuate the curves without making the hips look broader. Hence, women with such a body shape must choose a long kurta in a seamless fabric like cotton.
You must also take care of the length. Women with big waists must avoid a short kurta as it can draw attention to the hips. You must choose the clothing that extends below your back, at least until your knees.
Hourglass Body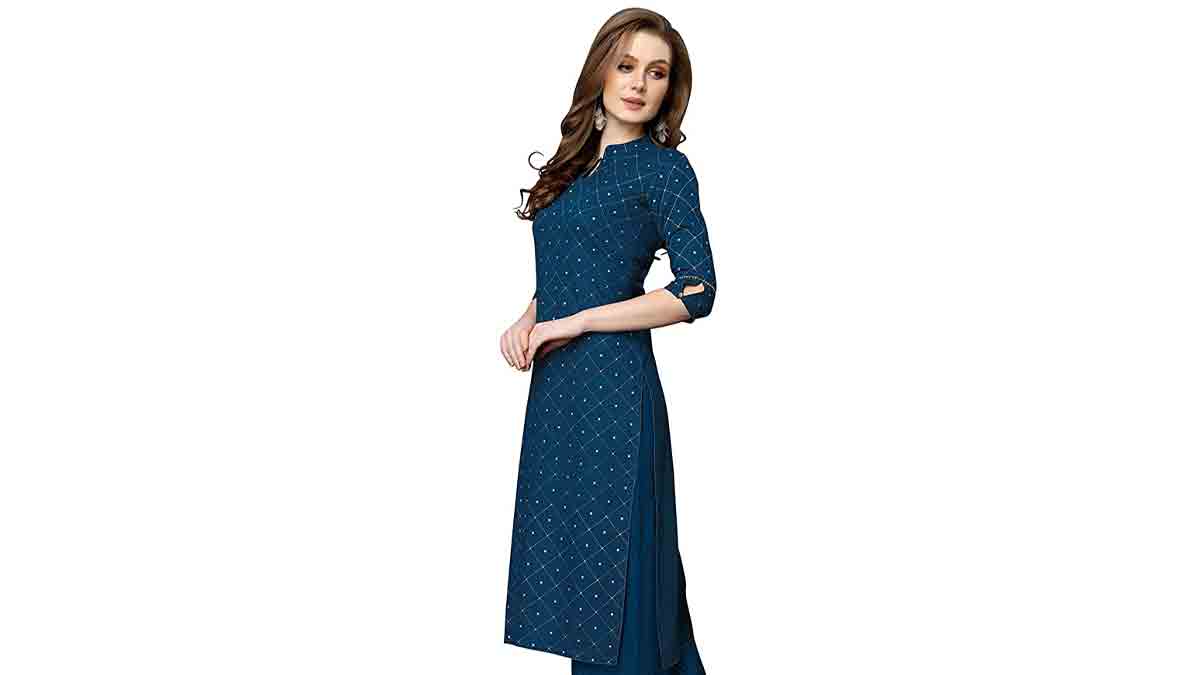 Image Courtesy: Amazon.in
An hourglass body is quite proportionate when it comes to the figure. The sizes of their chest and waist are almost equal. Thus, such women can experiment with a straight kurta.
However, such women must question the neckline of the kurta. Whether you have a heavy bust and waist or small breasts and back, you must choose the neckline of the kurta accordingly. In both cases, women can effortlessly pick a V-neck, off-shoulder neck and scoop neck for the kurta.
Short And Slim Body
Women with short height often like to look tall. Therefore, you must choose a long straight kurta with a V-neck or scoop neck design. It should extend over your knees to create an illusion of you looking tall without heels.
You must avoid wearing a short kurta. It must at least extend till your knees. You must also wear skinny bottoms like leggings, cigarette pants, churidar or skinny jeans. Palazzo pants or sharara bottoms might make you look shorter than you actually are.
Voluptuous Body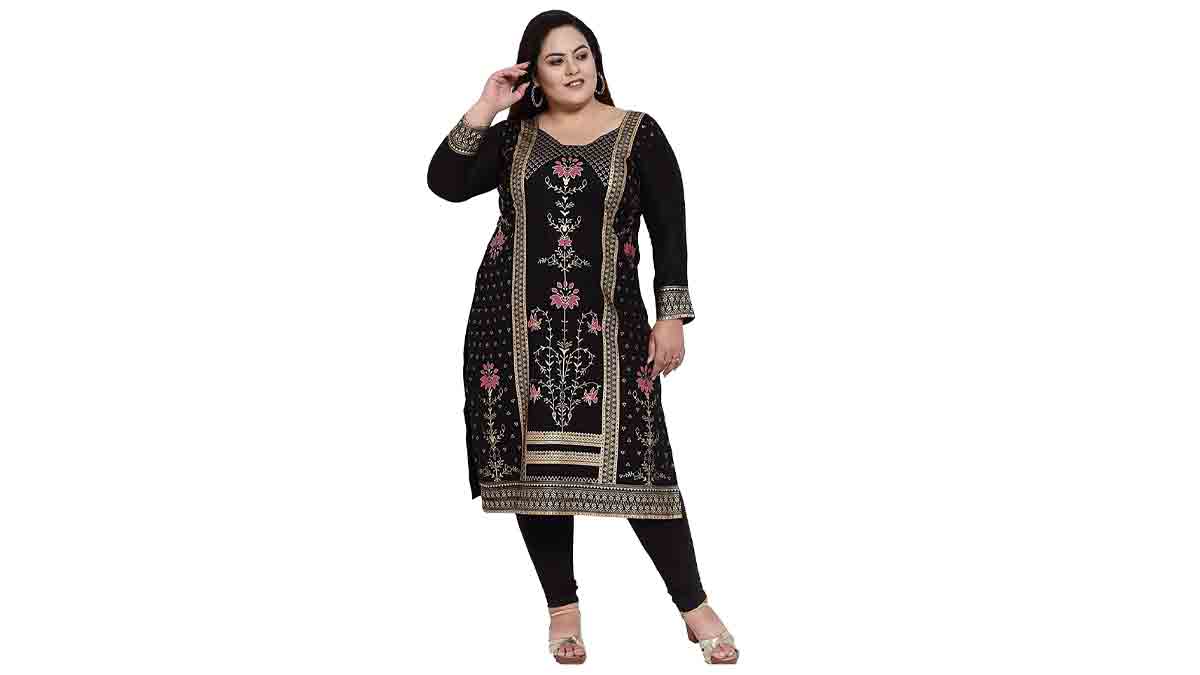 Image Courtesy: Amazon.in
Voluptuous women often think of themselves as fat. However, it is not the case. But if you would like to appear slim, a straight kurta is an impeccable choice for you. You can also experiment with the colours according to your skin tone.
For a voluptuous body, V-neck and scoop neck are the best necklines to try with a Kurta. You must wear a long kurta with leggings and churidar to give an illusion of long height and slim body.
Don't Miss: Choose Saree According To Your Body Type
Moderate Body
Women with a healthy build and moderate height can experiment with the length and necklines of a kurta. You can try a short kurta with a pair of jeans or a long kurta with palazzo pants and leggings.
Don't Miss: Nita Ambani: Alluring Collection Of Sarees
To amplify the look, you can don oxidised or matching earrings with the couture. A straight kurta often looks flattering with cigarette pants for such a body type. You can also pair it with a matching or contrasting dupatta or a short jacket.
Stay tuned with HerZindagi for more such style and fashion tips!