Necklines For Big Bust: Everyday Fashion Tips
Are you looking to flaunt your large breasts in a tasteful fashion? Read the styling tips!
Women with big breasts struggle to find the right neckline that can accentuate their curves tastefully. While a good attire can boost confidence, self-consciousness can make one feel uncomfortable in their own skin.
However, you no longer have to worry about it because we have style tips for big breasts. This article mentions the necklines for women so that you can choose a perfect dress for yourself. Take a look and get inspired!
V-Neck
Image Courtesy: Vidya Balan/Instagram
If you do not know how to carry V-neck, there is no better actress than Vidya Balan to learn it from. She has always been a voluptuous woman who has encouraged women to be comfortable in their skin. She has been the epitome of body positivity.
Her wrap-around dress with V-neck is a perfect choice for women with large breasts. It neither shows too much cleavage nor highlights the bust. V-neck is also a popular choice for women with the small bust. You can try it in a kurti, blouse, dress and top.
Off-Shoulder Neck (Style Tips For Women)
View this post on Instagram
In the above image, the style diva Bipasha Basu is wearing an off-shoulder top beside the pool. It is one of the best styles for women with heavy chests because it exposes the chest. It makes your shoulder look broad and breasts a little less heavy than before.
You can try this neckline for tops, dresses, gowns and Indo-Western outfits as well. It is quite popular among women with big breasts and short torsos. In fact, women with small busts can also try it to hide their inhibitions.
Asymmetric Neck
Image Courtesy: Urvashi Rautela/Instagram
An asymmetric neckline is defined as the diagonal coverage of one shoulder. For example, Urvashi Rautela is wearing a stunning dress in the above image. It has a slit cut that is running towards the thighs.
Women with large breasts can try it because it defines the curves in a tasteful fashion. The diagonal fabric running across your chest makes your bust appear small compared to its original size. You can try this neckline with a western dress, top or Indo-Western attire. It will seamlessly upgrade your wardrobe.
Square Neck (Big Breast Style)
View this post on Instagram
Who is better to give style inspiration for women with breasts than our talented Bollywood actress Sonakshi Sinha? She carries her body gracefully in every couture and delivers style goals at every event that she attends. Every woman who is conscious about her weight, breasts, tummy, back and thighs must get inspired by the style of Sonakshi.
In the above image, she is wearing a monochromatic pant suit with a crop top inside. The top offers a square neck look which is perfect for women with a large bust because it hides the heavy cleavage. Instead, the look offers a tasteful show of skin and is a perfect choice for kurtis, blouses, tops and dresses.
Scoop Neckline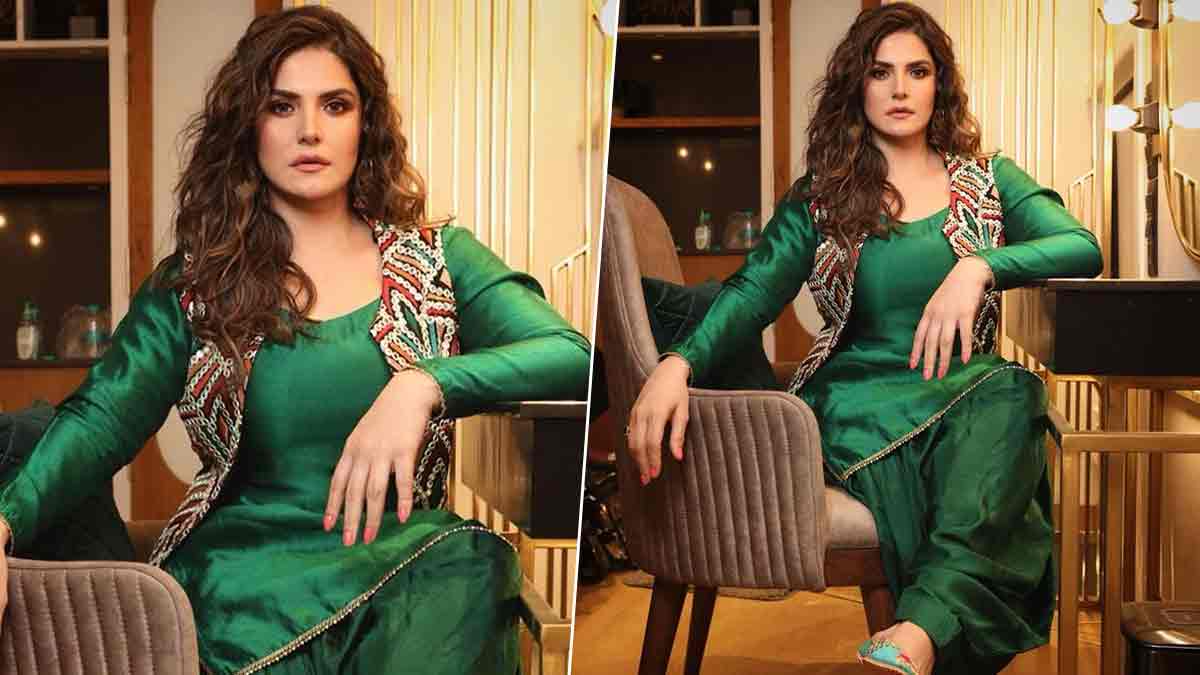 Image Courtesy: Zareen Khan/Instagram
Zareen Khan is yet another actress that women with heavy busts must look up to. She has successfully shown us how to carry a body that does not fit the standard measurements of beauty. She is an inspiration for all women who have inhibitions about their looks.
In the above image, the diva is wearing a kurta with a scoop neckline that does not highlight your breasts in a bad light. She paired it with a shot vibrant coat (koti) that has elevated her entire outlook. You can try this neckline for ethnic, Indo-Western and Western outfits.
Don't Miss: Necklines For Small Chest: Fashion Guide For Women
Sweetheart Neck (Fashion For Women)
View this post on Instagram
When it comes to fashion, Priyanka Chopra is a global name who has never let us down with her ethnic as well as Western-style. In the above image, she is wearing a beige floral-printed lehenga with a golden mirror-worked blouse. She is boasting a sweetheart neckline that is accentuating her curves in a tasteful manner.
Don't Miss: Madhuri Dixit's Style - A Style Inspiration
This kind of neckline is an impeccable choice for women who like to flaunt their bodies. It can be styled in an evening gown, ethnic blouse, top or dress. Try it out and share your experience with us in the Facebook comment section.
Stay tuned with HerZindagi for more such stories!