Outfits are always fun to create especially if it's inspired by your favourite character; this is also how cosplays got into being. What if we can get inspiration from Gods and create a perfect outfit for you to wear. We took inspiration from our three Hindu Gods; Lord Brahma, Lord Vishnu and Lord Shiva; The Hindu god of creation, god and protector of universe, and the god of destruction.
We decided to take a new take on our gods and decided to create both Indian as well as western outfits inspired by them.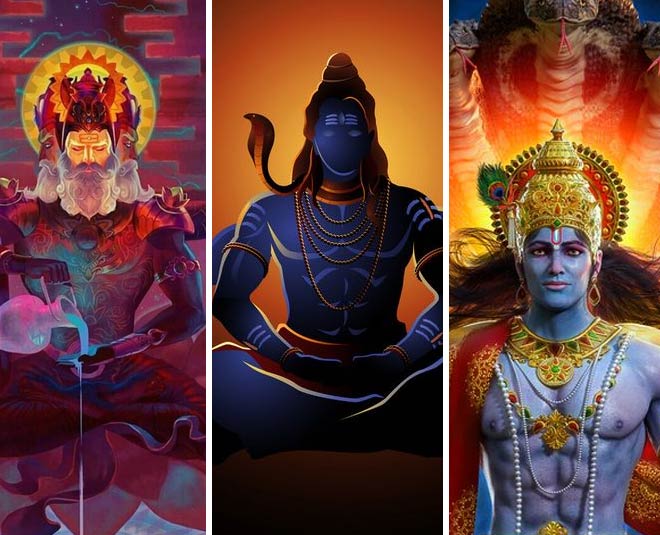 Lord Of Creation; Brahma
Brahma; the lord of creation is usually clad in white sitting on top of a lotus which usually has a pink tone. The colour scheme for the lord of creation for both outfits is; soft pink, white and silver with golden accents.
Let's start with the Indian outfit first. For the Indian outfit we decided on a beautiful soft pink, ivory lehenga with beading inspired by the lotus he sits on. The look of the lehenga is natural, soft and dedication which is the perfect for the look inspired by the creator god. With that we added silver jewellery with golden accents and white sandals to top off the look.
Don't miss; Going To An Office Function? Here Is How To Dress Formally In Traditional Wear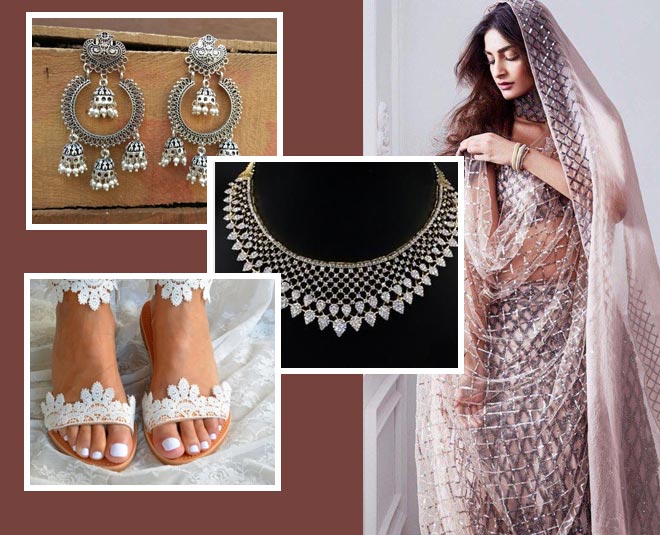 For the fun western twist we decided to give the look flows creamy white dress inspired by the light that radiates from behind his and the lord's white dhoti. For accessory we added a lotus necklace hitting at the lotus he resides on and soft pink sandals to bring the look together.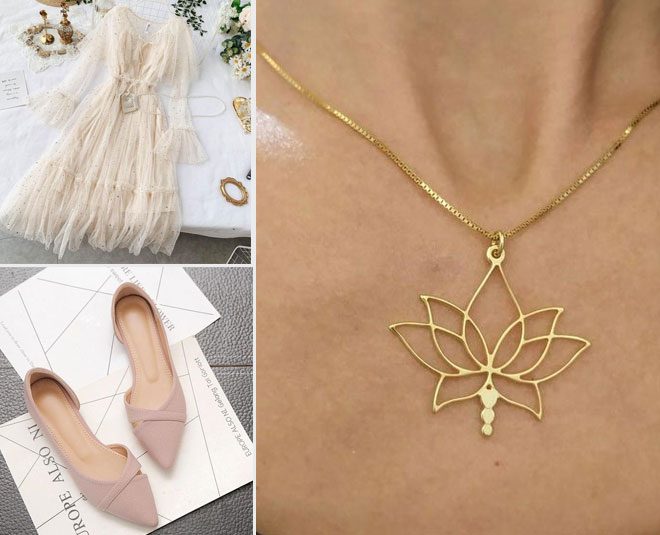 Lord And Protector Of The Universe; Vishnu
Lord Vishnu; the protector of the universe is seen clad in golden, red (sometimes pink) lying down on his trusty Sheshanaga. Lord Vishnu is also called the the supreme being who protects and transforms the universe.
For the Indian outfit inspired by Lord Vishnu we took a beautiful golden saree. The protector of the universe deserves the most luxurious of the luxury available. It makes sense as he is married to the goddess of prosperity, success and money; Goddess Laxmi. Residing on the lord of snakes; Sheshanaga, we added a golden snake arm brace with golden heels and a high necklace with gold and a big red gemstone.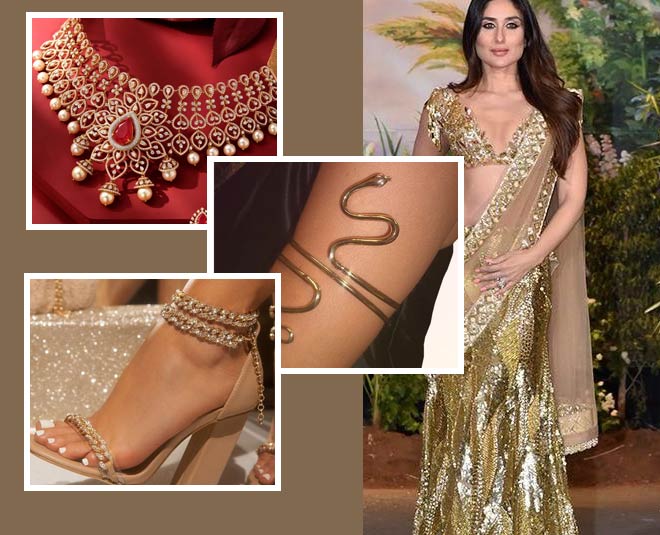 For the western twist we decided to find a beautiful luxurious long red dress. The western outfit is made with a small inspiration we took from Goddess Laxmi; making the whole outfit rich and luxurious. We added a beautiful golden snake design necklace with beautiful golden tie up heels. The look is perfect for the protector of the universe.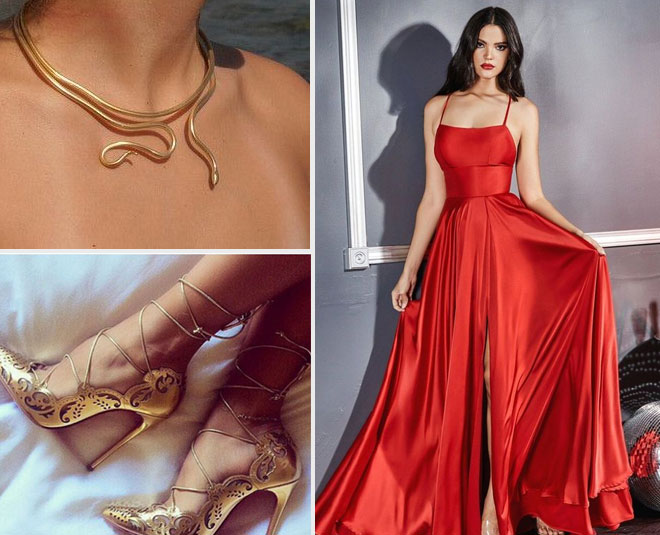 Lord Of Destruction; Shiva
As the cycle of the universe goes from creation, intermission and death; our lord of destruction is the end of this list. The supreme destroyer, god of gods; Mahadeva. The inspiration we took from our god is stunning animal prints, a rebellious yet free look.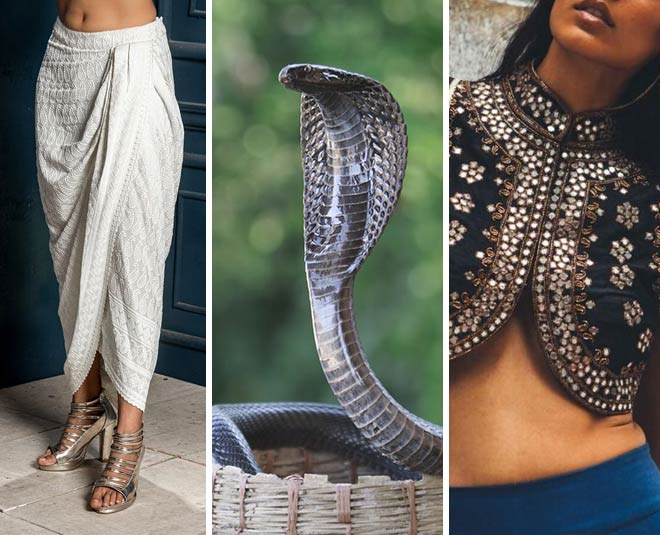 For the Indian inspiration we went a bit different with a white dhoti skirt and a tribal top which is cropped and has a cut out. We decided to keep the look simple yet not completely basic. We needed this look to have movement and mobility; best for when you have to dance joyously or do a 'tandav' to burn this world. The look is completely barefoot as Shiva has given up all worldly desires.
Don't miss; Love To Travel? Visit These Top 5 Cultural Destinations In India And Explore The Heritage Of Our Country
Shiva is also known as Nageshwar and is incomplete without a cobra around his neck so if you want to be daring you can carry around a cobra circled around your hand or maybe just add a bracelet that would look pretty.
For the western look we settled on something more rebellious than daring. We started basic with a Nirvana shirt and black leather pants. Nirvana is transcendence; to leave all worldly desires and attain enlightenment, Lord Shiva in Hindu mythology left all worldly desires and reside in Mount Kailash. For the show stopper we choose a big tiger printed coat and combat boots.
For more creative fashion content stay tuned to HerZindagi.