Your boss called you to their wedding? Is it the wedding of a colleague you know? Diwali party at the place of the business investor you just cracked a deal with? What have you thought of wearing?
Our point being, you obviously cannot wear the usual hair, makeup and outfit at these formal traditional parties. What should you wear anyway to look every bit of traditional and formal? Here are five suggestions for you!
Attire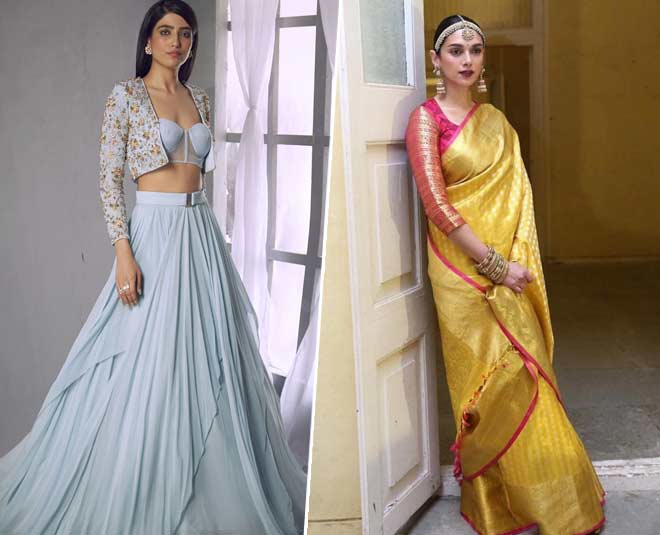 Image Credit: static3.azafashions, southindiafashion
When dressing up for such an occasion where you want to look a little formal yet well within the traditional theme, wear a silk saree. Silk sarees are a perfect pick, you can either leave the aanchal flying or even pin it up. While picking a colour, though it is completely upto you, an ideal colour for something formal would be anything that does not have too much of reds and pinks in it. Play with subtlety.
In case you are not much into wearing sarees, you can even wear a blouse/crop top and a long skirt and pair it up with a short jacket. The jacket will give it a very formal look while the skirt and blouse will give it a perfect traditional touch!
Don't Miss- Conscious Of Your Arm Fat? Here Are 10 Ways To Dress Up To Hide It!
Hairstyle
Image Credit: shaadiwish, im.rediff
When it comes to hairstyle, it is a very important bit for making you look a certain way. When dressing up in a formal way, the primary thing to opt for is a middle partition. With this middle partition, you can choose to leave your hair open but make sure it is tucked behind your ears. The other option you have is to make a bun. You can deck this bun up with flowers and other minimal hair accessories but opt for light colours or plain white to make it look sophisticated.
Makeup
Image Credit:mishavig, elle
Bad makeup can completely ruin even the best outfits and even if you are wearing a mediocre outfit, good makeup can make it much better. When it comes to dressing in a formal yet traditional look, there are two things that matter, your lips and your eyes.
Don't Miss- Deepika Padukone To Kareena Kapoor: Celeb-Approved Hand Painted Sarees We Are Totally Loving!
If you are wearing dark lipstick, make sure your eyes are light. On the other hand, if you have opted for heavy eye makeup you need to pick up nude shades for your lips. The logic behind this is that too much makeup will immediately get you down from sophisticated and elegant to tacky.
Jewellery
Image Credit: assets.vogue, kalkifashion
It is not your wedding, so do not overdo your jewelley. The golden rule for jewelleies is; long earrings- no necklace, heavy neckpiece- no earrings, moderate earrings-moderate neckpiece. Follow this golden rule and you will be set to make your fashion statement at the party! Apart from this, if you wish to wear a maangteeka, do not opt for heavy earrings. Basically, too many pieces of jewelleries leave you looking less formal and elegant!
We hope you found this article helpful! If you wish to read more such articles, stay tuned to HerZindagi!