Celeb Saree Draper Dolly Jain Shares What Went Into Draping Katrina Kaif's Bridal Looks
It was Dolly Jain's draping magic that Katrina Kaif looked the comfiest and happiest bride at all her wedding events.
Celebrity drape expert, Dolly Jain was one among the team behind creating Katrina Kaif's dreamy wedding looks. Kolkata-based drape specialist was the one who perfected Katrina Kaif's wedding and pre-wedding outfit drapes. No wonder why Katrina Kaif's wedding looks were classic and crisp. That is the celebrity saree draper's signature style indeed.
We had a quick conversation with Dolly Jain, the woman behind Katrina Kaif's stunning wedding looks and asked her what all went into draping all her outfits.
On Being Approached For Katrina Kaif Wedding
Interestingly, the popular draper had no clue that she was doing Katrina Kaif's wedding. She said, "I was booked for a high profile wedding and I was asked to freeze my date. It was a week before the wedding I got to know that it was Katrina Kaif and Vicky Kaushal's wedding."
Talking about how she felt about getting Katrina Kaif's wedding, she said, "I felt good, it was nice because all these high profile wedding that happened, whether it is Sonam Kapoor, Priyanka Chopra Jonas, Deepika Padukone, Isha Ambani, Akash Ambani, all these weddings were done by me. So it makes me feel very special being a Calcutta girl. Apart from making myself proud, I feel that I am also making Calcutta very proud. Its a proud moment for Calcutta also for a girl to be called from Calcutta to do all the celebrity weddings. So, the feeling was mixed, I was nervous, I was happy, I was thrilled."
On Draping Katrina Kaif's Wedding Outfits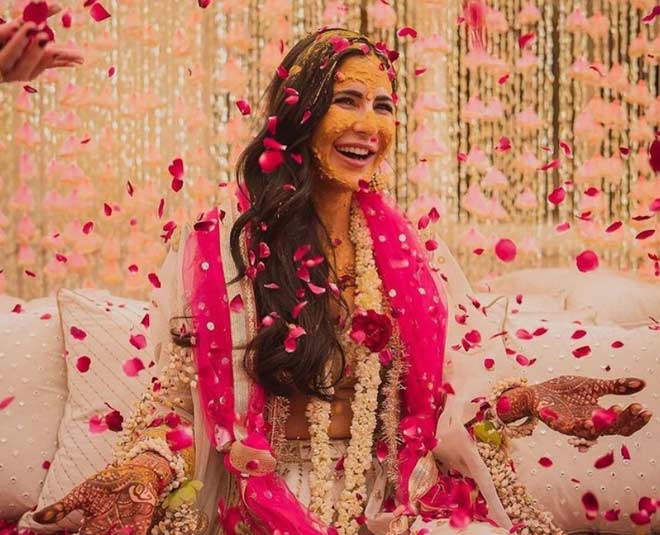 If you closely noticed Katrina Kaif's drapes for all her wedding outfits, they were clean and crisp, just what Dolly Jain's signature style is. Talking about the thought that went behind curating Katrina Kaif's drapes, she said, "If you see all my brides, any of my drapes, I like keeping it very simple and classy because I just feel that to do too many elaborate things, we have opportunities like photoshoots, fashion shows. But when you know you are doing a wedding, a celebrity wedding when you have 360 degree to be taken care of because the camera can capture any angle of the bride, I always like keeping it very simple, elegant and crisp. That's my style. It's not only about Katrina Kaif. That's how I like to style my brides."
Drape Briefings From Katrina Kaif
We asked Dolly Jain what kind of drapes were in mind of the bride-to-be and what kind of briefings did she get from Katrina Kaif. She said, "The first day she definitely did give me a brief because she didn't know what was my style and I didn't know what was her style. So, the first day she saw my drape, she was so much at ease that she was like you do what you feel the best. She told me that I have called you because you are best in the industry so I shouldn't crack my brain. So I think that was the best part when the celebrity completely trusts you for your drapes, nothing could b better than this. So, Katrina Kaif did give me some brief on the first day but the second day she left it all on me.
The Thought Behind Katrina Kaif's Drapes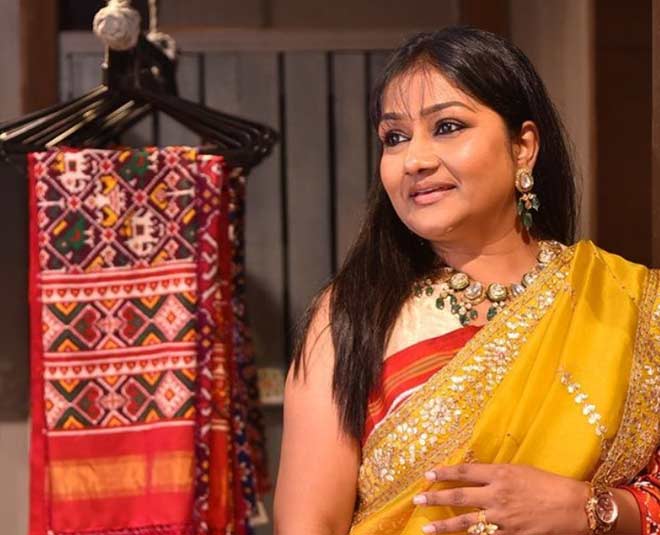 "The only thing I keep in mind while draping any bride is the comfort. In India, when it comes to weddings, there is a lot of fire, colour, water which is involved in it. There are a lot of rituals that the bride has to be a part of. If you know exactly what where is to be used, you can just pleat the fabric accordingly, making her feel as if she has just slipped into her jeans and t-shirt rather than wearing any dupatta on her. So, the fixing of the dupatta should be very sensibly done, there should be no fabric that should come on their way when they are doing the rituals. That's the reason when you see Katrina at ease, it is because everything was fixed at the right place, the pinning, the stitching, everything was done according to her comfort. It was the comfort at priority that was kept in mind," Dolly Jain shared on the thought behind draping Katrina Kaif's wedding looks.
Draping A Sabyasachi Bride
Right from the pre-wedding festivities to the wedding, Katrina Kaif's choice was celebrated designer Sabyasachi Mukherjee. Speaking about draping a Sabyasachi bride, she said, "It is very easy to drape Sabyasachi dupattas, the fabric which is used by Sabysachi is excellent so it is very easy to drape it, whether he is using a net fabric, organza or any other fabric, the entire game change is the quality of fabric he uses. There are a lot of people copying Sabysachi but they don't use that kind of fabric. Understand that if you don't use proper fabric, if the fabric texture is wrong then you go wrong everywhere. So, that's the best part about Sabyasachi Mukherjee. Apart from the intricate work he does, apart from the styling, the beautiful embroidery we see, you should also see that the fabric he selects is brilliant. I have been doing Sabyasachi Mukherjee's outfits for last 10 years or maybe more. I just love doing his drapes. There is a kind of emotion attached to his creations because they have got beautiful colours, not too broad, not too narrow, appropriate width borders, so I think Sabyasachi Mukherjee's outfits are a treat to drape."
Were there any briefings given to her by the designer himself, we asked. She said, "Definitely when they did the trials, there were some drapes Sabyasachi Mukherjee had fixed for her but when we did it on the wedding day, there were some changes here and there. Sabyasachi Mukherjee was there on the wedding day and I did everything in front of him only so a some changes did happen according to the weather, mood and jewellery."
Don't Miss: #Vickat Wedding: Decoding Katrina Kaif's Wedding Looks
Katrina Kaif As A Bride
In the past, Dolly Jain has draped wedding outfits for several influential names including Isha Ambani, Deepika Padukone, Priyanka Chopra Jonas, Sonam K Ahuja, Anushka Sharma among others.
We asked Dolly Jain how was Katrina Kaif as a bride. She said, "She was very very sweet as a bride, very calm, very composed, very excited. I saw so many emotions of Katrina that will always be in my memory forever. She was just like a next door bride. She must have dressed up as a bride for her reel life multiple times but this was for her real life. So, we could see her emotions were floating when she was dressing up as a bride. I think that was very special about Katrina Kaif. The gathering was very small, they had close family only so she didn't have to be The Katrina Kaif, she was like a daughter or a sister Katrina Kaif."
First Reaction Of Family Seeing Katrina Dressed As A Bride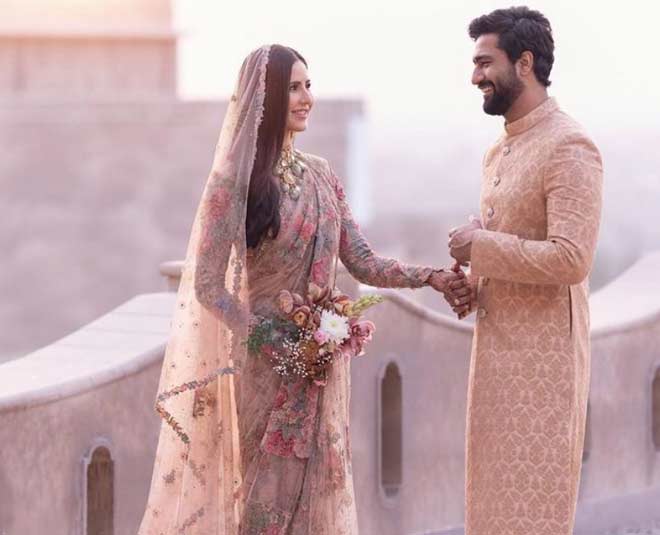 Dolly Jain was one among the few people who was present at the Six Senses Fort for the wedding festivities. We asked her how did the family and guests react seeing Katrina Kaif dressed as a bride. She said, "I think they were all spellbound, I think people forgot blinking and I am not exaggerating that was the first reaction. We were in the making of the bride, for us, we didn't have that kind of a reaction because we saw all that went into making her into a bride. The moment she walked out of her room, I think everybody, every single person standing in the corridor, whether it was the photographer, her family, friends, everybody was spellbound by this beautiful girl she looked. She looked every inch a diva, the way she walked into the corridor I can't tell you, it was a serene moment for everybody whoever witnessed it."
Don't Miss: See Newlyweds Katrina Kaif And Vicky Kaushal's Another Mushy PDA Moment
Parting Remarks From Katrina Kaif And Family
Lastly, we asked Dolly Jain if she got any parting remarks from the bride or her family. She said, "One of Katrina Kaif's sister said, 'Dolly, you are a magician', because there was something with her lehenga which wasn't settling and it took me half a minute to fix it and that was the time she just said you are a magician."
She further shared, "When I was leaving, I met Katrina Kaif and just wished her a happy married life. She caught hold of my hand and she was like Dolly I can't thank you enough because you made my wedding so special because I felt comfortable every minute and that was so special. She said that whenever she will think of carrying a saree, it has to be me. She said she got addicted to me. These kind of lines remain there with you for life. No matter what happens you will never be able to forget the kind of feedback and remarks you get from these clients."
Tell us what are your thoughts on Katrina Kaif's perfect drapes on our Facebook page. For more such exclusive interviews, stay tuned!