Weddings are getting intimate this season and looks like India's top couturiers are curating bridal wear that reflects the present times. Clearly, that's the case with ace designer Anju Modi who had showcased her collection 'Sindoori' with her first-ever digital show at India Couture Week. Anju Modi's latest creations are all about easy and versatile creations for the new-age brides. If you are a bride-to-be and hunting for pieces that are timeless then take notes from the designer's latest collection.
Colour Palette For The Season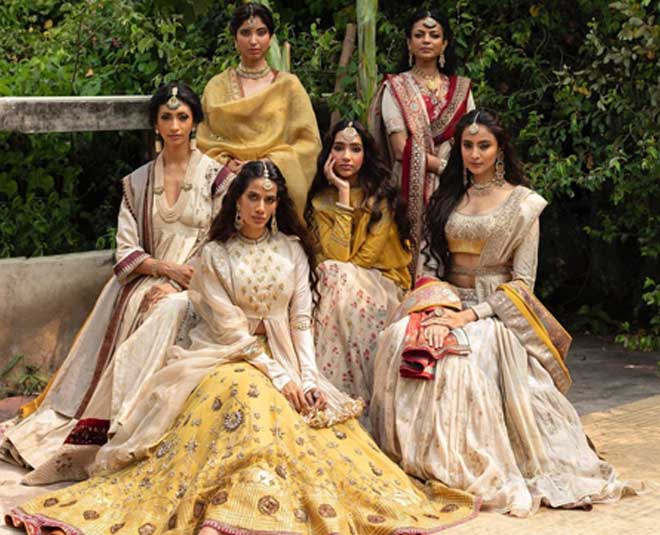 As a millennial bride, you can't miss experimenting with the outfit colours. Pick shades that are timeless and can be donned years later too. Anju Modi's 'Sindoori' is a perfect inspiration for your wedding trousseau. It has a mix of shades like Haldi, creamy ivories, marble tones, reds, and purples. The colours will make it so easy for you to mix and match your pieces with other outfits from your closet and help you get more out of that one piece in your wardrobe.
Don't Miss: Tarun Tahiliani's Digital Fashion Tour 'Infinite' Served Perfect Inspiration For Brides-To-Be
Silks And Brocades Make A Comeback
You can't really imagine an amazing outfit without the right fabric. It is really then fabric which makes your outfit stand out and helps you make a statement. Anju Modi's latest collection is such a treat as it brings back the brocades from Benaras and Tanchoi Silks. Both brocades and silks are such rich fabrics which are known for their timelessness. These richly woven fabrics are a must-have for every bride-to-be. Also, both these fabrics lend a very rich and regal feel which beautifully adds to your wedding wear. Silks and brocades in purples and gulabi pinks can be good picks. Anju Modi's collection also features fabrics like Mashru from Gujarat, Kinkhabs from Kashmir. While Mashru is a handwoven fabric of cotton and silk, Kinkhab is one of the rarest and most precious brocades in India. Brides-to-be, silks and brocades are ruling this season!
Don't Miss: Global Fashion Designer Anita Dongre Launches Virtual Trunk Show, Take A Glimpse Of Her Collection
Ethereal Crafts For The Win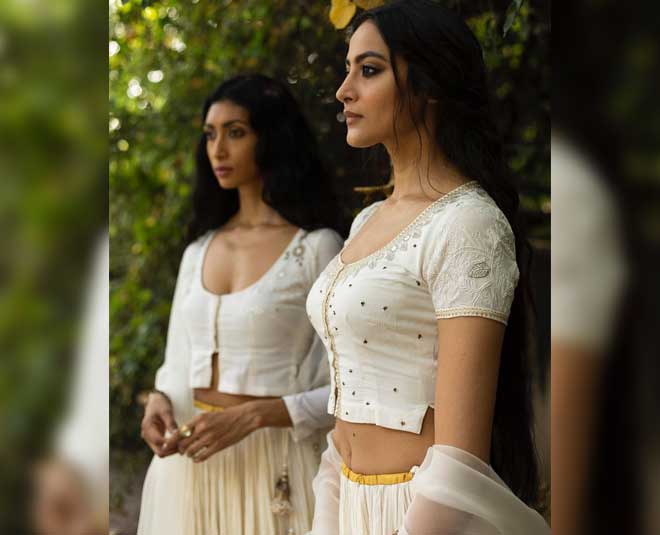 It is indeed the craftsmanship that speaks for your outfit and if you have been looking for ageless creations then going for the traditional ones can be a good choice. Traditionally, wedding outfits had zardosi work which involves heavy and elaborate metal embroidery. These designs are usually created using beads and pearls. The designer's work this season features zardozi with dabka, mukaish and foil prints.
Advocating Slow Fashion
Slow fashion is one of the biggest trends this year and designers like Anju Modi are advocating it with their creations. For those who are unaware of what slow fashion exactly means, let us tell you that slow fashion is all about picking outfits that are durable. Also, it involves realising that getting fewer outfits is better. Slow fashion picks are environmentally conscious and not trend-driven as fashion has always been. Talking about the same, Anju Modi in an interview said, "We have come a really long way in these past few months alone. We were consumed by wastefulness, always running around. For most, this lifestyle caused a constant yearning for a break, spending more time with loved ones. Through my work, I have always advocated slow, ecological fashion. This time has given a chance for an intervention to ensure our crafts and craft communities flourish and become economically independent."
Anju Modi's creations this season have a very young vibe but these also celebrate the classic crafts. What's your take on the collection? Which pieces would you like to invest in this wedding season? Share with us! For more on fashion, stay tuned!