For most of us, it is hard to imagine life without jeans. They are comfortable, stylish, versatile and everything a garment should be. They are available in various designs, price range, quality, usability, etc. However, most people don't mind the things that make a pair of jeans flattering on their frame, instead, they only check the size and the colour. This is not how you should be purchasing denim pants, if you do they will not look as amazing as it is supposed to. Jeans definitely look simple, but its various elements are designed to flatter various body types. In order to find your perfect pair, you must look for the following factors, so that your jeans don't end up making you look bulkier!
Pick The Right Size
The skin-tight jeans or skinny jeans trend is definitely here to stay! But, buying a skin-tight jeans doesn't mean that you should not be giving emphasis on how it hugs your body. Many people just pick a smaller size so that they might look slimmer in it. This is not how clothing works. You need to buy a size that is meant for you, in fact, a size bigger when it comes to skinny jeans. The idea behind is to make your body look more aligned in comparison to other parts. You don't want your love handles (easy workout to lose love handles) showing when donning skin-tight jeans. The best thing to do is invest in a bigger size and get it altered.
Say No-No To Light Colours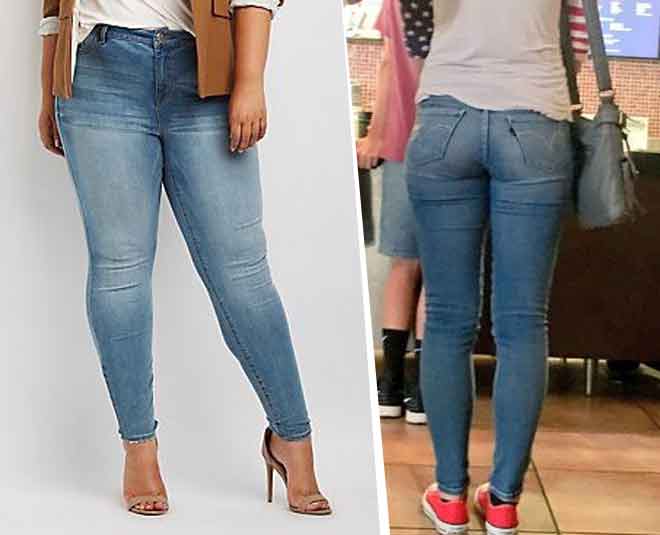 Most of us are in love with black because it is a versatile colour and also because it makes us look skinnier. The take away here is that dark colours make people look slimmer. The same rule is to be applied when buying jeans. Try not to invest in light colours and even if you do, make sure they're not faded. Jeans with light faded patterns are a big no-no, especially right on the thighs. They bring the whole focus on that particular area, where probably you don't want people to look at so much!
Don't Miss: Got A Short Torso? These Styling Tips Will Change Your Life
Mind The Length
Always keep in mind that length plays a very significant role. That's why invest in pieces that end an inch or two below the ankle, this will make the body look elongated. You can pair this with any kind of shoes. The shorter the jeans, the smaller and bulkier you will look. That's why even when you fold the jeans from the bottom, the length should fall right on your ankles. Anything long and short will ruin the look.
Pay Attention To The Back Pockets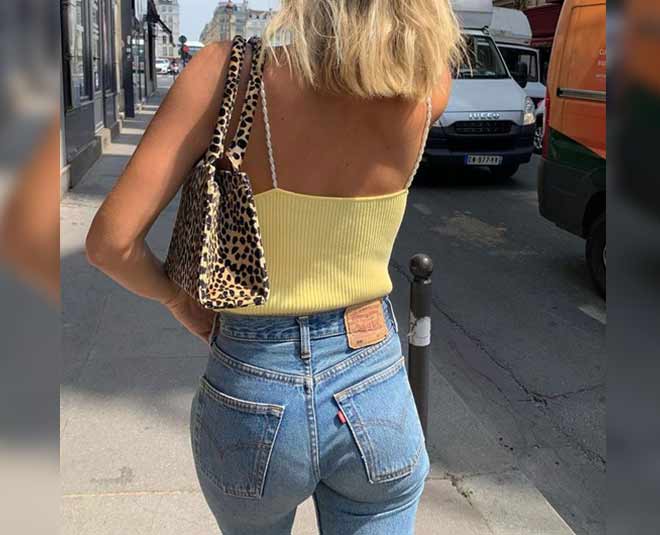 This is one of the most important factors in looking slimmer and stunning in those pairs of jeans. People never give any emphasis to the back pocket, but it can very much make or break your fashion game! The correct back pocket construction can minimise the look of your bottom, whereas, the wrong one can make it look terrible. The pocket should form 'A' shape and not 'V.' The upper parts of the pockets should be closure and at the bottom, it can be apart. This will create an illusion of a curvier body.
Don't Miss: Petite Fashion: Here's How You Can Exude Glamour In Maxi Dress If You Are Short
Don't Forget To Check Zip Length
You probably must be thinking who looks at the zipper when buying jeans. But the length and the look of your zipper can make a huge difference. Anything very short will make the torso appear tinier and anything too long will give the illusion of a squeezed upper body. If you don't want this to happen, always wear and check if the zipper is just the right size. Also, pay attention if somehow it is forming camel toe.
If you liked this article, do comment on our Facebook page. Stay tuned to HerZindagi to read more such stories.