Everyone is born with a unique talent and figure. The key is to understand and embrace it. When it comes to fashion, individuals may take time to figure out the right clothing to flatter their frame. While it can be easy for a few, this task can turn out to be daunting for others, especially for the ones with short torsos. However, the important thing to remember is, there is not a body type out there without inherent challenges. If you got a short torso, which means the upper body is shorter than the lower half, you may need to make some modifications in your styling. Now, many confuse short torso with petite girls. Short girls can be short-waisted, but even some of the tall girls are born with short torsos. The good news is, you can use these simple styling tips to your best advantage and look fabulous.
Dismiss High-Waisted Pants From Your Closet
Has this ever happened with you that wearing high-waisted pants seems to reach strange heights? It is because, high waist garments on the short waist is an example of disproportionate dressing. If you don't want to look all pants, the best thing to do is dismiss all those high-waisted bottoms. However, if you love them very much, wear it with a peplum top or something that will not make your waist look tinier. A crop top with a high-waisted pant is a big no-no. Invest in a few lower rise or midrise pants, this will give the illusion of longer torso.
Don't Miss: 5 Ethnic Looks Of Himanshi Khurana, Surveen Chawla, Sargun Mehta, Sonam Bajwa, For Inspo This Summer
Invest In V-Neck Garments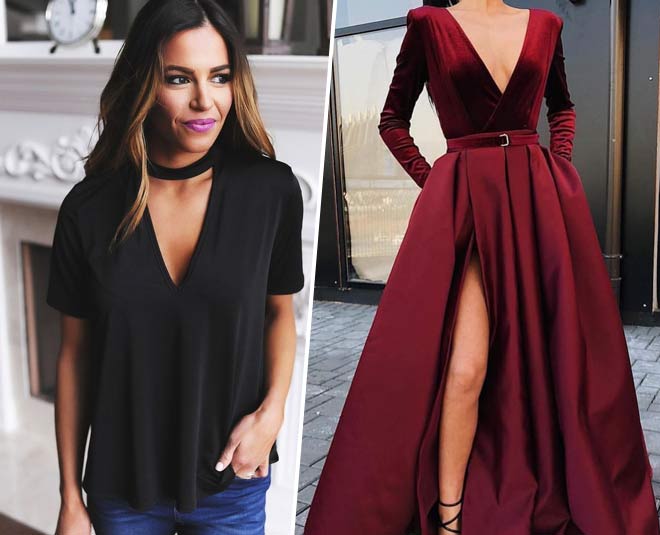 V-neck ensembles are not only sleek and high-fashion, but they are amazing to fool the eye of the onlooker in thinking you have an elongated waist. It gives the upper body extra room and keeps the eye traveling up to down, giving the illusion of a longer body. Pair your simple v-neck tops with long charm necklaces that reach the core. Avoid wearing a boat neck, as it creates a horizontal line across your shoulders, further shortening the distance between your neck and waist.
Banish Wide Belts
Yes, we all love belts. They add that extra wow factor to the look. But, if you have a short torso, you need to play with them a little more carefully. Now, we know wide belts, such as buckle belt, cinch belt, long elastic belt, metal belt, and corset belt are all in trend, but these take up too much space on your waist, making you look squeezed. Rely on skinny or chain belts. These will enhance your curves without taking the extra room of your waist. The best thing to do is colour coordinate the belts with the garments. Also, try wearing belt a little lower, around your hips, to make your torso look long and lean.
Don't Miss: From Palkis To Patchwork, We Dare You To Get These Hatke Blouse Designs Stitched
Stop Tucking In Your Tops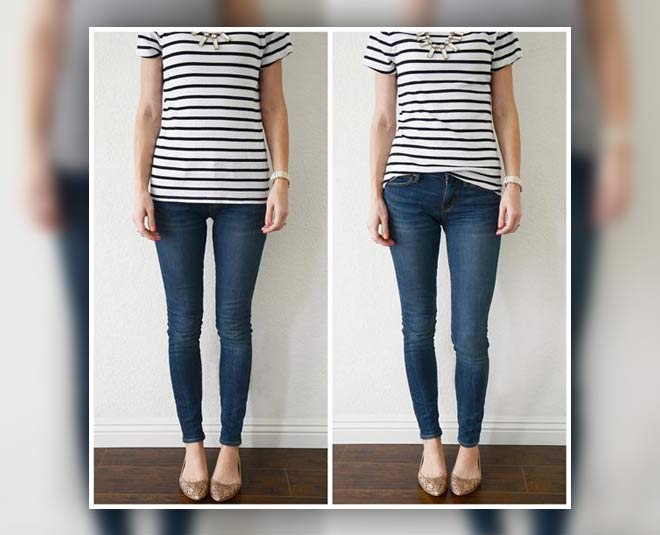 Anything that creates a horizontal line across your midsection is a big no-no! Tucking your tops simply highlights your short waist and you don't want that. Either invest in longer tops or stop tucking them in to help elongate your torso. However, if you strongly feel like tucking in the top, either just tuck the front, side portion of the top, or accessorise your look smartly. Pair shirts with vertically strapped scarfs, it will take the eyes away from the waistline, and will make your waist look longer.
Well-Fitted Bra Is A Must-Have
The bra underneath your clothes can make or break your style game. No matter what size you're, if you don't make things look neat between your bustline and waist, you are going to look like you have no waist at all. Invest in good quality and supportive bra. If you have bigger breasts, always wear a piece that will not let them sag and keep them away from your midsection. This will make you look longer, leaner, and more proportioned.
If you liked this article, do comment on our Facebook page. Stay tuned to HerZindagi to read more such articles.