Released in 1995, Dilwale Dulhania Le Jayenge also known by the initialism DDLJ turned out to be one of the biggest blockbusters in India. Not only it is the longest-running film in Hindi cinema history, but probably the most loved one too. Until today, fans love its super hit music, stunning locations and impeccable star cast, hence, it has been given the legendary status and that too for all the right reasons.
Now that the film has completed its 25th anniversary, we just couldn't stop ourselves from discussing with you how amazing Kajol looked in the entire movie! The fashion moments of DDLJ is perhaps the most under-admired thing about the Shah Rukh Khan-starrer flick. We feel the outfits, accessories, hair and makeup was extremely versatile, something that we still can take cues in 2020! Take a look at this simple guide and recreate your favourite look from the film.
Dilwale Dulhania Le Jayenge Versatile Outfits
We often see actresses either exuding traditional or western vibes with her couture in a film. Kajol in DDLJ donned all types of dresses, from miniskirts to stunning lehengas. What made us fall in love with almost every garment are there shades, patterns, prints, fabrics, and embroideries. Some of the outfits from the film can be worn even in 2020 with utter grace, such as:
Kajol's Ethnic Ensembles From DDLJ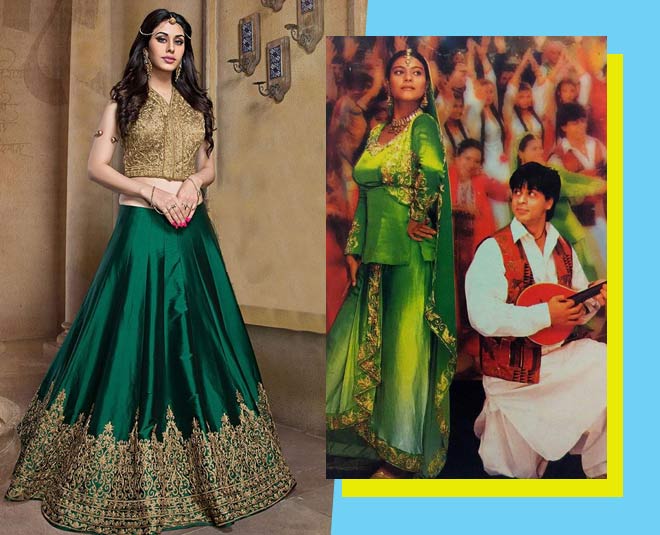 Emerald Green Joda
Kajol wore this beautiful green joda in the popular song 'Mehendi Laga Ke Rakhna.' Not just the song, but the emerald lehenga is iconic. The gold zari work on the dupatta and the skirt is chic. If you want to wear something unique to your mehendi ceremony, you can totally steal this look from DDLJ's Simran.
White-Gold Wedding Lehenga
Traditionally brides are seen wearing red outfits on their wedding, but DDLJ broke the monotony and introduced a beautiful concept of sporting neutral shades on the wedding. The intricate embroidery on the entire outfit is bewitching! We especially love the work on her dupatta, delicate but rich. You can get your blouse stitched differently, but the rest of the dress will make you shine!
Lemon Yellow Chiffon Suit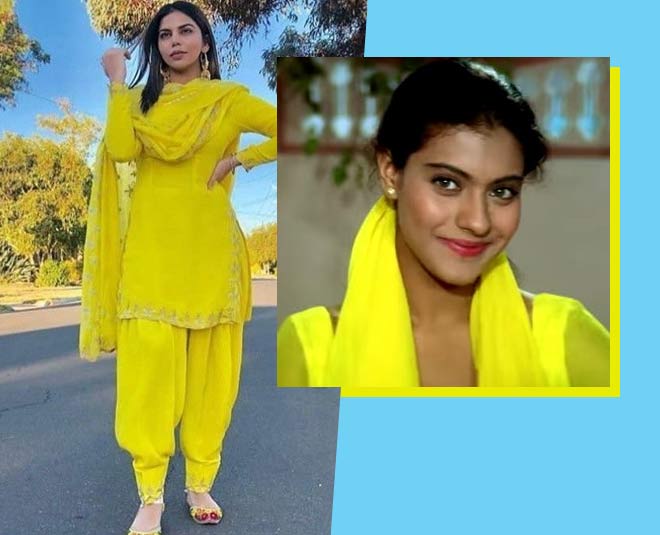 The 90's girls are still crazy about chiffon suits. Be it the festive season or some simple event, most of us got to wear our chiffon suits. And we say, the trend has lasted for all the right reasons. A chiffon suit is simple yet sleek, as it's not always the extravagant work that win hearts, sometimes less do wonders!
Daisy White Net Salwar Suit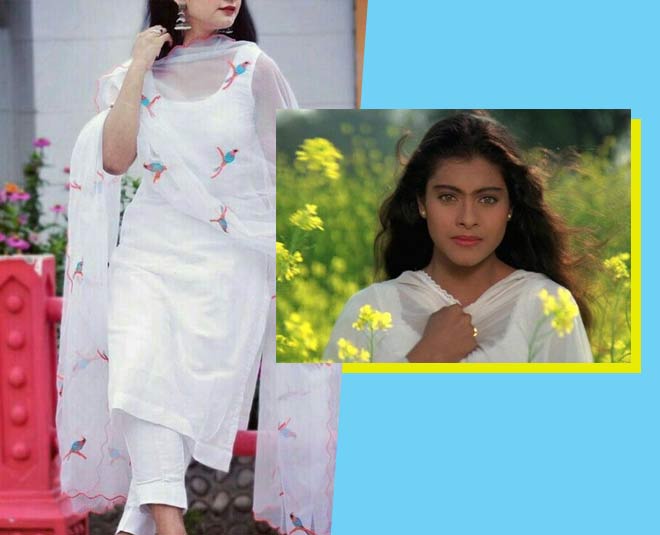 One dress in which no girl looks boring is the ever-beautiful white salwar suit. Not just us, even our moms wore it and probably had her best fashion moment. With a little modification in the salwar style, one can make others envious of the amazing ethnic outfit!
Kajol's Western Couture From DDLJ
White See-Through Skirt Top
Kajol still make headlines for this look from the song 'Mere Khwabon Mein' and we say why not when something is so chic, its vibe should never fade away! If you are a fan of cute skirts and tops, invest in a see-through piece like this. Perhaps you can modify the sleeves and the neckline, but the overall outfit is still very beautiful and Instagramable.
Caramel Brown Midi Dresses
If there is one set of colours that is a must-have in 2020 that has to be hues of browns. Be it mocha brown, coffee brown, towny brown or simple caramel brown, they all look elegant and high-fashion. Kajol's midi dress is so in fashion from the past couple of years that you will see most of the celebs and fashionistas posing in a piece like this.
A-Line Skirts
A-line skirts made a major come back in 2019 and seems like this fashion trend is here to stay with its increasing demand. The song scenes from 'Ho Gaya Hai Tujhko To Pyaar Sajna' that have been shot in Switzerland, Kajol can be seen wearing a couple of A-line skirts, you can pick any of those and pair with a simple top to create a smart look.
Regal & Sensual Satin Gowns
Even before DDLJ was made, satin gowns have been a hit among fashionistas. However, this style that has been picked in the film was quite unique for that time and it is still being followed with a little or no modifications. You can also pick a solid colour satin gown to wear at any party or even at pre-wedding events.
Amazing Accessories From DDLJ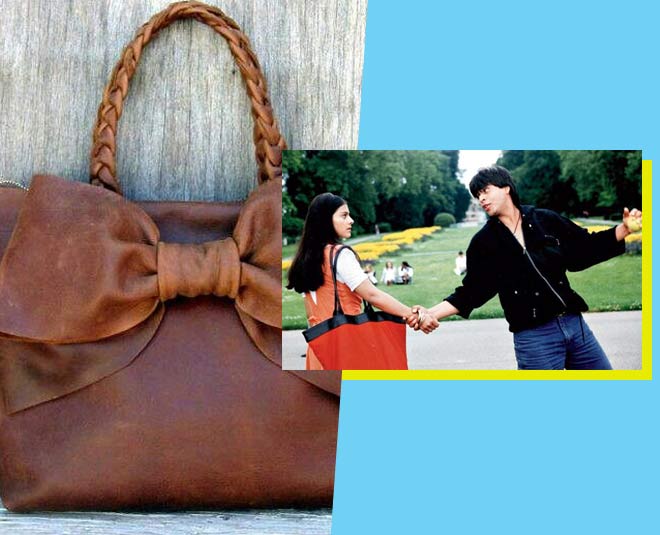 Tote Bag
Tote bags are love and are a necessity for girls! With so much to carry, you need to have a chic bag along with you. What's better than a chunky tote bag with minimal, solid colours.
Black Knee Boots
Winter is coming and we better prepare ourselves for a great boot-game! Take cues from Kajol's black knee boots that have laces and a comfortable platform. You can wear this to the office and parties.
Flat Cap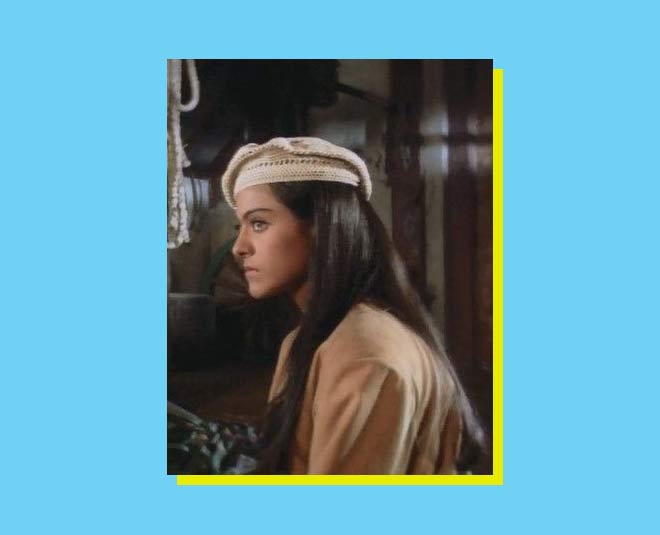 If after so many years, you still haven't invested in a flat cap, this year is the ideal time to do so. No matter what you wear, a flat cap with any winter wear will make you look high-fashion instantly!
Wide Brimmed Cloth Hair Band
The trend of cloth, knot and scarf hairbands are all here to stay for very long and that too for all the right reasons. It automatically brings your whole look together, making you stand out.
Kajol's Ravishing Ornaments From DDLJ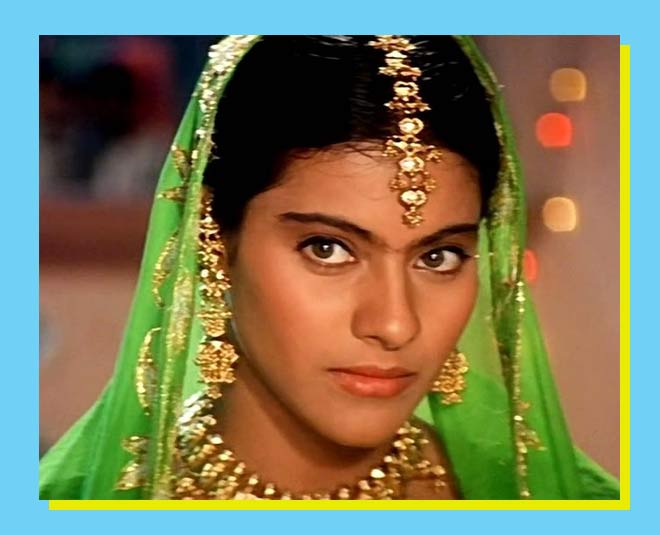 Elegant Gold Polki Set
The actor's jewellery pieces from Dilwale Dulhania Le Jayenge served as bridal fashion inspiration for many. Her beautiful gold polki set she wore with emerald green lehenga still feels the perfect example of heavenly. We love the way she styled her tikka. If you have a big forehead, you too can try this to give the illusion of a smaller forehead.
Graceful Gold Temple Set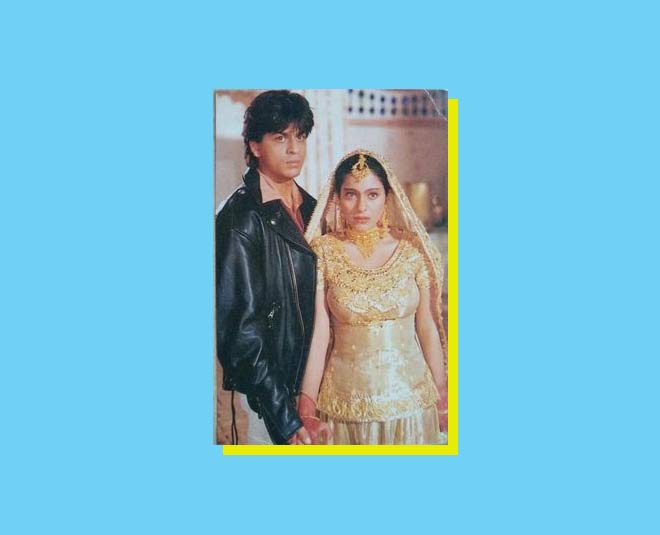 This style of chunky gold jewellery is still a hit among brides as it looks royal and a part of rich heritage. You will mostly find south Indian brides sporting such pieces at their wedding. Crafted in pure gold, the pieces are without using precious or semi-precious stones.
Cute Hoop Earrings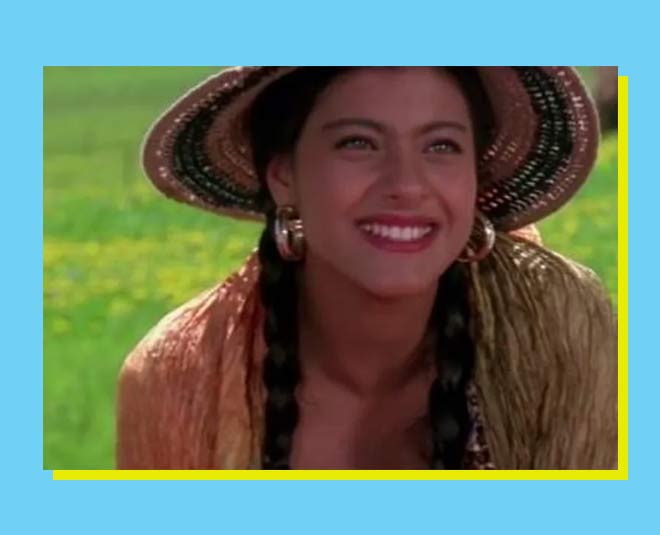 The trend of hoop earrings never actually left the arena. It stayed and assisted girls to look pretty wearing them from decades now. We love a little bit thick pieces donned by the actress in the film.
Kajol's Glam Outings From DDLJ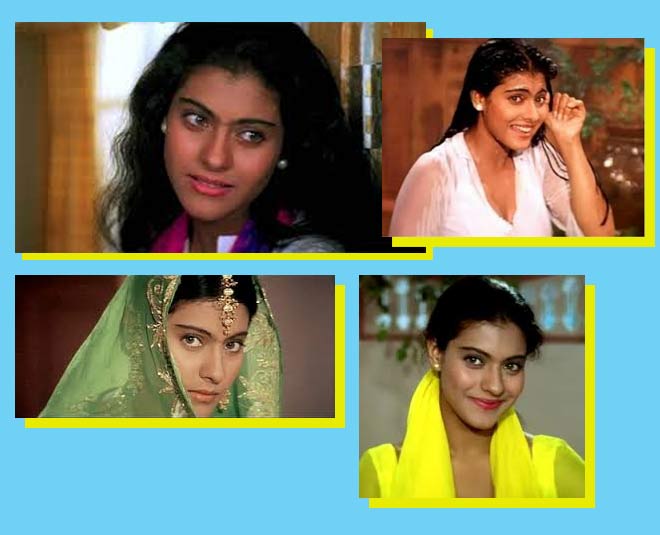 Don't Miss: DDLJ To Complete 25 Years, Have A Look At These Behind The Scenes Pictures From The Shoot Sets
Base
The now 46-year-old actor's aesthetically pleasing makeup in the film is to die for. The no-makeup look that most of us are still trying to achieve until today was created back then with least makeup products. Just a simple dewy base along with subtle blush made Kajol look mesmerising throughout the film.
Eyes
Kajol is known for her beautiful eyes. She sported natural look with slim brows and least amount of kohl or eyeliner in the entire movie. We also love that she confidentially flaunted her twinned brows in a couple of scenes, wherein she looked amazing!
Lips
All of you, who are crazy about nude lipsticks, must take fashion inspiration from DDLJ's Simran. We Indian girls struggle with finding the right nude shade, but she seemed to have figured it out long back.
Hairstyles
While in most scenes Kajol can be seen flaunting her natural waves, in some scenes she won hearts with a simple yet beautiful chignon. We love how she allowed her gowns to do the talking whenever she wore it in the iconic film.
Don't Miss: Revisit DDJL With Some Of Its Most Iconic Raj - Simran Scenes
Do let us which look are you excited to recreate from DDLJ by commenting on our Facebook page. Stay tuned to HerZindagi to read more such stories.
Picture Courtesy: Pinterest, Twitter