Craving something new and interesting? Well, here are some of the most famous dishes from different cuisines that are just perfect to impress those vegetarian guests arriving at your place. So, take a look.
Ratatouillie (French Cuisine)
Remember Disney's Ratatouille? That was a next-level movie for sure. Let us learn to prepare the same dish as the rat does and becomes a star after that.
Ingredients
1 Eggplant
3 Tomatoes
1 Yellow Squash
1 Zucchini
1 Tablespoon Olive Oil
1/2 Diced Onion
4 Cloves Garlic, minced
1/2 Red Bell Pepper, diced
1/2 Yellow Bell Pepper, diced
Salt & Pepper To Taste
Crushed Tomatoes (795 g)
1 Tablespoon Chopped Fresh Basil, from 8-10 leaves
1/2 Teaspoon Garlic
1 Tablespoon Chopped Parsley
1 Teaspoon Fresh Thyme
2 Tablespoons Olive Oil
Method
Preheat the oven to 190 degrees celsius.
Take the eggplant, zucchini, squash, and tomatoes and slice them into around 1mm thin slices and keep aside.
Next start heating the olive oil in an oven-safe pan (on medium flame) not larger than 12 inches.
Cook the onions, garlic, and bell peppers until they become soft then add salt and pepper to taste along with some crushed/pureed tomatoes according to quantity while stirring continuously till the ingredients are all properly blended.
Smoothen the surface of the sauce with the spatula and arrange the sliced vegetables while placing them in a designated order for example, zucchini, squash, eggplant and tomatoes over the surface of the sauce from the outer edge of the pan to the center.
To make the herb seasoning, mix parsley, thyme, basil salt, and pepper in a bowl along with some olive oil, and then pour it over the vegetables in the pan and cover with a foil. Transfer the pan in the oven and cook for about 40- 45 minutes, then remove the foil and bake again for 25 minutes or until soft.
Serve hot!
Turkish Borek (Turkish Cuisine)
Enjoy this lip-smacking dish by preparing it easily at home with the following recipe:
Ingredients
12 Tablespoons Extra-Virgin Olive Oil
900g Mild Green Peppers
2 Tablespoon Aleppo Pepper
2 Large Onions
Salt And Freshly Ground Black Pepper
3/2 Cup Canola Oil
10 Large Eggs
2 Cups Milk
Yufka Dough(All- Purpose Flour, Salt And Olive Oil Kneaded Into A Smooth Dough)
4 Tablespoons Black Cumin Seeds
Method
In a deen pan, add the olive oil(benefits for including olive oil in your diet), pul biber, onions, and salt and saute while stirring consistently for 10 minutes. Then season with salt and pepper and for 15 minutes while stirring occasionally.
Next preheat the oven to 204 degrees Celsius.
In a medium bowl whisk the eggs, with milk and some of the canola oil.
Lay a thin sheet rolled out of the yufka dough and then layer it up with the egg mixture and do this twice in total.
Take these sheets into the baking dish and lay the onion mixture over the sheets, after this stack two more yufka sheets and veggies and one last time again, make sure to top it up with the onion mixture.
Add the leftover egg mixture on top of the last layer and finish it by sprinkling cumin seeds over it.
Bake for about 45 minutes and leave for 20 minutes before slicing and serving the Turkish borek.
Don't miss: Prepare These Amazing Recipes With Carrots This Season
Tofu Gimbap (Korean Cuisine)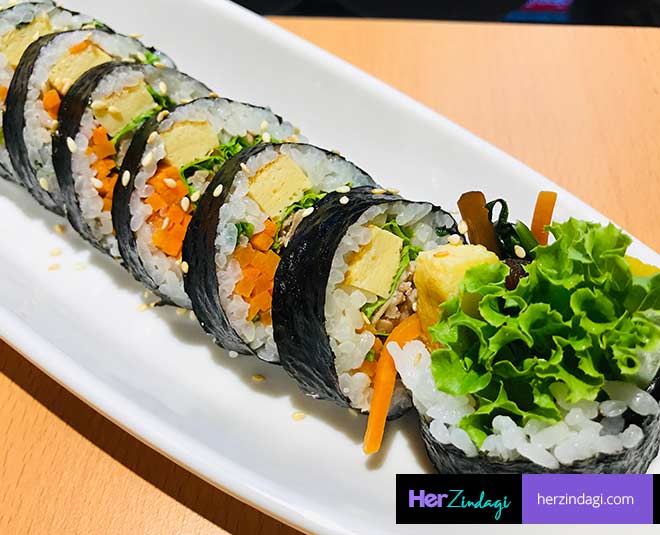 This is an iconic dish that is a staple in Korea and if you want to take your culinary skills to an international level, then do give this a try.
Ingredients
10 Nori Sheets
4 Cups Uncooked Short Grain Rice
2 Tablespoons Sesame Oil
Salt to taste OR 1 teaspoon
20 Ounces Firm Tofu
2 Bunches of Spinach
2 Teaspoon Sesame Oil
6 Kirby Cucumbers
4 Medium Carrots
2 Burdock Root Uoeong
Sesame oil
Salt
Cooking oil
Method
Start by sauteing the carrots on a medium flame for 5-10 minutes until bright orange, then add some salt and keep them aside.
Next, boil some water in a deep pan and blanch the spinach(health benefits of spinach) then strain to remove excess water.
In another small bowl add a pinch of salt and 1-2 teaspoons of roasted sesame oil.
Pour the liquid egg batter into a pan and cook like a pancake then remove this from the pan and cut thin strips out of it.
Then take the tice in a bowl, add sesame oil, salt, and mix.
Lay a sheet of seaweed on a flat dry surface and then spread about a scoop of rice over it. Leave a little bit of the sheet exposed.
Then add your pickled radish, burdock, carrots, and spinach on the top, in a line.
Then roll the sheet into and use water to seal the open ends.
Slice this roll into 1/2 inch pieces and enjoy!
Don't miss: Some New Year Party Recipe Ideas To Check Out
Stay tuned to Her Zindagi for more such recipes.