Whether you believe it or not, there are some places in India that believed to be haunted to the point that even the government of India has put out notices or boards before you enter the vicinity that you cannot stay there after a certain time. From unexplained broken sculptures to windows opening and closing (not due to the wind) to ghosts roaming some streets, there are places that must not be visited. Here is a list of some places in Gujarat and largely Ahmedabad which you must avoid unless you are a daredevil but do so at your own risk.
GTU Campus
Thegreen campus of GTU is in the middle of the city that you might think is safe. No, it is not abandoned as it is thriving with students campus but within this campus, there are certain points that are not visited by the students. Here it is in fact about the timing! At night, when the kids go back to their hostels and homes, there have been stories about the presence of ghosts.
Signature Farms
Now this place is often visited by daredevils for the thrill. It is there in Ahemdabad where the farm is full of broken sculptures and statues. The statues of Buddha and some horses are in fact weirdly, vertically cut and that too right through the middle. There are no humans here and neither does it have a network reach. According to ot the CXChinese whisper, locals have seen a massacre of the villagers long ago. And since then, spirits roam the place.
Haunted Tree in Chandkheda
This one is just beside the by-lanes of Chandkheda, where many vehicles pass by. There is said to be an old tree that which is said to be possessed by a ghost. The popular belief is that if anyone comes near it at night, it gets possessed and that person falls prey to crazy visions and nightmares.
Don't Miss: Visit These Haunted Places Around The World For A Spooky Experience
Manjalpur, Vadodara
It is a posh residential area in Vadodara and you get to see modern infrastructure here. However, there is an abandoned building which is said to be haunted. Many have reported seeing lights flickering just randomly around this place and some have seen the elevator go up and down on its own.
Bagodara, Ahmedabad-Rajkot Road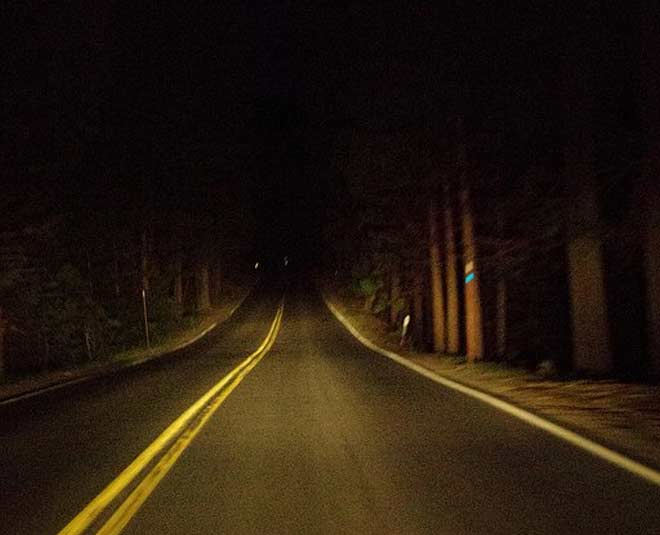 We all have heard of Bagdogra, which is a small town on National Highway 47, when we go from Ahmedabad to Rajkot. It is said that the corresponding highway street dangerous because of the numerous mishaps that have taken place here. People who drive through around the night time have claimed that they have heard uncanny sounds connecting them to paranormal activities. These sounds distract drivers and cause accidents. Do not pay attention to the mysterious women and beggars on the street here.
Don't Miss: 10 Most Scariest Places In India You Should Avoid
The Dumas Beach
This one is very popular. This beach is located along the Arabian Sea, and is well known for its black sand and the haunted stories! The belief is that this beach was a Hindu burial ground and is now possessed by haunting spirits. According to Chinese whisper, the existence of black sand is the amount of ash which is caused due to the burning of the bodies and the wood. It got mixed with white sand and turned it black.
The eerie feeling is there and looks rather depressing and according to many, paranormal activities have been reported in the area after moonrise. As per stories circulating, tourists and locals have gone missing from Dumas. Some even claim that they have heard someone crying but it turns out to be no one.
Don't visit these places is what I would recommend especially if you have a delicate heart. Being a daredevil is good but sometimes the unknown should remain so. Take care of yourselves and stay tuned to HerZindagi to know more about such places.