India is known for its tasty and cheap street food! The flavours that India has to offer, in the most pocket-friendly way are what make the Indian food culture stand out! However, while most of us know India for its pocket-friendly and yummy food, there are certain food items in India that are so expensive that they will definitely burn a gigantic hole in your pocket!
Today we are here to take you through some of the most expensive dishes that are sold in India.
Gold Plated Dosa, Raj Bhog Restaurant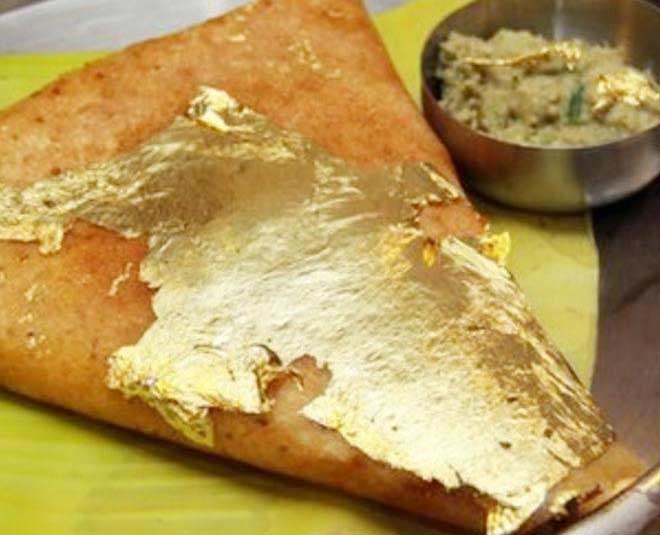 Image Credit: ak.jogurucdn
Dosa is sold at every nook and corner of Bangalore. From big restaurants to tiny stalls, dosa is enjoyed by every type of crowd in the city. It is inexpensive as well as tasty, a combination that we Indians live for! However, it looks like the chef at the Raj Bhog restaurant has sworn to make dosa as expensive as gold(quite literally) and make all our lives miserable! This crispy dosa is covered with a layer of 24-carats of pure gold foil which is edible! This gold-plated dosa is priced at Rs. 1,011!
Exotica, Chappan Bhog
Image Credit: chhappanbhog
This sweet at the Lucknow Chappan Bhog costs Rs. 50,000/kg. Take your time to get over what you just read. There are people who complete their entire college education at this cost, this is the annual salary of so many and we can just keep on making you count how huge an amount 50,000 is for a sweet! This bite-size dessert has ingredients that are sourced from different parts of the world like blueberries from the USA, hazelnut from Europe etc! Probably someone with an excessively fine palette will be able to differentiate between blueberries from the USA and those from the next-door supermarket!
Paani Puri, Hotel Pullman
A dish that is so easily available, accessible and affordable in India is sold at Rs. 750 per plate at this restaurant in Delhi! A plate of this has only four Golgappe. We do not think that there is any justification for pricing our beloved Golgappe this much. However, they offer caviar, tzatziki dip and dried ginger gastrique along with the paani puri.
Don't Miss- Planning A Trip To Delhi? Here Are The Food Items You Must Try!
Anaarkali Butter Chicken, Hyderabad
When it comes to butter chicken, we can never say no! Well, would you stick to the same ideology when you have to spend Rs. 6,000 for Butter Chicken that serves just two? The designers of this dish are no chefs but regular software engineers who are interested in cooking(learn how to make yummy chicken at home). They use specs of edible gold and silver, the dish is served in a glass container so the flavours are intact! What would you do if someone asked you to order butter chicken worth Rs. 6,000? Simple, count it as their treat!
Don't Miss- Here Are Some Amazing Breakfast Places In Bangalore!
'The High life', Qube Leela Palace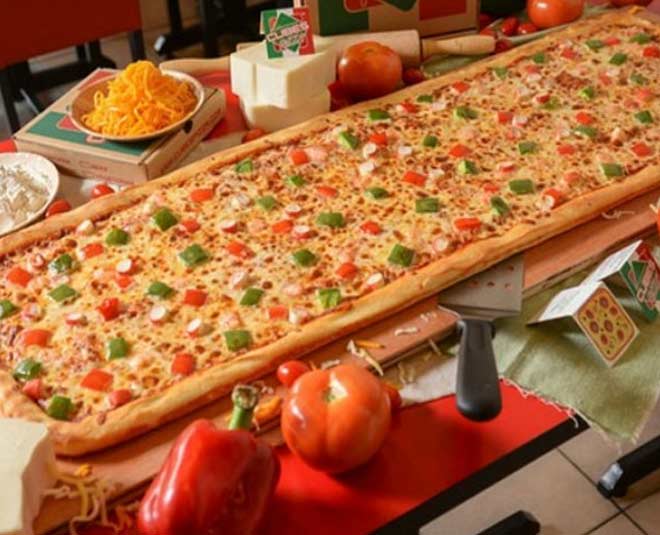 Image Credit: images.inuth
This is a pizza that is sold at the Leela Palace Delhi. When we think of pizza it is mostly when we are not in the mood to cook and want to get something quick and yum. However, this pizza may be yum, may even be quick, but it is also a massive expenditure. We are not going to ask you to guess because you would have never in your wildest dreams also thought that a mere 13-inch pizza could be this costly. This pizza costs Rs. 10,000 and is brought to your table by the chef himself(learn how to make chef style pizza)! The justification for its cost is the topping of the best quality lobsters that are bought from Canada and an ounce of the world's top Iranian Beluga Caviar. In order to enhance the taste of the lobster, the pizza is served with Grey Goose Vodka.
Let us know on our Facebook page if you are willing to pay for any of these dishes! If you found this article interesting, stay tuned to Her Zindagi for more such content!