Quarantine or self-isolation has taken over the entire world and all are at home amid the widespread pandemic Coronavirus. Just like you and me, celebs too are trying different things in the confinements of their homes. Some are sharing fitness tips and workouts that can be done every day at home and some are channeling their inner chef. Actor Shahid Kapoor's wife Mira Kapoor too has been bitten by the cooking bug and she has been trying different healthy recipes which are easy as well.
At home with Shahid and her two kids Misha and Zain, she posted some pictures of her kitchen shenanigans on her official Instagram account. She shared pictures of fruits and nuts salad that she had which was a beautiful mix of bananas, pomegranate seeds, pumpkin seeds, sunflower seeds, and chia seeds.
She captioned the image: 'Vitamins'. While pomegranate seeds are full of vitamin C, K and B, bananas are enriched with vitamin B6 and vitamin C. Bananas and pomegranate also have potassium.
Speaking of seeds, pumpkin seeds are loaded with b vitamins and beta-carotene, which is very important for the production of vitamin A. These seeds are also a very rich source of protein and omega-3 fatty acids which we need for a healthy heart. The chia and sunflower seeds are amazing sources of protein too which helps build muscle and sustain weight loss.
Mira also asked her followers to give her 'tried and tested' recipes of Spicy Momo Chutney.
She later also shared pictures of the Oat Pancakes topped with Strawberries with Nutella drizzled over it.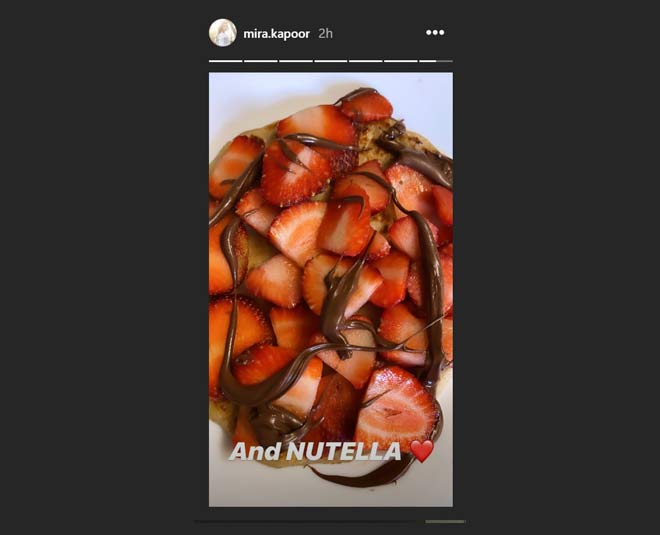 Don't Miss: Mira Kapoor's Face Scrub Recipe Works Like Magic On Skin, I Tried It And You Should Too
Earlier, Mira Rajput had also shared the picture of the Marble cake she made for her loved ones. She shared the pic with the caption: "Back to baking after many years! Marble Cake on its way #goodolclassic #lifeisbetterwithbutter."
View this post on Instagram
Apart from cooking and baking, Mira also keeps her kids busy. She plays 'Make Your Own Material' with them, a fun way to even make them learn things.