India, being a country of diversity has a wide variety of food options and is the reason for India being a huge tourist attraction. Every city has its own distinct flavor in India, but they all leave an impression for long. Here is the list of some of the best cuisines in India offered by different cities.
1. Kolkata
Bengali cuisine is incredibly diverse, with something to offer for everyone, and Kolkata is the perfect spot to sample it all. It has some of the most delectable desserts, and its Roshogulla is something that is world-famous. Kolkata is the ideal destination for foodies, with everything from melt-in-your-mouth sweets to delicious mishti doi to the greatest Kathi Rolls.
2. Hyderabad
Hyderabad has some of the best Biryanis in the world, which draws foodies from everywhere. But the Nizams' homeland isn't just about biryanis, they also serve superb and most delicious seekh kebabs and chicken nihari at very affordable prices.
Don't miss: Biryani VS Pulao: What Is The Difference?
3. Indore
Indore has everything to offer foodies in its own unique way. Savouring flavours of Poha and Jalebi, 9 flavored Pani-Puri, Dahi Bhalle at midnight from Sarafa Gaali to 56 Dukaan with it's famous Dal Kachori, Bhutte ka kis and Hot Dog. Breakfast to Dinner, Indore is every foodie's paradise!
4. Ahmedabad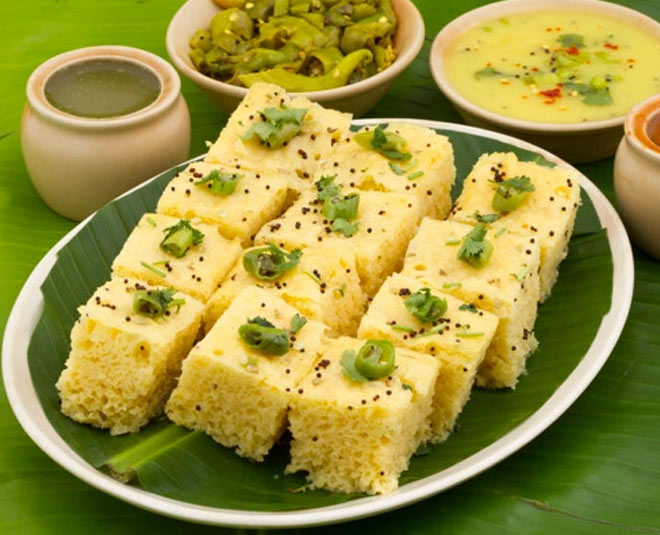 Ahmedabad is not just known for one but a huge variety of delicious gujarati food. If you are craving some unique, flavourful and authentic vegetarian taste then tempting Gujarati dishes like Dhokla, Thepla, Khandvi, Undhiyu, Khakhra Muthiya won't disappoint you and Ahmedabad should be your destination.
Don't miss: This Recipe Of Fafda, A Gujarati Dish Is Perfect For Snacks Or Lunch Time!
5. Chandni Chowk
Chandani Chowk is the most favourite food spot of every Delhiite as well as other foodies from different states. The city offers the most tempting food options like Paranthe, Cholle bhature, Gol gappe, Pyaaz Kachori, Chaat, Rabri Falooda and what not. Whatever you're looking for, Chandni Chowk will provide the best version of it.
6. Lucknow
The city of nawabs is home to some of the most mouthwatering foods you didn't realise you'd been longing for so long. If you're putting together a food bucket list, Lucknow should be near the top. From the most delicious kachoris, chole bhature, chai-samosa, and lassi to the most flavorful kebabs, Nihari Kulcha and Kebabs, the city offers a diverse range of delicacies for foodies.
7. Amritsar
Amritsar is a famous pilgrimage destination but it is also famous for it's tempting food delicacies. Kulchas, dal makhani, lassi, jalebi, and fish tikkas are some of the foods that you will never forget once you have had them. One thing you need to know is that Punjabi's are very serious about making the perfect food. So if you're planning to visit their city, be ready to get amazed with some of the best food.
8. Coorg
Bangalore's neighbour Coorg is known to serve some of the best cuisines like Pandi Curry, Kadambuttu, Paputtu, Noolputtu etc. Just talking about them can make us drool Coorg cuisine is as interesting as the Kodava people who make them and becomes a must try for everyone.
9. Jaipur
Every adventurer who visits India has a wish list that includes Jaipur. With its well-designed structures and distinct culinary flair, the city has become a dream destination. The "pink city" serves us traditional Rajasthani cuisine with a great taste quotient. Dal-baati-churma, laal maas, keema baati, ghewar, kulfi, and kachori are some of the delectable delicacies.
These are some places which offers the most delicious delicacies. And if you're a foodie, you can absolutely not miss these places.
Which place among these is your favourite? and what special does your city offer? Do let us know and keep following HerZindagi. :)