Korean dramas, pop music, skincare routine, fashion, home decor -- they have become a fad across the globe and that includes India. But one more element many K Drama lovers have started trying is that of making Korean food at home after watching all those actors binging away. Of course, we may not have access to seafood as they do but many dishes are very much manageable in an Indian kitchen as well. Here are 5 dishes that can be easily prepared and they are way healthier than many other dishes.
Bibimbap
A fav of many characters in K Dramas especially when they that not everyone can make it right, this dish is rice based and then topped with many sauteed veggies, sauce and egg or meat. People also add kimchi to it. Served in a bowl, this is a very wholesome dish and can be easily made at home.
Tteokbokki
This is a traditional dish which is made with rice cakes and is smeared with spicy sauce. There are many variants to it as each chef has his or her own take. You can have it with seafood, cream sauce or as a curry. They use fish cakes and scallions but you can use boiled eggs as well.
Bingsu
This is also a traditional Korean dessert which is made of shaved ice in different flavours be it green tea, chocolate to strawberry. It can be customised as per wish as you can use fresh fruits and fruit jams and flakes.
Don't Miss: These Korean Skincare Tips For Oily Skin Are A Gem!
Japchae
A savoury dish indeed, Japchee has slight sweetness and contains stir-fried glass noodles and vegetables. The noodles are then mixed with meat, assorted vegetables, mushrooms, soy sauce and sesame oil. It was once considered a royal dish but is now a celebration dish. It is served on special occasions, be it birthdays or weddings.
Don't Miss: DIY Korean Skincare Products For Organic Lovers
Dalgona Coffee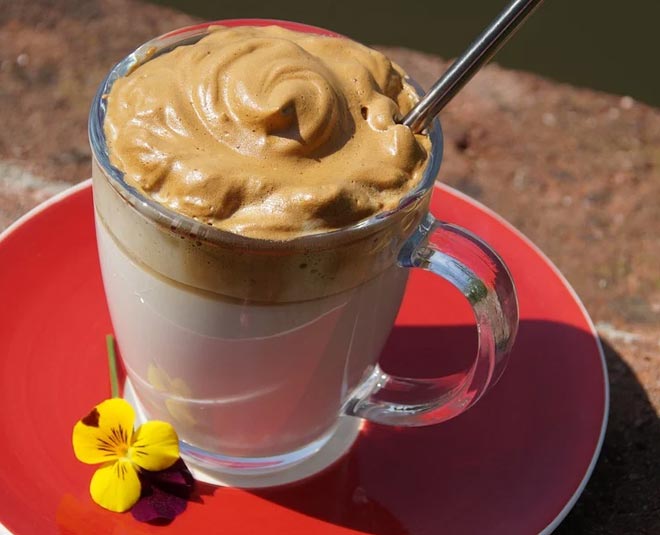 Dalgona coffee became a cult especially when the world was under lockdown during the beginning of the pandemic. It originated from South Korea and is generally made by whipping sugar, instant coffee powder, and hot water. Interestingly, it's name was coined by South Korean actor Jung Il-woo. He had ordered a whipped coffee at an eatery in Macau when he was to appear for KBS2 show called Stars' Top Recipe at Fun-Staurant. He loved the flavour and associated it with dalgona, which is a type of Korean honeycomb toffee.
So which dish are you going to try first?
Stay tuned to HerZindagi for more on international cuisines that you must know of and can easily make in your Indian kitchen.