We all wait the entire year for the winter season to come, with it comes a variety of green vegetables and fruits on the market. It is the season of leafy vegetables and saag like palak (spinach), methi (fenugreek), broccoli, radish and peas that are either not available for the rest of the year or not of as good quality.
Peas are rich in both rron and fiber which are vital minerals for the body. Fiber-rich peas can also help us feel fuller for longer, which can aid in weight loss. As per experts, one serving of peas provides over half of the daily requirement for Vitamin C. This aids in preserving healthy skin and hair as well as boosting resistance to illnesses during the winter.
Here are a few healthy and delicious recipes using peas that you can enjoy in this winter season for breakfast or as a meal with your rice, roti or parathas.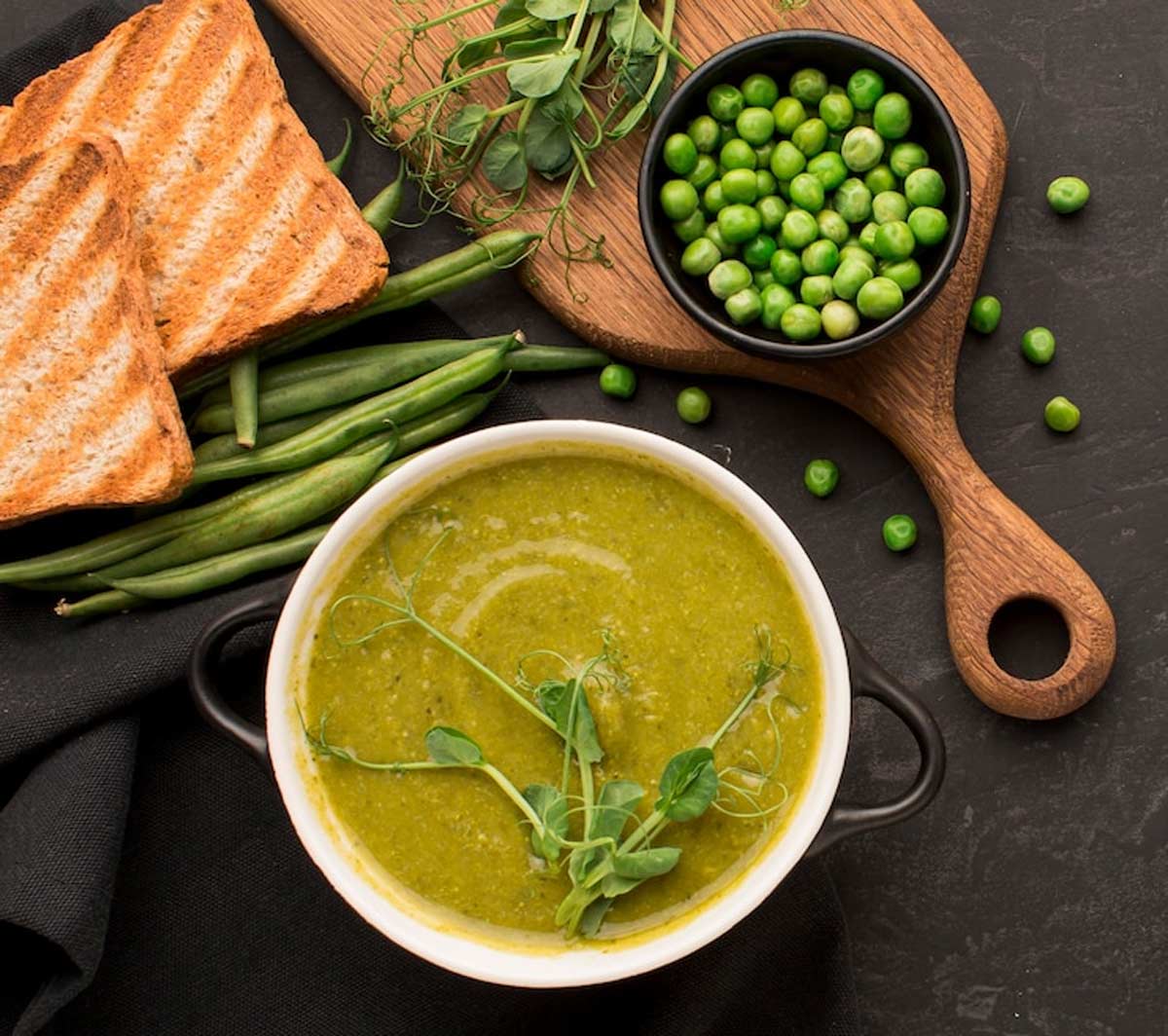 Don't Miss: A Love Letter To Tabu: The Enduring Magic She Brings To Her Characters
Matar Poha
Ingredients:
Flattened rice/poha- 1.5 cups
Green peas- 1 cup
Don't Miss:
Ingredients For chutney:
Handful of corriander leaves
1/2 inch of ginger
6-7 garlic cloves
6-7 Cashews
1 onion finely chopped
2 tbsp oil
1/2 tsp cumin seeds
1 tsp ginger finely chopped
1 tsp green chilli finely chopped
Salt as per taste
1 tbsp ghee
Juice of 1 lemon
Fresh coriander for garnish
Recipe:
Wash the poha, drain the excess water and keep it aside.
To prepare the chutney, make a fine paste with coriander leaves, ginger, and garlic.
Take a pan, heat oil and fry your cashews until they turn golden in colour.
Add cumin seeds, ginger, and green chilli to the pan separately and cook for a couple of minutes.
Next, add onions and cook for 2-3 minutes but remember not to overcook the onions. Then, add peas and salt to taste and cover and cook this for about 8-10 minutes until peas are perfectly cooked.
Now, add the coriander paste to it and cook for another 4-5 minutes. Add the poha and add salt as per your taste and mix everything well.
Before serving, add ghee, cashews, and lemon juice. Garnish with coriander leaves and serve hot.
Bihari Style Matar Ki Sabji
Ingredients:
2 big cups of peas
2 boiled potatoes
1 onion, finely chopped
5-6 garlic cloves
Ginger, green Chilies as per taste
Oil
1 tbsp jeera (cumin) powder
1 tbsp dhaniya (coriander) powder
1 tsp red chili powder
Salt as per taste
Coriander leaves (not mandatory)
Recipe:
Take a pan, pour some oil, and add peas to it. Add some salt and fry for a couple of minutes. Pour it in a blender and make a rough paste. Remember to not make a fine paste.
In another blender, take 5-6 garlic cloves, some ginger, green chilies and make a fine paste.
Now, add some more oil to the pan, add some chopped onion, and once they turn golden, add the chopped boiled potatoes. Add the garlic paste to it and add 1 tbsp jeera (cumin) powder, 1, tbsp dhaniya (coriander) powder,1 tsp red chili powder, salt as per taste and a pinch of turmeric powder. Once the entire thing starts oozing out oil, add the peas paste to it, add some water, cover it and cook for a few minutes. Before serving, add some peas and coriander leaves to garnish.
Don't Miss: Ishaan Khatter: From Beyond The Clouds To A Suitable Boy, He Is Here To Stay
Matar Kebab
Ingredients:
Peas
Spinach
Ginger
Green chillies
Bread
Black pepper as per taste
Salt as per taste
Chickpea flour
Oil
Onion cut into rings(for garnish)
Recipe:
Take a blender, add peas, spinach, ginger, green chillies, and bread and blend it well in a dough. Add some salt and black pepper and make the dough into small balls. Dust the dough with some chickpea flour. Take a pan and heat some oil and add the small balls into it. Fry until they turn brown, on both sides. Before serving hot, garnish the kebabs with a few onion rings.
Did you like this article ?