When it comes to any kind of celebration, food plays an integral part in it, especially in India. The first meal you cook for your new family must also be perfect, as it will be an unforgettable memory for you, your husband, and your in-laws. It is ideal to prepare a dessert dish, because it is believed that the sugar will add sweetness to your relationship with everyone. Since you want things to be special, just like your wedding dress, jewellery, and makeup, a simple kheer and halwa might not do much. Try something more exotic, perhaps Indian dishes, but with a twist. Wondering what exactly? Check out these recipes that are simple but have added tang, so that you can impress one and all!
Bread Rasmalai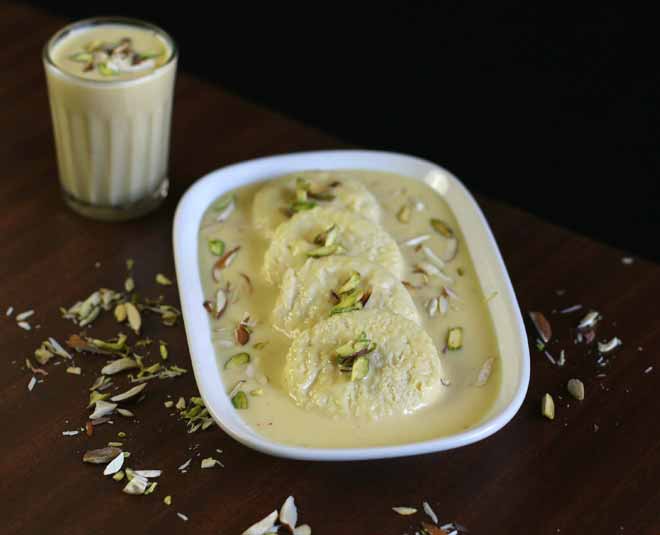 Someone who has a sweet tooth is going to love the bread rasmalai. It can be prepared with simple ingredients and that too just in 30 minutes.
Ingredients
2 cup milk
1 cup condensed milk
8 bread slices
5 crushed almond
2-3 crushed cashew
3-5 crushed pistachios
1 teaspoon saffron (benefits of saffron)
½ teaspoon cardamom powder
Recipe
Place a pot on the stove, add milk, and condensed milk.
Bring the mixture to boil on medium heat and keep stirring regularly.
Add saffron strands, cardamom powder, almonds, cashew nuts, pistachios, and continue to boil.
Simmer for 5 minutes, once it thickens turn off the heat.
Allow the thickened milk to cool down to room temperature.
Take your bread slices, cut them with a cookie cutter to round shapes.
After milk cools down, dip and coat both sides of bread.
Transfer to a serving bowl, garnish with almonds, cashew nuts, and pistachios and serve immediately.
Makhane Ki Kheer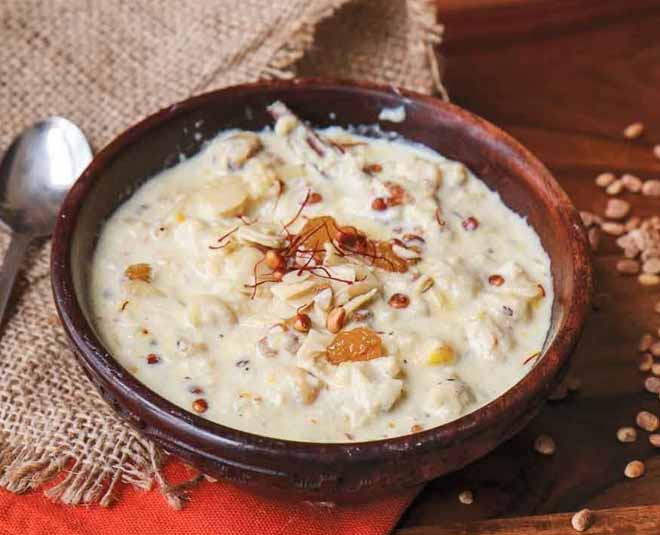 When we talk about Indian dessert items, nothing is more scrumptious than the rich, flavourful kheer. Makhane ki kheer is just an uplifted version of the same dish.
Ingredients
1 cup lotus seeds (makhana)
2 tablespoons desi ghee
5 cups of milk
2 cups of sugar
½ tablespoon nutmeg powder (jaiphal)
1 teaspoon saffron strands
Dry fruits for garnishing
Recipe
Place a non-stick pot on the stove. Grease with ghee, and add makhana.
Sauté makhana for around 5 minutes, until it turns crispy.
Remove makhana and let it cool down at room temperature.
Once it cools down, blend it in a mixture to a coarse powder and keep it aside.
Place another pan on the stove, add milk, sugar, and boil it.
Keep stirring it continuously till the sugar dissolves in it completely.
Add crushed makhana powder to the milk.
Cook this mixture for around 15-20 minutes.
Lastly add nutmeg powder, saffron strands, and cook for another 5 minutes.
Serve in the bowls and garnish with crushed dry fruits.
Pineapple Sheera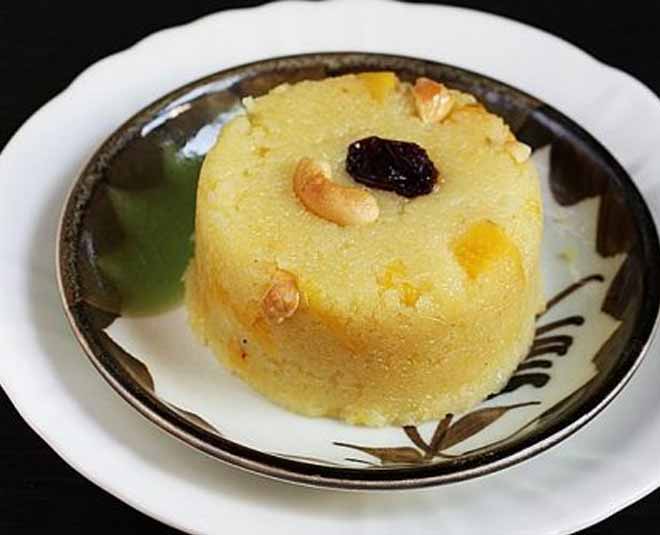 No matter if you're an amateur cook or a pro, this dish can be prepared by all and with the most basic ingredients.
Ingredients
½ cup of fresh pineapple purée
2 tablespoons desi ghee
½ cup semolina (sooji)
1 tablespoon crushed almonds (health benefits of almonds)
½ cup of sugar
1 cup of water
Recipe
Place a non-stick pot on the stove, add ghee, sooji and stir stirring.
Keep stirring continuously for 2-3 minutes and wait until it turns slightly brown.
Then add pineapple puree and water.
To keep the mixture from forming lumps, keep mixing the mixture.
Lastly, add sugar in the sheera and mix well.
Your dish is ready to be served. Pour in a serving bowl and garnish with dry fruits.
Apple Walnut Kheer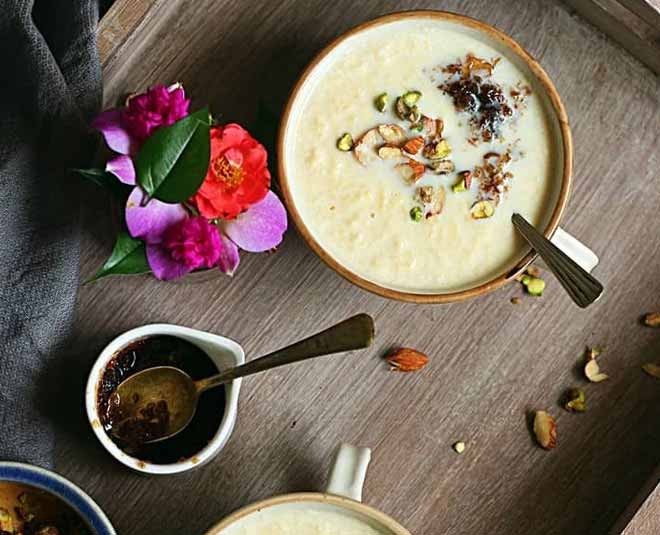 Since we Indians love kheer, here is another yummier and healthier version of it, which is likely to help you leave a lasting impression on your in-laws.
Ingredients
¼ cup of grated apple
¼ cup of finely chopped walnuts
2 cups of low-fat milk
1 cup of oats
1 tablespoon sugar
Recipe
Place a non-stick pot on the stove. Add milk and bring it to boil.
Then add grated apple, walnut, oats, and sugar. Cover the lid and let it cook for 5-7 minutes.
Once the consistency is thick, turn off the heat and serve.
Almond Payasam
Payasam is just the south Indian version of kheer. Made using wholesome almonds, this dish is sure to tug everyone's heartstring.
Ingredients
¼ cup of almonds
5 cups of milk
½ cup of sugar
½ teaspoon cardamom powder
1 teaspoon saffron strands
Crushed dry fruits
Recipe
Begin by soaking the almonds in water for at least 2 hours.
Peel it and grind it into a fine paste and then keep it aside.
Place a non-stick pan on the stove, add milk and bring it to boil.
Add almond paste, sugar, cardamom powder, and saffron to the milk and mix well.
Simmer the mixture for around 10 minutes while stirring continuously.
Once the almond payasam cools, refrigerate it for at least 2 hours.
Take out from the refrigerator and serve. Don't forget to garnish with crushed dry fruits.
If you liked this article, do comment on our Facebook page. Stay tuned to HerZindagi to read more such articles.