Most of us love cooking and find spending time in the kitchen calming. If you're one of those people, you know why a clean kitchen is a must to cook in the best way possible. This not only involves having spotless utensils, but also a clean stovetop.
Cleanliness of each and every corner of the kitchen is not just to be able to cook perfectly, but also to keep harmful microbes from mixing with the food. Especially, since we are fighting a health pandemic currently, it is significant to maintain a high level of hygiene in the kitchen.
That's why we bring you some easy tips to clean your stove that has to bear stains, spills and whatnot while you cook at it!
Salt & Baking Soda Mixture

When it comes to stubborn stains and marks, you want an agent that is packed with natural acids. Salt and baking soda together will remove the stains, and at the same time will maintain the shine of your cooktop.
Steps
In a bowl, take 1 tablespoon of salt and baking soda.
Add a couple of drops of water and mix the form a paste.
With a brush or a spoon, spread the solution on the stove.
Scrub and wash away with water for best results.
Liquid Soap & Water Solution
If the marks are not too stubborn and are just broth spills, you need not go aggressive. Just use the regular dishwashing liquid with water to make your stove bright and shine again.
Steps
Take ½ cup of water in a bowl.
Add 2 tablespoons of dishwashing liquid.
Mix both well and scrub your stove with it.
Leave for 10 mins or so and wash it with water while scrubbing with a sponge.
Baking Soda & Lemon Mixture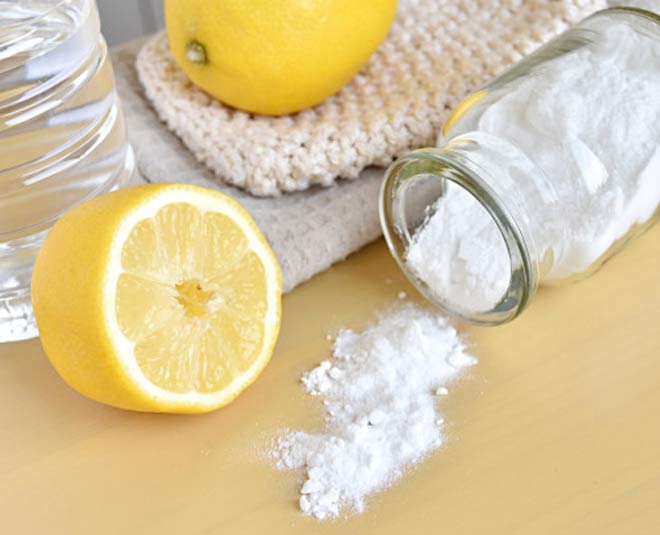 These two ingredients are easily found in almost all Indian households. Lemon is acidic in nature, which when mixed with baking soda, acts as a great cleanser to get rid of grease and stains.
Steps
In a bowl, squeeze 1 full lemon.
Add 1 tablespoon of baking soda and mix both well together.
Take an old toothbrush, dip it in the mixture and start scrubbing your stove.
Once done, wash it with water and lastly clean with a sponge.
Ammonia
When there are stubborn deposits and grease settled on the stove, you need something stronger than natural acids. Something like ammonia can be great, as it will remove all the marks and grease in no time.
Steps
Pack your burner in a plastic bag filled with ammonia.
And spread the remaining liquid on the stove.
Leave it for 30 minutes and clean everything well with water later.
White Vinegar
White vinegar is known for its amazing health benefits when it comes to detoxifying the body and losing weight. You can also use it to clean your stained cooktop.
Steps
In a spray bottle, add 1 cup of white vinegar and 1 cup of water.
Spray the solution evenly on the stove and scrub it well.
Leave for a couple of minutes and wash it with water for best results.
If you liked this article, do comment on our Facebook page. Stay tuned to HerZindagi to read more such stories.