Eid Mubarak! Eid al-Adha is here and we can't wait to spend this special day with our friends and family. The day would be incomplete without the traditional Sheer Khorma. Sheer Khorma is one of the most favorite dishes prepared for the festive occasion of Eid. Prepared using vermicelli, milk and dry fruits, Sheer Khorma is loved by all. Here is how you can bring a new twist to it by adding coconut and makhana.
Coconut Sheer Khorma Recipe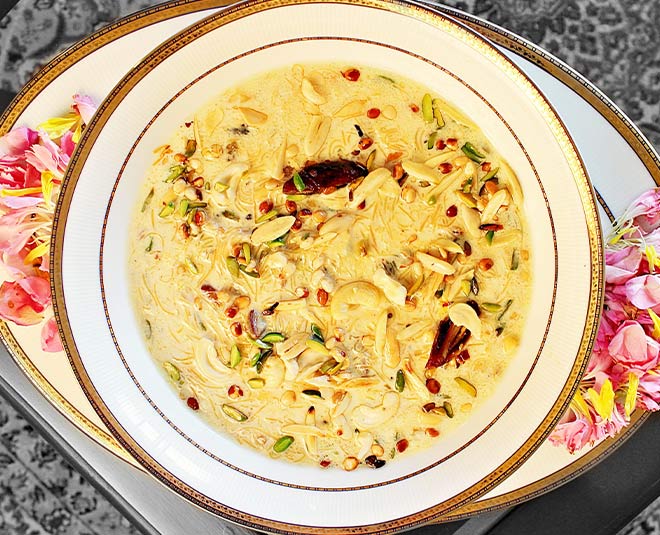 Ingredients:
250 grams Vermicelli
1-liter milk
1 cup dates
1 cup coconut, grated
100 grams makhana, chopped (lotus seeds)
1 cup almonds, sliced
1 cup cashew nuts, roughly chopped
1 cup chironji
1/4 cup kishmish/ dry raisins
150 grams khoya (mawa)
1/4 cup sugar
2 cloves
2 cardamoms
Few strands of saffron
A pinch of cardamom powder
8 – 10 pistachios, coarsely chopped
Directions:
Crush the vermicelli into small pieces and keep aside. In a kadhai, heat ghee and sauté vermicelli with cardamom seeds and cloves. Add vermicelli and roast it till they turn golden.
In a separate kadhai, heat ghee and add dates. Fry and then add makhanas.
Next, add dry fruits and khoya. Cook well for a minute.
Mix in coconut and cook for another few seconds.
Now add roasted vermicelli and mix well along with all other ingredients.
In a pan, add milk and bring to boil. When the milk thickens, add sugar and cardamom powder.
Add the roasted vermicelli mixture to the milk. Cook well for 5-10 minutes.
Garnish with almonds, raisins, and pistachios.
Did you like this article ?