Things To Do In Chamba, Uttarakhand That You Shouldn't Miss
Visit Chamba in Uttarakhand to enjoy the best of nature. Follow this travel guide to enjoy the best time.
Chamba is a gorgeous hamlet in Uttarakhand, which is just a short distance from Mussoorie- a popular tourist attraction. This tranquil place is located in Uttarakhand's Tehri Garhwal District, at an elevation of 1600 metres above sea level.
Surrounded by deodar and pine trees, Chamba as a tourist attraction has succeeded in establishing a gorgeous paradise unto itself, which can be visited at any time of year. Chamba is still relatively undiscovered and could be an excellent weekend getaway spot for you. If you wish to discover more of nature and have a longer journey, combine your visit to Chamba with a tour of Mussoorie, New Tehri, and Dhanaulti. This will undoubtedly provide you with a relaxing holiday in the midst of nature that you have been longing for.
Whether it's the sunny days of March or the freezing days of November, the land appears to be a paradise throughout the year.
DuringSummer, Chamba is perfect for sightseeing visits as the temperature ranges from 14°C to 30°C in the months of March through June.
During Monsoon, if you plan a vacation, be prepared to embrace rain in the serenity environs of Chamba. Tourists enjoy watching the land transform into a more scenic beauty during the monsoon season, which begins in July and lasts until October.
During winters, the area takes on a magical appearance. In the sometimes snowy months of November to February, the paradise-like place will enwrap you in itself.
Don't miss: Visit These 7 Places To Make The Most Of Monsoons
How To Reach Chamba?
Chamba, Uttarakhand is easily accessible by air, train or road.
By Air
The nearest airport to Chamba is Jolly Grant Airport, which is 75 kilometres away. Taxis are readily available from the airport to Chamba.
By Train
60 kilometers away from Chamba, Rishikesh is the closest railway station to Chamba. Chamba is easily accessible from there by bus and cab.
By Road
Chamba is well-connected by road to major tourist destinations and cities, including Mussoorie, Dehradun, Rishikesh, Delhi, Haridwar, and others. There is also a taxi service available to Chamba.
Places To Visit In Chamba
Tehri Dam
Tehri Lake is a short drive from Chamba and takes about 20 minutes to reach. It is an artificial dam reservoir that was created when water from the Bhagirathi River was diverted to fill the dam reservoir during the construction of the Tehri Dam. It is located at a height of 1,700 metres and becomes a must visit when in Chamba.
Tehri Lake has become a popular boating destination for tourists and travellers seeking peace and quiet in the middle of nature. Recently, it has also become a great weekend getaway location due to its proximity to the Delhi and NCR regions.
Surkanda Devi Temple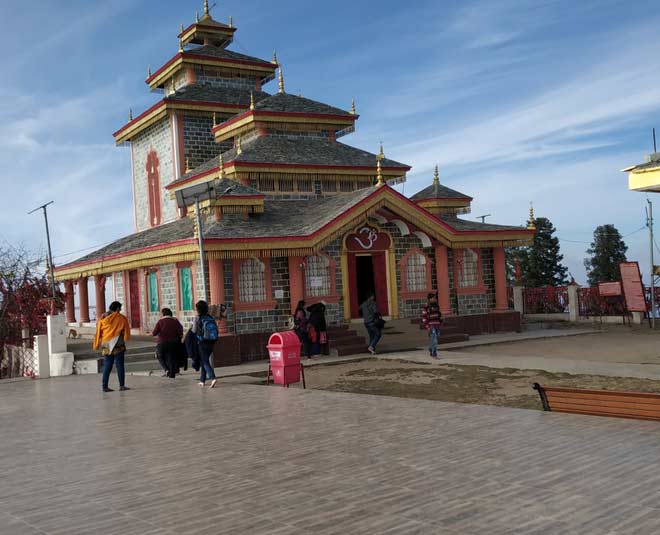 The breathtaking view from the temple at the summit's 10,000-foot height will take your breath away. It provides scenery that is well worth the climb, and even an atheist should see it. The walk, which is rich in flora and fauna, provides a spectacular perspective of the Himalayas and exudes a lovely sense of tranquillity.
Surkanda Devi Temple is a famous shrine at Kaddukhal, around 24 kilometres from Chamba. The temple is dedicated to Goddess Sati and is reachable by a 2-kilometer easy trek. Throughout the year, the temple attracts a considerable number of worshipers.
Cuisine
To complement your peaceful holiday in the hills, you cannot miss their traditional cuisine. Try the hot local food of Garhwal and experience a delightful flavour.
If you are a nature enthusiast, there are also some lesser explored trekking trailsalso up to the high points of Chamba from where the majestic views of Thalay Sagar and Jonli mountain peaks of the Himalayan Range can be sighted.
Visit this place and enjoy a lovely time amid the nature. Enjoy your vacation and have fun!
For more such travel stories and tips, stay tuned to HerZindagi!