The nose tends to be the focal point of the face and thus it garners the most attention in comparison to any other facial feature. While most people feel satisfied with the shape of their nose, there are others who want to slim it down to make the nose appear sharper. To achieve the desired shape it is not important to go under the knife.
You can reshape your nose to an extent with the help of some exercises and hacks. While surgery can be expensive that most people can't afford, a few simple hacks are totally inexpensive, and easy. All you need is patience, as these hacks take time to show results. Here's what you need to do:
Massage
Massaging your nose can be very effective to tone the muscle of your face and especially the area around the nose. As you keep massaging, over time you will notice the shape of your nose becoming more straight and sharp. Also, sinus or migraine patients can be highly benefitted from this.
Steps
Apply 2 drops of olive oil on your nose. Using the tip of your finger, massage in a circular motion.
Start from the area around the bridge and move towards the sides of your nose.
Do this daily for 3-5 minutes to get the desired results.
Remember, you won't see the difference from day one, but slowly, given that you perform this task daily without fail.
Breathing Pranayama
Performing yoga is the easiest way to remain healthy. It can also help you to attain the desired shape of the nose. We are specifically talking about breathing asana that can effectively shorten and sharpen your nose.
Steps
Begin by sitting down with cross legs on a yoga mat.
Use your right hand's thumb to block the left nostril and breathe for 4 seconds from the right one nostril.
Without exhaling, block the right nostril with your left hand's ring finger and exhale from another nostril.
Repeat this process 10 times a day.
You can gradually increase the limit to 15-20 times.
Smile Exercise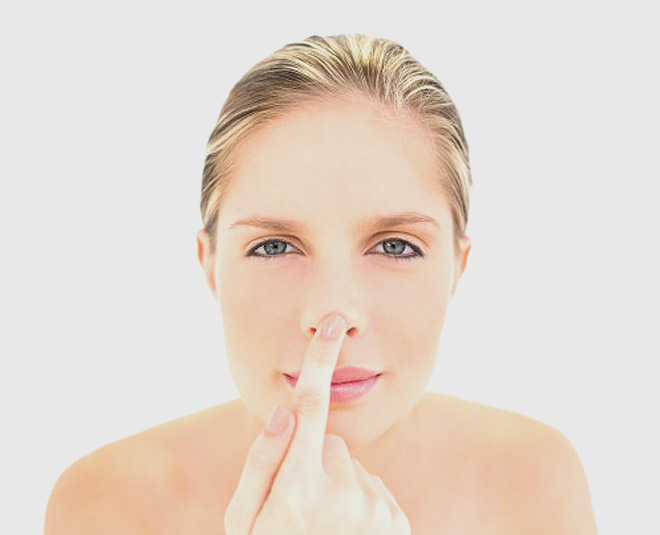 A smile can shoo away most feuds and misunderstandings. Nothing seems more beautiful than a smiling face. Here's a happy news a simple smile exercise is enough to straighten the shape of your nose too. The best part is you can do it anywhere, either while watching TV or reading books.
Steps
All you need to do is smile big to broaden the muscle of the lips and push your nose upwards. To an extent where you feel stretch on the sides of your nose.
Focus on the muscles and do this daily for at least 5-minutes. You can do more if you like, but 5-minutes is the minimum time you need to do this.
Nose Shortening Exercise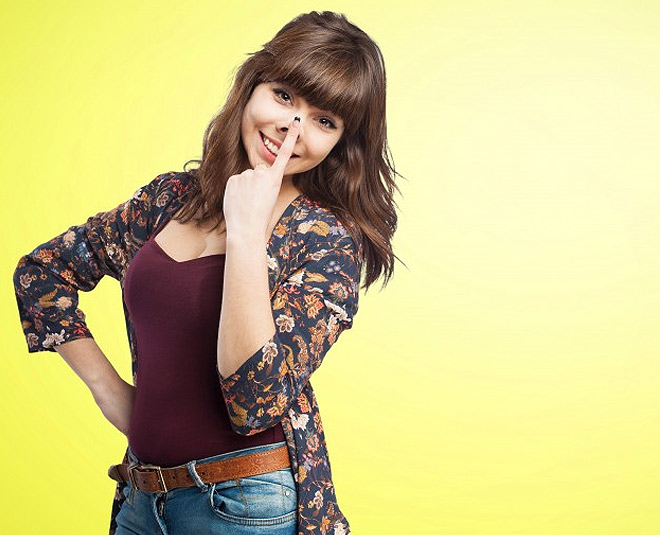 Many don't feel happy about the round shape of their nose. Instead of the round, they want it to look sharper in comparison to the other features of their face. This exercise is for those people, as by doing the nose shortening exercise, the nose will become thinner and smaller over time.
Don't Miss: Get A Facial Done At Least Once A Month To Enjoy All These Benefits
Steps
Begin by pressing the bottom sides of your nose. Use your index finger and thumb and to do so.
With another hand's index finger push the tip of your nose in the upward direction. You want to flare it up.
Now practice breathing in the same position. Take breaks in between if you don't feel comfortable.
Try exercise 15-20 times a day. It is likely to take just 8-10 minutes of your day.
But the key here is consistency. You don't have to skip this exercise.