When it comes to the groom, getting ready for the D-day is not just about carrying the perfect outfit and accessories. The wedding day is special not just for the bride but the groom too.
Grooms shouldn't shy away from going for a quick grooming session ahead of their wedding. It is important that the groom puts some effort into his looks.
Beauty expert Shahnaz Husain has shared some quick grooming tips for the groom-to-be with us. Read on.
Take Care Of Your Skin
The expert shared that once the wedding date has been set, the groom-to-be should start taking care of their skin. It is good to go for weekly facials which involve deep cleansing, exfoliating, toning. Facials help deep cleanse the skin, remove the dead skin cells, stimulate circulation in the skin and nourish it deeply. Facial massage helps give your skin a healthy glow. It also helps in reduce the wedding stress and fatigue.
Get Your Haircut Done In Advance
Never keep your haircut for the last. The beauty expert suggested that you must take your haircut at least two weeks in advance so that the hair can be styled easily. On the day of the wedding, the groom should wash their hair with a shampoo and follow with a condition. Next, they can use a leave-in conditioner or a serum.
If you wish to give your hair a new look then you should try it all before your wedding. It is best to use a grooming tool ahead of your wedding to see if it works for your hair. There are a lot of hair grooming products available in the market like creams and gels but they all should be tried well in advance. Don't do any experiments on your D-day.
Pay Attention To Hands And Feet
Do book a manicure and pedicure session at a salon ahead of your wedding. This will help your hands and feet look clean and well-groomed. Manicure and pedicure will help clean your nails and remove all the dead skin. Also, it is quite relaxing.
Go For A Hair Treatment
Your hair deserves attention as well. You can go for a head massage which will help relax your mind, treat anxiety and fatigue. If you are someone who has issues like hair loss, dandruff then it is best to go for a treatment a week or two before your wedding. The expert suggested that it is best to avoid last-minute issues.
Don't Miss: Shahnaz Husain Rolls Out Pre-Bridal Detox Tips
Shave For That Fresh Look
If you have to shave on your wedding day, make sure you do it before getting ready as it will make your face look a lot more fresh and bright. Don't shave in a hurry, take your own time as it will prevent any cuts. An easy trick to prevent any nicks is by washing your face with hot water first as it softens the beard and makes shaving a lot more easier. Always follow with an aftershave lotion and moisturiser.
Keep More Time For Bath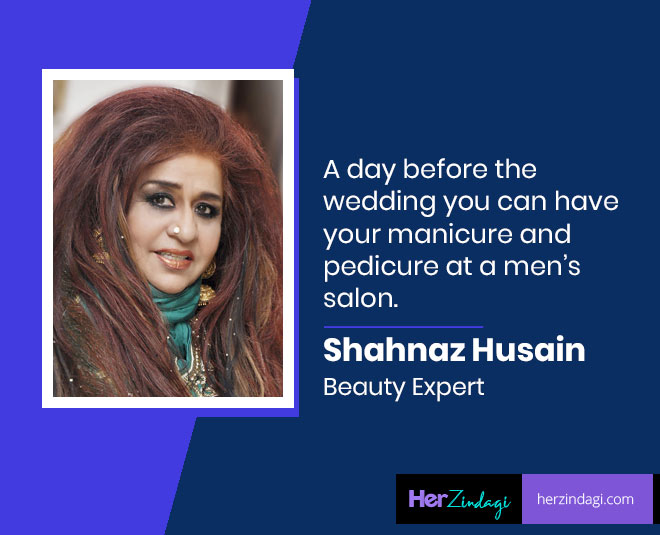 It is your special day and you will need more time to bathe. While bathing, make sure you scrub your hands and feet with a pumice stone or scrubber. You can use some cologne in your bath water for that refreshing feel. After a bath, make sure you apply a talcum powder. Massage your hands and nails with a body lotion. Instead of perfume, use a cologne.
Don't Miss: Shahnaz Husain Tells How To Get Rid Of Pimple A Day Before Your Wedding
Relax Your Eyes
You might not be able to have a good sleep while preparing for your wedding day and it can start to show in your eyes. If your eyes have started to look dull then use eye lotion. You can also use cotton pads soaked in rose water and keep them on your eyelids. This will help you relax your eyes and remove fatigue.
Sleep Well
Make sure you plan your bachelor's night two days ahead of the wedding and keep the day before the wedding day for a good night's sleep. It will help you feel a lot more relaxed on the day of your wedding.
Shahnaz Husain is a well-known beauty and wellness expert. For more such tips from the expert, stay tuned!