Who doesn't want fresh, beautiful, and glowing skin? But, thanks to the kind of dirt and pollution along with the sun's harmful UV rays we all face every day. It spoils our skin from within and makes it dull. Trying to maintain radiant skin isn't an easy task, in fact, it is a real struggle. To overcome this, we usually rely on beauty products that claim to make our skin beautiful and glowing. However, we all know they don't work well and instead have negative effects on our skin. It is best to use natural products for your skin that have no side effects. Like rose water, it is a great natural product for your skin and has numerous benefits. Read along to know:
Tones Up Your Skin
Image courtesy: pixabay.com
Toning is an essential part of the skin care routine and should not be missed. Toning your skin helps in keeping all the dirt and oil away. You can use rose water as your skin toner. It keeps your skin clear and hydrated. It has pH balancing properties that keep the skin toned. Use of soaps and cleansers can create an imbalance in your skin pH level. Rose water balances this out by bringing your pH level to normal.
Keeps Your Skin Hydrated
Your skin needs hydration to look soft and glowing. To prevent it from getting dull, you need to provide it with some hydration. Rose water is a great product you can use to keep your skin hydrated. It freshens up your skin from within and provides it with hydration. This prevents your face from getting dry. It also improves your skin texture and makes it smoother.
Slows Down Aging Process
It is because of using harmful chemicals and exposing your skin to harsh UV rays that it starts aging faster. Unhealthy eating and bad lifestyle habits are also a reason behind a faster aging process. This further makes free radicals damage our skin badly. Rose water is rich in antioxidants that keep all the free radicals at bay and makes your skin healthy.
Treats Acne
Acne is a common skin problem that most women face. Rather than going for a skin treatment that uses too many chemicals, it is better to use rose water. Rose water cleans out all the excess oils from your face, which is one of the biggest reasons behind acne. It also kills the growth of acne-causing bacteria. It also prevents future development of acne on the skin.
Freshens Up Your Skin
Rose water is just what you need to freshen up your skin in seconds! It makes your skin feel fresh and hydrated all day long. A few sprays of rose water all of your face and you are good to go! It can also be used to set your makeup.
READ MORE: Getting Natural Rosy Cheeks Is No More A Struggle
Reduces Puffy Eyes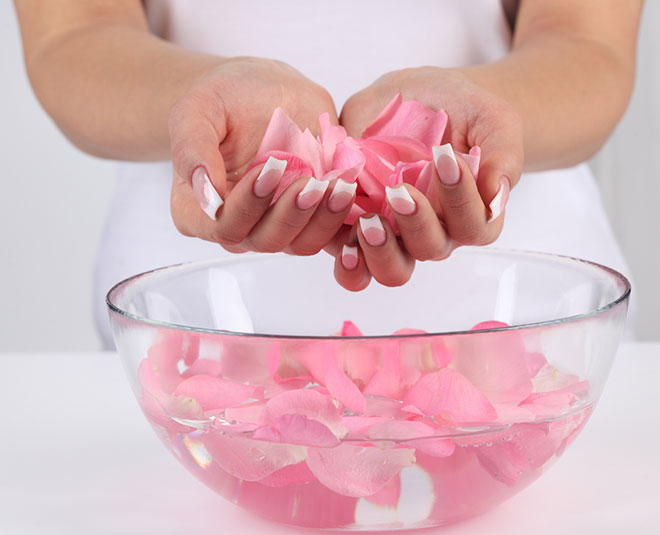 Image courtesy: static.yabiladi.com
Known for its cooling and anti-inflammatory properties, rose water is a great solution for puffy eyes. It can treat your puffy eyes within minutes. All you need to do is take two cotton pads and add rose water on them. Then apply these pads over your eyes to get rid of puffy eyes.