Brides-to-be start prepping their skin and hair months ahead of the D-day. From their skin to hair routine, they follow it all religiously to look flawless on their wedding day.
However, if not maintained post the wedding, all those efforts can go into waste. If you want your skin and hair to look perfect even after your wedding, there are a few things that you should keep in mind.
Beauty and wellness expert, Shahnaz Husain shared some post wedding tips for the new brides. Read on.
Cleansing Routine
All the brides suffer from fatigue because of the late night celebrations and it quickly starts to show on the eyes and skin post the wedding. To ensure your face has a flawless glow, it is important to follow a cleansing routine.
The expert shared that especially at night, it is important to remove makeup and impurities.
For Normal To Dry Skin
Aloe vera can be used as a cleansing gel. It helps in rehydrating the skin and restoring the normal balance of the skin.
For Oily And Combination Skin
Cleansing lotion or light cleansing milk can be used to clean this skin type.
To remove impurities from area around the area around the eyes, one can use cleansing cream or gel. Apply it around the eyes and massage lightly. Wipe off using a cotton pad.
If you step out in the skin too much then applying cold milk can help It helps treat sun burn and soothes your sun damaged skin. It can be followed with a spritz of rose water or a rose based tonic.
Eye Care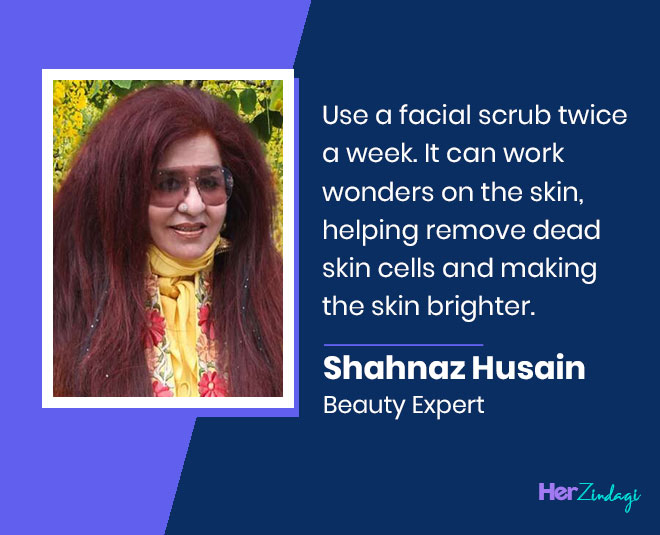 Just like your skin, your eyes need some pampering too. Applying cotton wool pads dipped in chilled rose water can help. They can be use as eye pads on the eyelids. Lie down and place the eyepads on your eyes. Keep for 15 minutes. These will help you relax and feel refreshed.
Exfoliation And Face Packs
To pamper your skin post wedding, continue exfoliating and using face packs on your skin. The expert suggested applying a facial scrub twice a week. This helps in removing dead skin cells and making your skin brighter.
She further suggested using face masks for glowing and clean skin. She shared that a mix of honey and lemon juice can be used on face to remove fatigue and refresh skin. Keep for 20 minutes and then wash.
Shahnaz Husain further shared that fruit packs can help make the skin look bright. These can be applied daily.
In a bowl, add grated apples, banana and ripe papaya pulp. Yogurt or lemon juice can be added to the mix and applied for about 30 minutes. Wash with normal water. It helps in adding glow, making your skin soft and removing tan.
Don't Miss: Shahnaz Husain Shares Some Unique Bridal Manicure And Nail Care Tips
Pampering Your Hair
For all your pre-wedding festivities, your hair go through a lot of styling products like gels, sprays which can damage your hair in the long run. This can make your hair look dull in the long run.
Give your hair a deep conditioning treatment. First wash your hair with mild shampoo and then rinse with water.
In a bowl, add vinegar, honey and one egg. Mix well. Massage this mixture into the hair. Wear a shower cap and keep for 30 minutes. Follow with shampoo and conditioner.
Beer rinsing can help give your dull looking hair some shine. Adding some lemon juice to your beer can add to the shine. Rinse your hair with beer and lemon water and then rinse with plain water.
Post Wedding Makeup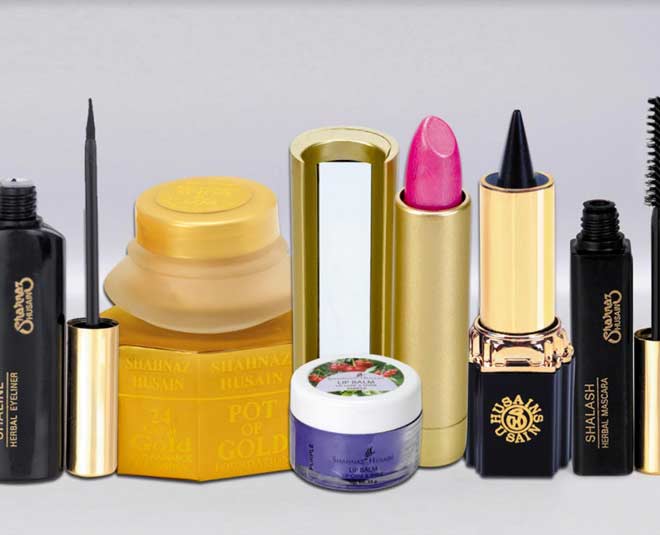 The festivities don't end after the wedding. You will get to meet your new family and it is important to ensure that you wear the correct makeup.
Don't Miss: Shahnaz Husain Shares Some Amazing Uses Of Aloe Vera For Glowing Skin
For the day, the expert suggested wearing brown or grey eyeshadow for a softer effect with mascara. For the lips, she suggested picking light pastel colours like pink, brown, mauve depending on the skin type. Only wearing a lip gloss will help too.
For the night, one can wear a gold foundation with a glam look. Using a tined powder to set the foundation will further give you a good base for the night. The expert suggested wearing darker shades for the night or earthy colours that work well with Indian skin type like wine, plum, shades of red among others.
For the blusher, she suggested not going with the same shade as the lip colour. For the eyes, eye shadow coloirs like brown and bronze would work best. Highlighting the underbrows with gold eyeshadow will make them pop out. Kohl can be used to create a smokey kind of look on the upper or lower lid.
Shahnaz Husain is a well-known beauty and wellness expert. She is the Chairperson of the Shahnaz Husain Group. Her herbal products for skin and hair are much loved all across the globe.
Tell us your thoughts on these post wedding tips by the expert on our Facebook page. For more such stories, stay tuned!