We all want our skin to glow naturally. But how? We all get stuck at this question because we rely on beauty products and treatments that claim to give us glowing skin but fail to. You know, the best skincare is homemade skincare.
Today, let us share with you one natural ingredient that can give you beautiful, glowing skin like never before.
Orange peel is great for your skin. It is packed with nutrients and antioxidants that have amazing benefits for the skin. Before talking about how you can use it on your skin, let's talk about its amazing benefits.
Orange peel is a great beauty ingredient for those with oily skin because it has anti-bacterial and anti-microbial properties that keep acne and other problems at bay.
It works as a skin lightening agent and works on skin marks and pigmentation.
Orange peel is the best remedy for tanned skin. It cleanses the skin deeply and gives you even skin tone.
It also has anti-ageing properties and regular usage of orange peel on the skin helps in reducing the appearance of wrinkles and fine lines.
Great for dry skin too as it has moisturising properties that smoothen the skin.
How To Use Orange Peel On Skin?
When combined with the right ingredients, orange peels can give your skin the much-needed smoothness and glow.
Dahi And Orange Peel Pack
You need 1 tsp orange peel powder and 2 tsp dahi. Mix the two ingredients well and apply on your face. Keep for 20 minutes and wash. This gives you an instant glow on your face.
Turmeric And Orange Peel Pack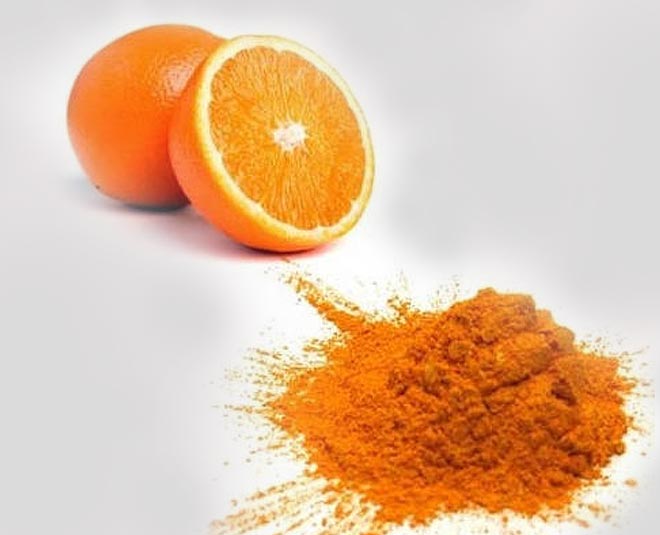 If you have tanned skin then this is the best pack for your skin. In a bowl, add orange peel powder, a pinch of turmeric and honey. Mix well and apply it all over your face. Do not use this face pack if you have oily or acne skin.
Don't Miss: These Home Remedies By Bharti Taneja Will Help You Get Glowing, Flawless Skin This Navratri
Aloe Vera And Orange Peel Pack
This is a great face pack if you wish to reduce dark spots from your face and brighten up your skin. In a bowl, add orange peel powder and aloe vera juice. Squeeze some lemon juice and mix well. Apply all over your face and keep for 15 minutes. Wash with cold water.
Multani Mitti And Orange Peel Pack
Dealing with blackheads and whiteheads? This is the face pack you need. Mix orange peel powder with multani mitti. You can also add rose water to the mixture. Make a paste and apply it on your face. Let it dry and then wash.
Coconut Oil And Orange Peel Pack
Those with dry skin should use this combination on their skin. In a bowl, add coconut oil and orange peel powder. Mix well and apply all over your face. Keep for 30 minutes and then clean with cotton pads.
If you have sensitive skin then use these face packs after doing a patch test on your hand. Don't use any ingredients that you are allergic to on your skin. Hope these face packs help you achieve a natural glow on your face!