6 Tips To Remove Makeup The Right Way!
From using micellar water to baby oil, here are a few ways to remove makeup the right way!
Applying makeup is the best technique to enhance your inner charisma. Also, to represent and demonstrate to the world how self-assured you are in your demeanour. On the other hand, makeup removal is an important skill to master since you must also care for your skin. The use of cosmetics on naturally glowing skin is the ideal method to experiment with fashion treatments. Make-up removal is an important part of your skincare regimen if you want to wake up with smooth, acne-free skin the next day and you praise yourself on the back for doing this on a daily basis, even after those late-night gatherings.
However, have you been doing so using make-up wipes? If your response is a loud yes, let us inform you that make-up wipes are abrasive on your face and may contain alcohol to remove makeup, which may upset your skin's natural PH-balance. Wipes are also not particularly eco-friendly. They may appear to be the most convenient goods to use in a short period of time, but they also contain side effects that might cause skin damage over time. Unfortunately, the majority of the brands are non-biodegradable and will take aeons to degrade. Are you feeling guilty? Don't do it yet. There are various more methods for completely removing all make-up for squeaky clean and radiant skin. Here is a list of some of them.
Give Enough Time
You got to spend enough time to remove every last bit of makeup off your face. There cannot be a reason good enough that makes it okay for you to skimp on your makeup removal ritual. You might be in a hurry and you might be tired but still you cannot afford to let your makeup removal ritual suffer. It is extremely important that you give enough time to this ritual so as to keep your facial skin healthy and happy.
Use Baby Oil
Baby oil can be used to remove makeup. Apply a few drops to your palms and massage them into your face. This is a fantastic solution if you have dry skin. You may also clean your face by dabbing cloth with baby oil. Tissue paper is too rough and can irritate the skin. Using oil for removing makeup ensures that it does not strip off the natural moisture of your skin.
Use Flat Cotton Pads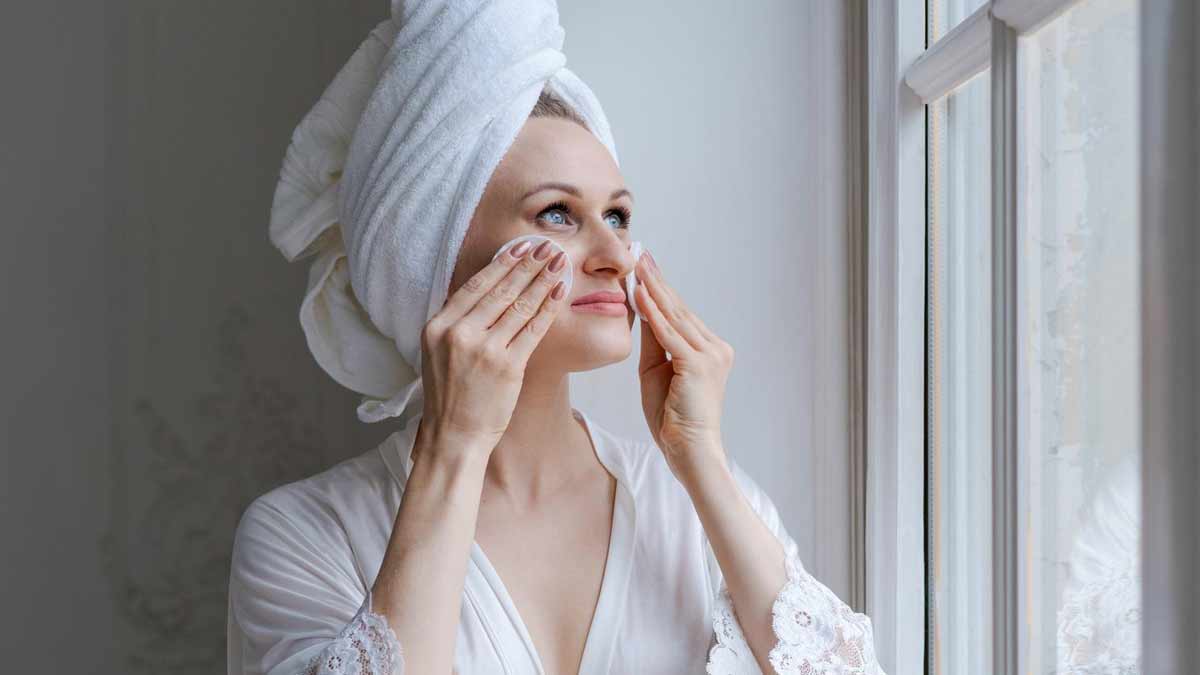 This is one trick that nobody is going to tell you! Use flat cotton pads to remove your makeup instead of cotton balls. To remove your makeup to the tee, you ought to use the flat cotton pads. It won't leave behind remnants of makeup on your skin that the cotton balls usually do. For a smooth makeup removal, using flat cotton pads is a must.
Pull Your Hair Back Before Beginning Your Makeup Removal Ritual
To remove makeup the right way, you must keep your hair tied back so that you can cleanse your face thoroughly. Any residual makeup around your forehead is likely to cause breakouts.
Don't Miss: How To Ace The 'No Makeup' Makeup Look This Lockdown
Take Care Of The Eyes
Eye make-up, especially waterproof makeup, is difficult to remove. Remember not to massage this area too hard because it is delicate and prone to harm. Choose a waterproof remover and soak cotton pads in it before gently wiping it off your lids and lashes to allow the remover to break down the makeup. If your makeup isn't waterproof, put some remover on an earphone and use it to wipe your kohl-rimmed eyes. Begin by removing kohl from the inner waterline. Be gentle while removing the makeup around your eyes.
Don't Miss:This Guide Will Help You Apply Foundation In The Correct Way
Don't Straight Away Wash It Off
You can use micellar water to remove your makeup. Micellar water helps to remove makeup by loosening it up a bit first. To remove makeup easily, take a few drops of micellar water in the cotton pads and dab it over the face gently.
If you wish to share any makeup removal tips with us, then do let us know by commenting on our Facebook and Instagram page.
Stay tuned to HerZindagi to read more such stories!