How To Make Rose Bath Bombs At Home
Wondering how to make rose bath bombs at home? Read this to find out!
Have you been completely obsessed with the concept of bath bombs? The bombs of fragrant soapy bathing ingredients, though not a must, are definitely desirable. The concept of bath bombs is still very new in the market due to which there is still a lot of uncertainty regarding it. Is it good for the skin? Will it have any side effects? Does it comprise of high quantity of chemicals and what not! Where on one hand you really want to try a bath bomb, feel the satisfaction of just dropping the bomb into your bath dumb and see it create fizz and dissolve, on the other hand, there is still a lot of confusion around it.
What is better than a bath bomb? Rose bath bombs! How long will you be able to avoid the experience of soothing rose bath bombs because of your skepticism? The aromatherapy, skin pampering, skin relaxation, ridding the body of bad odor are just a few of the many benefits of these rose bath bombs! Tempted to try it? What if we tell you, that you can make your own rose bath bomb, right at the comfort of your home! Will that make you try the bath bomb? Well, that's all our motto is! To make your life simpler and rid you of all the stress!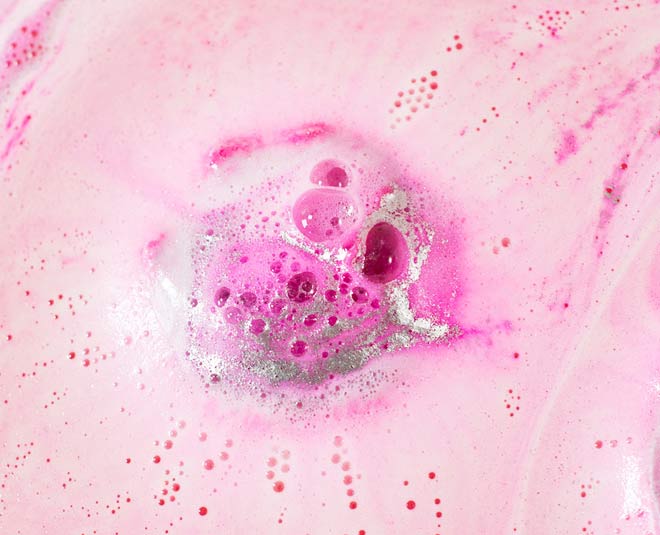 Image Credit:res.cloudinary
Materials Required To Make Rose bath Bomb
1 cup baking soda
½ cup Citric acid
Little less than ½ cup Cornstarch
Dried rose petals
½ tsp Rose oil
½ tsp coconut oil
4 drops pink food coloring
Mold
2 tsp Water

Image Credit:images.squarespace-cdn
Read More About Stress Releasing Bathing- How To Have A Bath To De-Stress, Its Benefits
How To Make Rose Bath Bombs At Home
Mix all the dry ingredients together in a bowl. Baking soda, cornstarch, and citric acid.
After the dry ingredient are well combined, to the dry mix add coconut oil, food coloring, and rose oil. Mix these for a few minutes to ensure that the mixture is very well combined.
At first, add 1 tsp of water and whisk the mixture well. Take some of the mixture in your hand and try to make a ball out of it to check the consistency. If it holds well, you will not be needing the other tsp of water. If, however, you think that the mixture is not combining into a ball and is too dry, then add another tsp of water and mix well.
Put this mixture into the mold. For aesthetic purposes, sprinkle some rose petals at the bottom of the mold before pouring in the mixture. After sprinkling the petals, fill the mixture into the mold. Sprinkle a few more rose petals on the top. The rose petals will not only make the bath bomb look better but when it dissolves in the tub, the rose petals will float to give you a more pleasing bath!
Leave out this mold overnight for it to dry.
Remove the bombs from the mold the next morning and store them in an airtight container.
Image Credit:rufflesandrainboots.s3.us-west-2.amazonaws
So, what are you waiting for? Make a refreshing rose bath bomb for yourself and take your self-care routine a notch higher! One bath bomb is more than enough for one bathing routine. Use these bombs once a week for giving yourself a much-needed break and detoxify your body of all the weeklong accumulated stress.
Elevate Your Bathing Routing More:Add These Two Ingredients To Water And Make Your Bath More Relaxing And Skin Youthful
Make this easy recipe and treat your body with it! Stay tuned to Her Zindagi for more such content!