Beginner or pro, doesn't matter, an eyeliner is a must-have in every woman's makeup kit. This is one makeup product that can completely transform our look. Be it a soft look or a dramatic one, you can achieve it all with a good eyeliner.
However, picking an eyeliner for yourself isn't an easy task. There is a wide variety available in the market with different formulas and it can all be a task to pick just one.
Gel eyeliner, pen eyeliner, pencil eyeliner, liquid eyeliner are some of the most common formulas available these days. Each one has its own advantages and disadvantages but today, we will be telling you why you should invest in a liquid eyeliner.
Stays Longer Than Any Other Eyeliner
We all want our eyeliner to stay all day long and this is one of the biggest reasons why we would suggest to invest in one. Liquid eyeliners stay for really long as compared to a pen or gel or pencil eyeliner. Many of the eyeliner go smudge-proof as soon as they dry. Many of the eyeliners come with a waterproof formula and it can get tricky to remove it but the advantage is the longevity!
Intense, Sharp Liner
As compared to a gel or a pencil eyeliner, a liquid eyeliner will give you a sharper and intense look. Instead of giving your eyes a soft look, it a sharp look. If you create a wing or any other dramatic pattern using a liquid eyeliner, it looks much dramatic than any other regular eyeliner.
Adds Shape To Your Eyes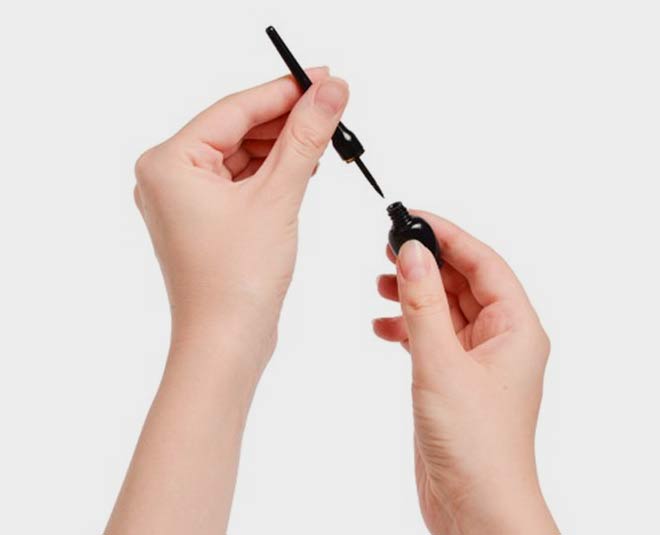 Most of us apply eyeliner on the upper eyelids. When you apply your eyeliner close to the upper lash line, you will notice how beautifully it shapes your eyes. One can go with a thick or thin line depending on their choice but the eyeliner does add definition to the eyes. If you go for a wing eyeliner, you can make your eyes appear bigger.
Don't Miss: Check Out These 5 Different Ways To Apply Eyeliners
You Can Get Creative
If you wish to experiment with your eyeliner then go for a liquid one as the applicator can help you create a lot of different looks. You can get as creative as you wish to.
Don't Miss: The Hottest Eyeliner Looks Of The Season Courtesy PeeCee Janhvi Kapoor, Deepika Padukone, Hina Khan
No Touch Ups
Unlike a gel or a pencil eyeliner, a liquid eyeliner doesn't start to smudge off from the corners. Their formulation is quick dark and thicker which means that you won't really need a touch-up.
Tips To Apply Liquid Eyeliner
Make sure you prime your eyes. It will help you create a smooth base for the eyeliner.
Always begin from the inner corner of your eye and going close to the lash line, create a thin line. If you are not a pro, you can make small dots on your upper lash line and slowly connect.
Remember that you can always build the thickness depending on your choice.
If you are not a pro, don't lose hope if you don't get the perfect line. You can always fix the mistakes. Keep a cotton pad handy to remove the mistakes.
Don't forget to complete your look with some mascara and you are good to go!
Remember that no one learns it in just a day. Everyday practice can help you ace that winged liner or just any other dramatic style that you like. For more such beauty related stories, stay tuned!