One of the most essential parts of makeup is eye makeup and one of the most essential steps in eye makeup is applying eyeliner.
Eyeliner is used to define the shape of your eyes making them look bolder, bigger, and more beautiful. It is generally black in colour but you can also find different colours in Eyeliners very easily. If you remove eyeliner from eye makeup your eyes wouldn't be so perfect, bold, and well outlined that is why it is important to apply eyeliner as eyes are the first things one sees in a face.
With the development of the makeup industry and after years of usage of makeup, it could be found that eyeliner application can be different for each person as everyone has different shapes of eyes. Not only that, expert makeup artists and professionals know which eyeliner design can be used to enhance a particular type of eye shape. So, if you want to be an expert and explore different eyeliner designs along with building an understanding for the shapes of eyes, then read on to find out the details.
Cat Eye Liner
How To Apply: Start by drawing a light stroke of the liner from the center of your eyes to the end. Then do a straight wing but keep it small. From the end of the wing come back into the center and then go ahead with drawing a thin line to the inner corner of your eye. Once you are done with the outline, make proper lines and sharpen them as much as possible. Do not overdo the strokes and make very crisp lines to make your liner look perfect.
Suitable For: This look will look great on small eyes, and elongated eyes. However, if you still love to apply the liner in this way you can draw thin lines and make the cat wing a little smaller to suit the size of your eye.
Arabian Liner
How To Apply: Start by drawing your outlines. This is a little similar to the cat eyeliner but the only difference here is that in the cat eyeliner look the wing is angled at the end of the eyebrows while in this look you keep the wing straight, pointed towards the earlobe. After drawing the outlines, work your way through the upper eyelid then come to the lower lid of the eye, go from the inner corner to the outer corner of your eye, drawing as close to the lid as possible, finally take the stroke and merge it with the wing to complete this look.
Suitable For: This look would look great for medium-sized eyes and those with double eyelids, small eyes look smaller in case you do this look.
Bold Single
How To Apply: This is one of the easiest looks to do when it comes to eyeliner application. Plus, there can be a lot of variations that you can do with this look. Just do a simple thin stroke of the liner from the inner corner to the outer corner. Do not add a wing to the end and there you go. This will make your eyes look bigger and will make it look as if you haven't even applied makeup.
Suitable For: This is best for monolids, small eyes, and medium eyes. Just in case you have stretched eyes then you can add a small wing at the corner to define your eyes better.
Double Stroke Liner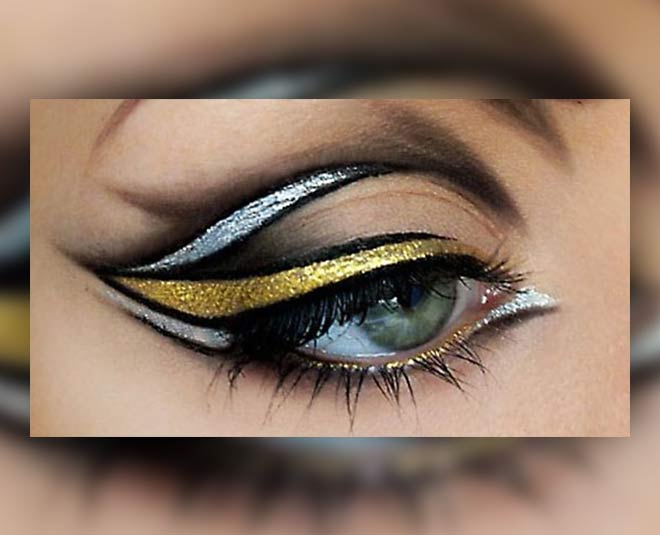 How To Apply: Doing this look can be easy for you if you are a master at doing winged liner. If not follow the outline. First, draw a simple wing from the center of the eye(smokey eye makeup) to the outer corner, then start again from the end of the wing to the inner corner of your eyes across the crease.
Suitable For: This look is perfect for people with double lids and bigger eyes as this makes the eyes look a little more compact and small.
Don't miss: DIY: Use These Household Ingredients To Make Long-Lasting Eyeliners
Over The Top Dramatic
How To Apply: Well going around this look is also not very difficult, all you have to keep in mind is to make sure it dries properly before you open your eyes(tips to know before using contact lenses). Just draw a very sharp line across your crease, let it dry then extend a wing out of the outer corner and connect them together. After that fill in the entire lid with the liner and let it all dry properly.
Suitable For: This is one very dramatic look that people can use to give the illusion of a crease, so people with monolids, small and medium-size might love the look more.
Don't miss: The Hottest Eyeliner Looks Of The Season Courtesy PeeCee Janhvi Kapoor, Deepika Padukone, Hina Khan
If you liked reading this article then stay tuned to Her Zindagi.
(Image Courtesy: pinterest.com, saymedia.com, alarabiya.co, ltkcdn.com)