Expert Shares Tips To Choose The Right Face Serum 
Choosing the right face serum for your skin type can be tricky. Here are 4 tips which will help you find the perfect one.
If you are new to the world of skincare and have just started to hear about face serums then you have landed on the right page. Face serums have taken over the beauty market lately and it looks like they are here to stay.
Face serum is a lightweight skincare product that contains a high concentration of active ingredients. These ingredients target the specific concern of your skin. Along with addressing the skin issue, these face serums also leave a natural, radiant glow on the skin.
Benefits Of Using A Face Serum
Face serum is a beauty tonic that keeps your skin hydrated and rejuvenated all day long.
It is one of the easiest face products to apply, just take a few drops and dab into the skin. The application is quite simple.
The active ingredients present in face serums target specific skin concerns and make it easier for you to deal with skin issues like acne, dryness.
As compared to other skincare products, face serums provide more value for money.
How To Choose The Right Face Serum?
Dr. Aparna Santhanam, Dermatologist and Skin Expert to ITC Charmis shared that maintaining a radiant glow during changing weather conditions can be a challenge. Our skin too sees a shift with weather conditions. It is important to understand these changes in order to prevent issues such as dullness, dryness, oiliness, skin irritation among others. The expert shared that using a face serum is an easy way to nourish the skin and keep any of these skin issues at bay. She further shared that a few things should be kept in mind while buying a face serum -
Know Your Skin Type
Before investing in a face serum, it is important to understand your skin type. How will you decide your skin type? The easiest way to figure out is by studying your skin after you wake up. Do you wake up with oily skin or feel dryness on areas of your face, or you don't notice any big change on your skin? There is a different active ingredient that will work for your skin type or concern. For instance, those with acne-prone skin will require a serum that has ingredients like salicylic acid which controls acne breakouts.
Set Your Budget
If you compare the price of a face serum with your regular face cream or lotion, it is on the expensive side. The price is high because of the active ingredients used in the product. All the ingredients used in a face serum are concentrated and not diluted.
Don't Miss: Try This Homemade Aloe Vera Gel, Rose Water And Vitamin E Face Serum
Face serums are today easily available, a lot of big brands offer this skincare essential and depending on the ingredient used, the price may differ. If you have a budget for your beauty closet, keep at least INR 500-1500 INR aside to invest in your face serum. This is the average price of face serums today. Also, remember that this one face serum will treat a lot of your skin issues so you might not need to invest in other products. One face serum can benefit your skin in the long run and prevent all your other skincare-related expenses.
Check The Consistency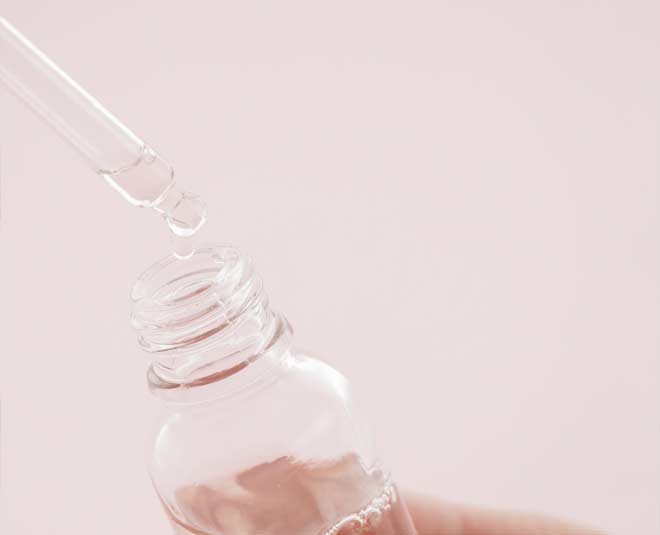 Face serums have a watery, gel-like consistency. However, before investing in a face serum, make sure you do a quick check with its tester at the store. Take a few drops of the face serum at the back of your hand and massage. Ask yourself a few questions -
Does it take long to absorb into the skin?
Does the face serum leave a sticky layer on the face?
Do you feel heaviness on your hand after applying the face serum?
If your answer is yes to all these questions then it might not be the right serum for your skin. Your face serum should be lightweight and non-sticky.
Don't Miss: Make These 5 Homemade Serums At Home Using Just 2 Ingredients
Mark A List Of Ingredients
After knowing your skin type, do a quick research online or consult your dermatologist. Make a list of ingredients that would work well for your skin type. You might feel tempted to try different serums when you step inside the beauty store but this plan can backfire. You should only stick to ingredients that are suitable for your skin type or concern.
If you are a normal skin type, it can be tricky for you to choose a face serum. However, in this case, you should look for power-packed ingredients like vitamin C which works well for all skin types. Vitamin C is loaded with antioxidants which help in treating common skin problems like uneven skin tone, dull skin, and dark spots.
Apart from taking care of the skin with a nourishing serum, the expert shared that one must keep a check on their lifestyle habits. She shared that one must consume a nutritious diet, keep stress at bay and it will help them keep their inner glow intact.
We hope this guide helps you find the right face serum for yourself. For more such beauty-related stories, stay tuned!