Right from her skin to hair, Hina Khan's beauty game is always on point. Hina Khan has gorgeous looking hair and we wish we had such beautiful hair. Hina got a makeover some time back, she got her hair short, around shoulder length. Hina's fans are loving her new makeover and we are loving the way Hina is styling her hair these days. If you too have short hair just like Hina Khan then take cues from her hairstyles.
French Braids
Hina recently shared this picture on her Instagram handle where she can be seen donning this cute hairstyle. Her hair were parted in the middle and done in two French braids. Braids are not only for those with long hair. If you have shoulder-length hair, you can try this hairstyle too.
High Messy Bun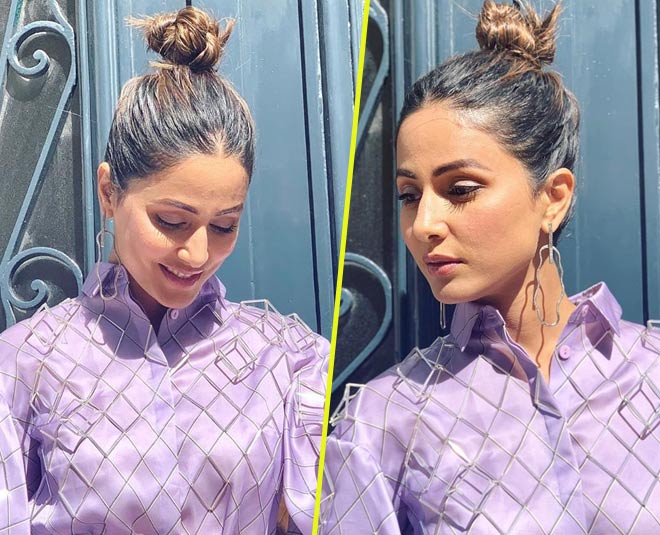 On days when your hair feels oily and you keep wondering how to style your hair, take notes from Hina Khan's messy bun. Hina's hair were done in a high messy bun. Make sure that you pull your hair a little high on the back to get the perfect high bun.
Low Pony
Hina Khan's hair were all curled up before doing this trendy hairstyle. Curl your hair and then tie all your hair at the back using an elastic band. Now take some section of your hair and cover the band. Secure with a pin. Take out some strands of hair from the front and leave it on the sides.
Accessorise With Hairband
This one is the easiest way to style your hair if you have short hair. Hina is obsessed with this hair accessory and we are spotting her carrying this off quite often. All you need to do is pick a nice colourful hairband and you are ready to go!
Don't Miss: Hina Khan Is Obsessed With This One Hair Accessory And It Can Up Your Style Game Too
Try Pouf Style
You just need a hairpin to recreate this hairstyle. Take the crown portion of your hair and set it back using a pin. Set rest of your hair at the sides and you are ready to go!
Low Bun
We loved Hina's messy low bun hairstyle. She carried this look with her grey and black saree. Take all your hair at the back and tie in a bun. Tease your hair a little to create the messy look.
Which hairstyle do you like the most?