Love braids? Karisma Kapoor is somebody who fancies those twist and turns. Her Instagram handle is loaded with steal-worthy hairstyles. From side braids bun to twisted fishtail and half pony braids, this 44-year-old actor has many attractive hairdos to save you from those bad hair days. She makes sure her hairstyle is complementing before heading out for a particular event or party.
Side Braid Bun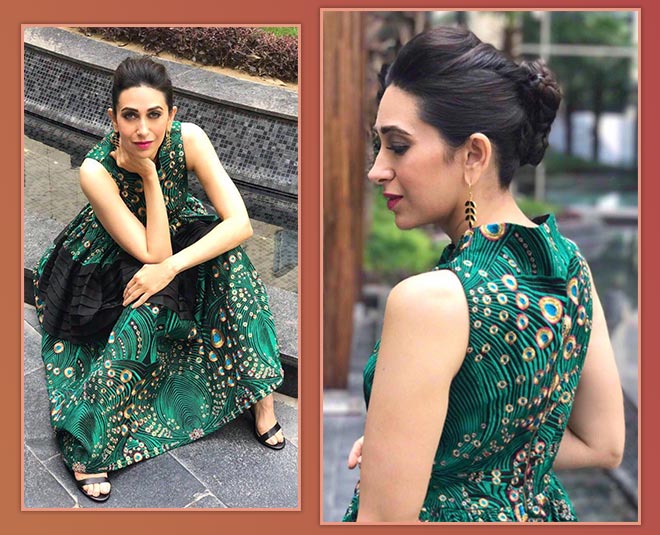 Stop spending too much time in fixing your hairstyle. Side braid bun is easy and quick. You can twist a single braid or two braids around the bun and look party ready in no time.
Directions:
Take a 2 inch section from one side on the top of your head.
Secure the rest of the hair with a clip.
Twist the end of the braid around to form a bun.
Pin ends to secure. Spray to hold the style.
Braided Fishtail
You can easily give a twist to your regular pony by adding a hint of braids. Karisma Kapoor is good at combining her hairstyles with fashionable clothes. Let's get your braided fishtail in place.
Directions:
First, pull your hair back into a ponytail.
Now, divide the ponytail into two equal-sized ponytails.
Separate a half-inch section of hair from the outside of the left ponytail.
Pull this piece across the top of the left ponytail over to the right ponytail.
Separate a half-inch section of hair from the outside of the right ponytail.
Now, pull this piece across the top of the right ponytail over to the left ponytail.
Repeat these steps 3-6 until you run out of hair.
Lastly, secure the ends with second elastic.
Rose Bun
Rose bun is yet another chic hairstyle to carry with regular outfits and Karisma Kapoor certainly knows how to do it. This hairstyle can be easily done with a trendy dress, cutesy earrings and pumps.
Read More: Believe It Or Not! You Can Buy A Car Out Of Kareena's Luxe Bag
Directions:
First, you need to part the top half of hair and secure with a hair band.
Now, take the section you secured with a hair band and create one long braid. Depending on the tightness of your braid will ultimately change the look of the final style. Just in case if you want the 'rose' to be bigger and simple, create a loose braid. Similarly, make a tighter braid for smaller rose. Once you reach the end of the braid, secure it with a small hair band.
After completing the braid, start wrapping the braid in a coil. You need to continue wrapping the braid until it turns into a bun.Once you have reached at the top of the braid of your scalp, secure it with hairpins. If you want the rose to appear large then take a small comb and lightly tug at small sections throughout the rose. This will loosen your hair and will give a more messy look.