Most of us think that something as common as a comb can perhaps make no difference. However, the type of comb you use on your hair makes a huge difference. After all, it's an equipment that comes in direct contact with your scalp and hair. Most of us are in a habit of using plastic brushes and definitely, it has solved the purpose over the years. However, while you were busy blaming hair care products for certain damages, perhaps there was another culprit too, the plastic comb. They are likely to cause static in your hair, as the plastic comb has a positive electrical charge, and on the other side, hair has a negative charge, so they cause frizz and breakage together. Switching to a wooden comb will not just help you with this problem, but also give you the following benefits:
Wooden Comb Boosts Blood Circulation
If you have ever used it, even accidentally, you know a wooden comb is lighter and softer on your scalp. Also, being carbon-based, this hair tool is not likely to bruise or scrape the surface. So, the blood circulation with every stroke will increase, making your hair healthy. Also, do you know, even our scalp has a few acupressure points, as you will massage with a wooden comb, you will feel more relaxed and oil production in the hair will increase.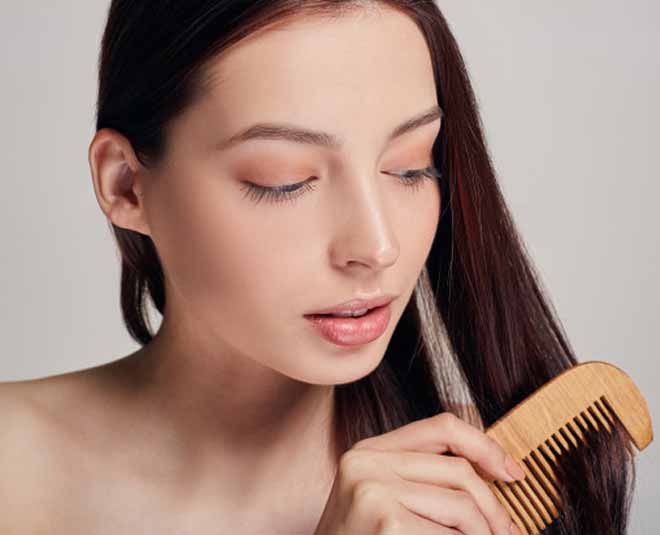 Reduces Dandruff
Dandruff is a common hair condition that many women suffer from. However, before trying home remedies to treat dandruff, and buying anti-dandruff shampoos, one must also try to understand the root cause of the problem. While this fungal issue can be caused by skin conditions such as seborrheic dermatitis or eczema, dry skin, sensitive skin, etc, it can be a result of scalp irritation. Not just chemical-infused products, but also sharp-toothed and harsh comb can cause irritation. Whereas, a wooden comb has softer, rounder teeth, which is not likely to nick and cut the scalp. One of the best properties of a wooden comb is, it distributes the natural oil well, hence keeping hair from getting dry and having dandruff problems.
Don't Miss: Why You Should Not Skip Applying Conditioner On Your Hair
Prevents Breakage
When it comes to hair, nothing irritates more than hair breakage. Even when your hair is not in the best condition and is somehow fragile, your comb shouldn't be the one to damage it further. That's why choosing a wooden comb over a plastic one makes more sense. Be it wet or dry hair, this hair tool will glide easily, without pulling, breaking, or damaging your hair.
Don't Miss: What Is A Shampoo Bar And How To Use It Effectively
Keep Your Hair From Dryness Or Greasiness
The sebum produced by sebaceous glands under the surface of the scalp's skin is utterly important for nourishment and to keep the hair from dryness or greasiness. No matter what hair type you have, you definitely don't want the existing situation to go worst. Hence, the proper distribution of sebum is vital. Use a natural product like a wooden comb to spread the oils evenly all through your hair. You will notice, over time, the health of your hair will improve with your mane less greasy and oily than before.
Prevents Damage From Static Electricity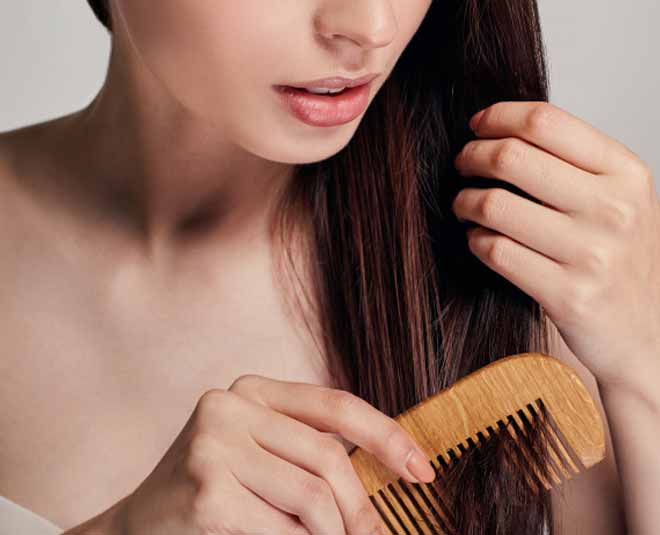 As discussed earlier, plastic comb leads to fizziness and breakage due to the production of static electricity, but it is also imperative to understand how a wooden comb prevents this damage. Wood is an insulator (a substance that blocks heat), hence it helps you to stay away from damages caused by friction. You can also try this little experiment to check. Distribute your hair into two equal parts. On one side rub a plastic comb and on the other, the wooden one. Then place bits of paper under the comb. Move both combs around the hair and you will notice the hair you rubbed with the plastic comb is sticking to hair like iron to a magnet. This is static that leads to frizz and breakage, which the wooden comb does not allow to happen.
If you liked this article, do comment on our Facebook page. Stay tuned to Her Zindagi to read more such stories.