Getting your hair coloured is one solution to a pick me up especially if you have healthy hair. The wedding season is upon us and the Christmas, New Year is closing in so many of us might already be on the hunt for new clothes and looks to pull off. To get that beautiful hair and give yourself a simple makeover, hair colour works a lot. With so many hair colour treatments out there, it can get a bit confusing. One such technique is a balayage hair colour treatment which many are not clear about. So here is a small guide on what it is all about and how is it different from other treatments.
Balayage pronounced as baa-lee-ahge, is an amazing hair trend which many are turning to, if not already. It looks effortless and natural and done using the hand-painting technique. These are highlights which are made with the hand giving you a sun-kissed look.
Low in maintenance, the word balayage comes from the French word "balaye" which means to sweep. This treatment is all about the way the colour is applied. It is used to create a natural look, blending in the highlights, making your hair look less stripy and giving more dimension.
The technique plays on where all the sun rays fall and the colour should pop out without being too in your face.
Advantages Of Balayage
Customisable
It is all based on your natural hair colour, the texture and the length of your tresses which determine the kind of balayage gradation your hair needs. A good salon will consider your skin tone, facial features as well so that the hair colour accentuates your look rather than being a mismatch. Technically, no two balyages should look the same.
Maintenance
This treatment requires very less maintenance. It is meant to give your hair the grown out roots look, giving it a very natural and flattering look rather than looking chunky and stark. Balayage damages your hair less, saves the amount of money you will spend as it takes way lesser number of sittings for touch-ups. Some even take 6 to 8 months for the next sitting.
How Is It Done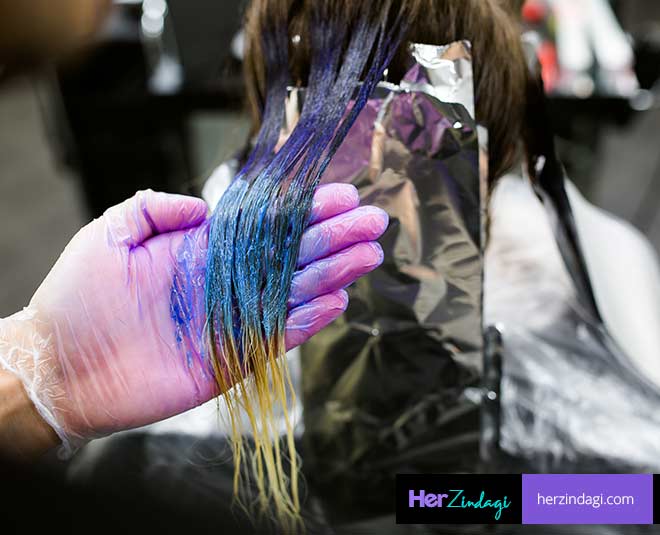 Before the process starts, you must sit with your hairstylist and see how the results could be like. The stylist must have visualisation and clear picture as to how they will go about it as you cannot afford to let anyone experiment something like this on you.
One important thing that you must keep in mind is how you style your hair every day. In a bun, your hair would look different and in a fishtail, the highlights will be different.
The colour strokes must be light towards the roots but saturated towards the tips mimicking how the hair looks naturally under the sunlight.
Don't Miss: Keratin Vs Hair Spa, Which Hair Treatment Should You Choose?
Difference Between Balayage & Ombre, Highlights
Some of the most common colouring techniques and styles are babylights, highlights and ombre but it can get rather confusing as to which one is what.
Highlights
These are made using sections of hair which are wrapped in a foil from the root to your tip. Here you get to see bright colour chunks and the foil wrapping lets the colour develop quickly unlike the balayage technique which is light-handed. Therefore when you go for balayage, some stylists might even place the foil strategically on some places where they need better colour coverage as per your hair type and look.
Don't Miss: Everyday Tips For Curly Hair Maintenance You Definitely Need
Babylights
These are super-thin highlights which you see in children. This technique or style is about extremely small, thin section of hair, which gives a literal sun-kissed result in a subtle manner.
Ombre
This is a shading technique which graduates from light to dark. Balayage is a technique which is meant and used to create the look. If you get a regular ombre, the difference is that this will give your hair lightened ends after a few washes and time and the hair colour on you hair shaft will fade but in a balayage it is different.
Since your entire strand is bleach saturated in the balayage technique, it gives a more solid finish.
When are you planning to get your hair coloured? Lookup for some ideas before you go unless you have blind trust on your stylist. I would suggest that you must gather some ideas and zero down on a look that you want and not go clueless to the salon.
Stay tuned to HerZindagi for more on hair colouring and tips to care for them.