Hair colour is one of the most common hair treatments today. While some opt for hair colour to transform their look, others simply get it done to cover their white, grey strands.
However, hair colouring can do a lot more to your tresses. Well, if you are looking for reasons to get your hair coloured, this article is for you. Here are some benefits of hair colouring. Read on.
Hair Colour Adds Volume
When you get a hair colour done, your hair looks thicker. How? Hair colour works like an additional coat on your tresses. This gives an appearance of thicker, voluminous hair. In this case it is always a good idea to go for semi-permanent hair colour, it adds strength to your hair and makes them look healthier.
Hair Colour Protects From Envrironmental Factors
Our tresses are exposed to different environmental factors each day including polluted air, dust, dirt, excessive heat and temperature changes among others. These can have a negative impact on our hair in the long run. When you get your hair coloured, you get a protective layer which protects your natural hair from these environmental hazards.
Hair Colour Gives A More Youthful Look
Hair colouring is an easy way to amp your look. Picking the right hair colour can make you look a lot younger. Opt for trendy shades like burgundy, ash grey, jade blue to get a more youthful look. If you don't wish to experiement, you can get your white/grey strands coloured. Getting hair colour chunks or highlights is also a good idea if you don't wish to go OTT.
Hair Colour Adds Shine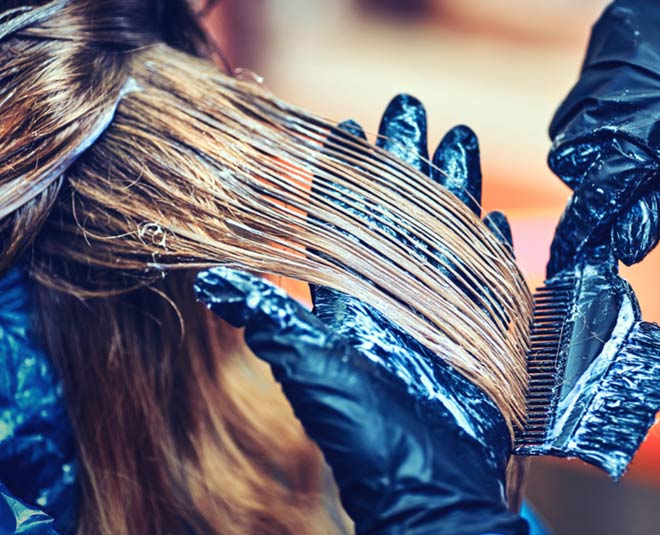 When you dye your hair, your hair looks healthier, shiny. The hair colour reflects light in different ways making your tresses look shinier. Colouring your hair helps you add texture to your natural tresses and adds a beautiful shine.
Don't Miss: Just Got Your Hair Coloured? Here Is How To Prevent Them From Fading
Hair Colour Smoothens Frizz
If you have frizzy hair, you must try colouring your hair once. The hair dye smoothens the frizzy hair and even handles the flyaways, giving you a much neater look.
When we talk of hair colour, we talk of really good quality ones, preferably those packed with natural ingredients that enhance your tresses without damaging them even a bit. Also, you will have to take a call between semi-permanent and permanent hair colour because they come with their own advantages and disadvantages. While permanent hair dye works best for women who have more white or grey strands, semi-permanent colour can be opted by women who just wish to experiment with colour or change their look for some time.
These days you get a variety of colour options and formulas. With time, a lot of brands are also switching to healthier, natural ingredients that work without damaging your natural hair. You can pick one according to your preferences.
Don't Miss: How To Do Strand Test Before Colouring Your Hair And All You Need To Know About It
Though hair colouring has benefits, it has some disadvantages too. Colouring your hair too much can spoil your tresses in the long run. Take utmost care of your tresses after getting them coloured and don't forget to take hair colour breaks.
Do you get your hair coloured? Share your hair colouring experience with us on our Facebook page. For more such beauty-related stories, stay tuned!
Image Courtesy: Freepik